Podcast: Play in new window | Download (Duration: 2:49:45 — 233.1MB)
If you're looking for previous episodes, click here.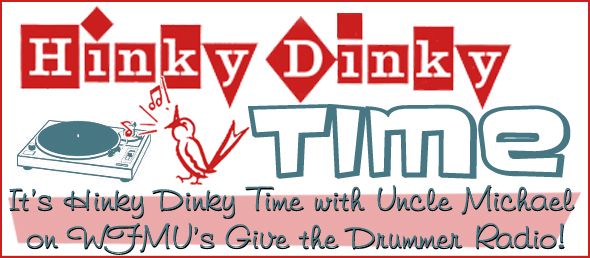 Hinky Dinky Time on WFMU's Give the Drummer Radio, episode 30: Friday, December 6, 2013 at noon, Eastern Time.
I create disturbance in your mind.
Click here for everything you need to know about accessing the audio.
Access the accuplaylist and comments for this episode at
http://wfmu.org/playlists/hd/20131206
The archived audio and podcast is available now.
| | | |
| --- | --- | --- |
| Uncle Michael | Hinky Dinky Time Open | |
| P.P. Arnold | The First Cut Is The Deepest | b/w Speak To Me |
| Bob Hood | It's Nothin' to Me | b-side to The Alamo |
| Ike & The Crystalites | Illya Kuryakin | b/w Anne Marie |
| David McCallum | Communication | b/w My Carousel |
| Beauregard and the Tuffs | Ramblin' Rose | b/w Big Bad Guitar |
| Smiley Lewis | One Night | b/w Ain't Gonna Do It |
| Music behind DJ: The Merced Blue Notes | Bad, Bad Whiskey | b/w Mama Rufus |
| Merle Haggard | If We Make It Through December | b/w Bobby Wants A Puppy Dog For Christmas |
| The Davis Sisters | Rock-A-Bye Boogie | b/w I Forgot More Than You'll Ever Know |
| The Heartbreakers | Love Comes In Spurts | R.I.P.: The ROIR Sessions |
| The Association | Babe I'm Gonna Leave You | b/w Baby, Can't You Hear Me Call Your Name |
| Barbra Streisand | I Am Woman | b-side to People |
| Lene Lovich | Say When | b/w One Lonely Heart |
| Jerry Butler | Moody Woman | b/w Go Away, Find Yourself |
| Music behind DJ: Barry Gray | UFO Main Theme | UFO: The Original Television Series Soundtrack Music By Barry Gray |
| Ozark Mountain Daredevils | If You Wanna Get To Heaven | b/w Spaceship Orion |
| Ronnie Self | Bop-A-Lena | b/w I Ain't Goin' Nowhere |
| King Nawahi Hawaiians | Under a Texas Moon | 10 |
| The Isley Brothers | Nobody But Me | b/w I'm Laughing To Keep From Crying |
| Barrence Whitfield and the Savages | Runnin' and Hidin' | Ow! Ow! Ow! |
| The Chi-Lites | We Need Order | b/w Living In The Footsteps Of Another Man |
| Music behind DJ: The Monkees | For Pete's Sake (Master Backing Track) | Headquarters Sessions |
| The Olympics | The Same Old Thing | b-side to I'll Do A Little Bit More |
| Grodeck Whipperjenny | Inside Or Outside | The Grodeck Whipperjenny |
| Lee Hazlewood | Rosacoke Street | Love And Other Crimes |
| Ruth Etting | I'm Good For Nothing but Love | b/w I'm Falling In Love |
| Neil Young & Crazy Horse | My Heart | Sleeps With Angels |
| Music behind DJ: The Citations | Moon Race | b/w Slippin' And Slidin' |
| Dawn's Early Light | Dawn's Early Light Monday Kind Of Friday | b/w Look In Her Eyes |
| Os Mutantes | Quem Tem Medo De Brincar De Amor | A Divina Comedia ou ando meio desligado |
| Link Wray | Rise And Fall Of Jimmy Stokes | Link Wray |
| The Yardbirds | A Certain Girl | b/w I Wish You Would |
| Free Fall | Power & Volume | Power & Volume |
| Dusty Brooks | Chili Dogs | b/w Whoa Mule |
| Music behind DJ: The Popcorn Orchestra | Going To A Happening | Popcorn's Detroit Soul Party |
| Wings | Deliver Your Children | London Town |
| The Mercy Brothers (Barrence Whitfield & Michael Dinallo) | Down That Road | Strange Adventure |
| The Everly Brothers | Long Time Gone | Songs Our Daddy Taught Us |
| Fred Neil | Bleecker & MacDougal | Bleecker & MacDougal |
| The Seekers | We Shall Not Be Moved | b-side to The Carnival Is Over |
| The Bee Gees | You Should Be Dancing | b/w Subway |
| Music behind DJ: Elliott Fisher | Mister Kiss Kiss Bang Bang | Bang! Bang! Bang! |
| Les Fleur De Lys | Wait For Me | b-side to Moondreams |
| The Bonzo Dog Band | We Are Normal | Urban Spaceman |
| Hawkwind | Urban Guerilla | b/w Brainbox Pollution |
| Carla Thomas | Love Among People | b/w I Have A God Who Loves |
| Al Wilson | Lodi | b/w By The Time I Get To Phoenix |
| Music behind DJ: The Ventures | Home | b-side to Walk Don't Run |
| Betty Davis | If I'm In Luck I Might Get Picked Up | Betty Davis |
| Foxx | Into Something Real | b/w The Revolt of Emily Young |
| Tommy Tucker & His Orchestra with Amy Arnell and the Voices Three | I Don't Want To Set The World On Fire | b/w This Love Of Mine |
| Harry Nilsson | Turn On Your Radio | Son of Schmilsson |
| Guy Lombardo voc. Kenny Martin | Auf Wiederseh'n Sweetheart | b/w Half As Much |
| Fleetwood Mac | Albatross | |