Podcast: Play in new window | Download (Duration: 2:58:46 — 245.5MB)
If you're looking for previous episodes, click here.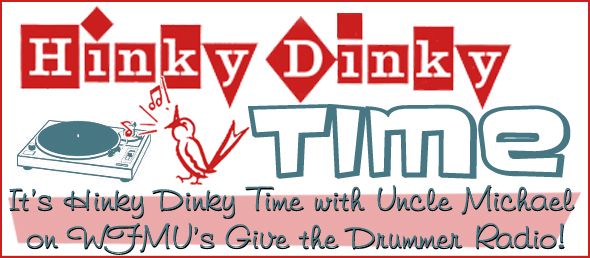 Hinky Dinky Time on WFMU's Give the Drummer Radio, episode 31: Friday, December 13, 2013 at noon, Eastern Time.
Let's hear a rousing Bronx cheer.
Click here for everything you need to know about accessing the audio.
Access the accuplaylist and comments for this episode at
http://wfmu.org/playlists/hd/20131213
The archived audio and podcast is available now.
Uncle Michael
"Hinky Dinky Time Open"
The Raspberries
"Party's Over"
Starting Over
Status Quo
"Whatever You Want"
b/w Hard Ride
Don Everly
"Omaha"
Don Everly
Johnny Wakelin
"In Zaire"
b/w You Got The Bug
Ross McManus And The Joe Loss Blue Beats
"I'm The Greatest"
b-side to Patsy Girl
Todd Rundgren
"Piss Aaron"
Something/Anything?
Music behind DJ: The M.G.s
"Neckbone"
b/w Breezy
Sparks
"Big Boy"
Big Beat
Paul & Linda McCartney
"Ram On"
Ram
Steeleye Span
"Rave On"
b/w Reels/Female Drummer
Sajid Khan
"Ha Ram (Of Love And Peace)"
b/w Getting To Know You
Pluto Shervington
"Ram Goat Liver"
b/w Ram Goat Liver (instrumental)
KRUZ Good Guys
"Sack of Snow"
n/a
War
"Cisco Kid"
b/w Beetles In The Bog
Music behind DJ: Bert Weedon
"The Theme From 'A Summer Place'"
b-side to Big Beat Boogie
Tarheel Slim
"Number 9 Train"
b-side to Wildcat Tamer
Jelly Roll Morton's Steamboat Four
"Mr. Jelly Lord"
10″
Helen Kane
"I Want To Be Bad"
10″
Richard Berry & the Pharoahs
"Louie Louie"
b/w You Are My Sunshine
The Ink Spots
"Java Jive"
10″
Larry Clinton & His Orchestra voc. Bea Wain
"I Get Along Without You Very Well"
b/w My Reverie
The Louvin Brothers
"Midnight Special"
A Tribute To The Delmore Brothers
Music behind DJ: The Sounds Of Jack Downes
"Up-Up And Away"
Lost Jukebox Vol 134
Jimmy Castor
"Hey Leroy, Your Mama's Callin' You"
b/w Ham Hocks Espanol
Bobby Parker
"Watch Your Step"
b/w Steal Your Heart Away
Eddie Holland
"Brenda"
b-side to I'm Leaving Here
The Staple Singers
"The Ghetto"
b-side to I See It
Thin Lizzy
"Chinatown"
b/w Sugar Blues (Live)
Music behind DJ: Sound Dimension
"Drum Song"
unk.
Laura Nyro
"Time And Love"
New York Tendaberry
Lee Hazlewood
"If It's Monday Morning"
Requiem For An Almost Lady
Lee Hazlewood
"Morning Dew"
b/w The House Song
Lee Hazlewood
"Won't You Tell Your Dreams"
Requiem For An Almost Lady
Loudon Wainwright III
"Handful of Dust"
History
Music behind DJ: Rolling Stones
"2120 South Michigan Avenue"
Genuine Black Box I – The Rebels Arrive
The Moody Blues
"Ride My See-Saw"
In Search Of The Lost Chord
The Darkness
"Everybody Have A Good Time"
Hot Cakes
Norman Greenbaum
"Jubilee"
Spirit In The Sky
Brute Force
"In Jim's Garage"
I, Brute Force: Confections of Love
Mark Lindsay
"Silver Bird"
b/w So Hard To Leave You
Willis Alan Ramsey
"Muskrat Candlelight"
Willis Alan Ramsey
Music behind DJ: Alucard Frayker's "Revenge"
Lunch For Yor Ears (Sound Scores Volume 6)
The Pentangle
"Sally Go Round The Roses"
Basket Of Light
Joey Gregorash
"Down By The River"
b/w Don't Let Your Pride Get You Girl
Bulldog
"No"
b/w Good Times Are Comin'
Pere Ubu
"Street Waves"
The Modern Dance
Badfinger
"Money"
Straight Up
Music behind DJ: The Meters
"Ease Back"
The Meters
The Carpenters
"Calling Occupants Of Interplanetary Craft (The Recognized Anthem Of World Contact Day)"
b/w Can't Smile Without You
The Daisy Clan
"Ridin' A Rainbow"
b-side to San Francisco China Town
Tow-Away Zone
"Shabd"
b-side to Searchin'
Sylvie Vartan
"Donne-Moi Ton Amour (Gimme Some Lovin')"
b-side to 8 Heures 20
Scott Walker
"Two Weeks Since You've Gone"
Scott 3
The Originals
"The Bells"
b/w I'll Wait For You
Music behind DJ: Fleetwood Mac
"Albatross"