Podcast: Play in new window | Download (Duration: 3:02:16 — 250.3MB)
If you're looking for previous episodes, click here.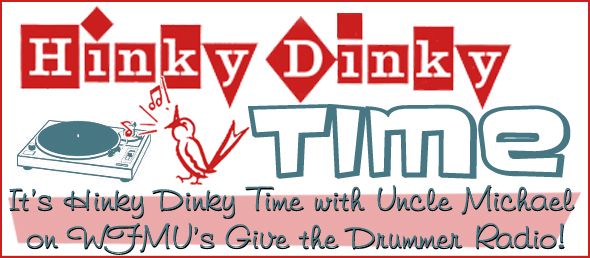 Hinky Dinky Time on WFMU's Give the Drummer Radio, episode 32: Friday, December 20 2013 at noon, Eastern Time.
Stink, stank, stunk.
Click here for everything you need to know about accessing the audio.
Access the accuplaylist and comments for this episode at
http://wfmu.org/playlists/hd/20131220
The archived audio and podcast is available now.
| Artist | Title | Album |
| --- | --- | --- |
| Uncle Michael | "Hinky Dinky Time Open" | |
| The Paul Butterfield Blues Band | "Work Song" | East/West |
| Randy Newman | "Happy" | Guilty: 30 Years of Randy Newman |
| Endless Boogie | "Occult Banker" | Long Island |
| Annette Funicello | "Dance Annette" | Dance Annette |
| Music behind DJ: Walter Wanderley | "Samba De Verao (Summer Samba)" | Organ-ized |
| Dr. John | "Babylon" | Babylon |
| Jimmy Smith | "The Cat" | b/w Basin Street Blues |
| Achim Reichel | "Cave Explorers + Birdmen" | A.R. IV |
| Music behind DJ: The Beatles | "Ringo's Theme (This Boy) (Instr.)" | A Hard Day's Night |
| Mike McGear (with Paul McCartney & Wings) | "The Man Who Found God On The Moon)" | McGear |
| The Flying Burrito Brothers | "Wheels" | The Gilded Palace Of Sin |
| Michael Blessing (Mike Nesmith) | "The New Recruit" | b/w A Journey With Michael Blessing |
| Isaac Hayes | "Truck Turner" | Truck Turner |
| Radio Ad | "Truck Turner" | Super Bad, Super Black – Radio Spots From The Blaxploitation Movie Era |
| Isaac Hayes and Dionne Warwick | "By The Time I Get To Phoenix/Say A Little Prayer" | A Man and A Woman |
| Tommy Roe | "It's Now Winter's Day" | b/w Kick Me Charlie |
| Music behind DJ: Hugo Winterhalter & His Orchestra | "The Magic Touch" | The Magic Touch |
| Neil Diamond | "Porcupine Pie" | b-side to Play Me |
| The Hill | "The Fourth Annual Convention Of The Battery Hen Farmers Association (Part 2)" | b/w Sylvie |
| Gasolin' | "Rebel Run" | What A Lemon |
| H.P. Lovecraft | "The Drifter" | H.P. Lovecraft |
| Donovan | "Epistle To Dippy" | b/w Preachin' Love |
| Lee Hazlewood | "These Boots Are Made For Walkin'" | The Very Special World Of Lee Hazlewood |
| Music behind DJ: Mort Shuman IV | "Little Children" | b-side to Monday Monday |
| The Monkees | "Tapioca Tundra" | b-side to Valleri |
| The Stranglers | "Bitching" | Stranglers IV No More Heroes |
| Jimmy Robbins | "I Can't Please You" | b/w I Made It Over |
| Lynyrd Skynyrd | "You Got That Right" | b/w Ain't No Good Life |
| Georgie Fame | "Peaceful" | b/w Hideaway |
| The King Brothers | "I Like Everybody" | b-side to Seventy-Six Trombones |
| Music behind DJ: The Champs | "Limbo Rock" | b/w Tequila Twist |
| Stick McGhee | "Let's Do It" | b/w She's Gone |
| Vibrations | "The Watusi" | Watusi |
| Chuck Berry | "It Don't Take But A Few Minutes" | One Dozen Berrys |
| The Chimes | "Zindy Lou" | b-side to Tears On My Pillow |
| The Four Tunes | "Marie" | b/w I Gambled With Love |
| Ronnie Self | "Bop-A-Lena" | b/w I Ain't Goin' Nowhere |
| Lloyd Price | "Who Coulda' Told U (They Lied)" | b-side to Just Call Me (And I'll Understand) |
| George Morgan | "Cry-Baby Heart" | b/w I Love Everything About You |
| Music behind DJ: Mar-Keys | "Morning After" | b/w Diana |
| Earth & Fire | "Song Of The Marching Children" | b-side to Invitation |
| The Merseys | "Sorrow" | b/w Some Other Day |
| Timberjack Donoghue | "Dahli Mohammed" | unk. |
| The Hubbels | "Hippy Dippy Funky Monkey Double Bubble Sitar Man" | b/w City Woman |
| Tommy James | "Draggin' The Line" | b/w Bits & Pieces |
| Fabulous Farquahr | "Teddy Bear Days" | b-side to My Island |
| Music behind DJ: Ray Anthony | "Walkin' To Mother's" | Music From Peter Gunn |
| 10cc | "Brand New Day" | The Original Soundtrack |
| The Tymes | "It's Cool" | Tymes Up |
| Tommy Dorsey and his Orchestra with Cliff Weston | "(Take Me Back To My) Boots And Saddle" | 10″ |
| William Bell | "Gettin' What You Want (Losin' What You Got)" | b/w All I Need Is Your Love |
| Tower of Power | "So Very Hard to Go" | Tower of Power |
| Music behind DJ: Fleetwood Mac | "Albatross" | |