Podcast: Play in new window | Download (Duration: 3:02:27 — 250.5MB)
If you're looking for previous episodes, click here.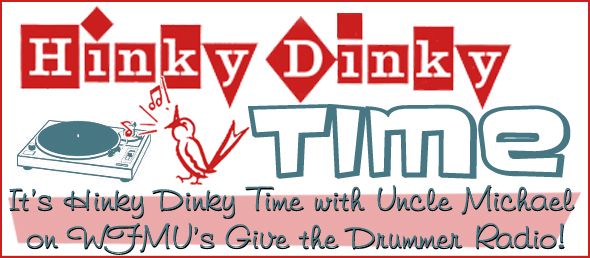 Hinky Dinky Time on WFMU's Give the Drummer Radio, episode 33: Friday, December 27 2013 at noon, Eastern Time.
Click here for everything you need to know about accessing the audio.
Access the accuplaylist and comments for this episode at
http://wfmu.org/playlists/hd/20131227
The archived audio and podcast is available now.
| Artist | Title | Album |
| --- | --- | --- |
| Uncle Michael | "Hinky Dinky Time Open" | |
| Mildred Bailey with Teddy Wilson | "Scrap Your Fat" | 10″ |
| Bobby Wells | "Let's Copp A Groove" | b/w Recipe For Love |
| Connie Stevens | "Too Young To Go Steady" | b/w A Little Kiss Is A Kiss, Is A Kiss |
| Blood, Sweat & Tears | "John the Baptist (Holy John)" | B, S & T 4 |
| The Balancing Act | "Who Got The Pearls" | New Campfire Songs |
| The Rolling Stones | "Loving Cup" | Exile on Main St. |
| Music behind DJ: Electro-Tones | "Ghost Train" | b/w Daydream |
| King Uszniewicz & the Uszniewictones | "Surfin' School" | Teenage Dance Party with King Uszniewicz & the Uszniewictones |
| Bo Diddley | "Pretty Thing" | b/w Bring It To Jerome |
| Rhinoceros | "Apricot Brandy" | Rhinoceros |
| Michel Magne | "Brazil" | Tropical Fantasy |
| The Heinoos | "Vandaag" | BoerenRock 04 |
| Mooi Wark | "Idioot" | Gewoon Idioot |
| The Bonzo Dog Band | "Keynsham" | Keynsham |
| Muddy Waters | "The Same Thing" | Folk Singer |
| Music behind DJ: Les Paul & Mary Ford | "Whispering" | b-side to The World Is Waiting For The Sunrise |
| The McGuire Sisters | "Rhythm 'N' Blues (Mama's Got The Rhythm – Papa's Got The Blues)" | b/w Something's Gotta Give |
| Richard Wylie & His Band | "Money (That's What I Want)" | b-side to I'll Still Be Around |
| The Lost Generation | "Love on a Two-Way Street" | The Sly, Slick and the Wicked |
| Lou Rawls | "Memory Lane" | b-side to Love Is A Hurtin' Thing |
| Parliament | "Bop Gun (Endangered Species)" | Funkentelechy Vs. The Placebo Syndrome |
| Music behind DJ: Arthur Lyman Group | "Love For Sale" | Love For Sale! |
| Potliquor | "Down The River Boogie" | First Taste |
| Paul McCartney & Wings | "Junior's Farm" | b/w Junior's Farm (full version) |
| The Kinks | "Mirror of Love" | Preservation Act 2 |
| Hudson-DeLange Orchestra | "Love Song of a Half-Wit" | 10″ |
| Don Cornell | "You're On Trial" | b-side I'm Yearning |
| Jo Stafford with Paul Weston Orchestra | "The Things We Did Last Summer" | 10″ |
| Music behind DJ: Arthur Lee And The L.A.G.'s (Love) | "Rumble-Still-Skins" | b-side to The Ninth Wave |
| Plastic Bertrand | "5, 4, 3, 2, 1" | Ca Plane Pour Moi (This Life's For Me) |
| La De Da's | "How Is The Air Up There" | b/w Pied Piper |
| Ann Margret | "You Sure Know How To Hurt Someone" | Many Moods Of Ann Margret |
| If | "Fibonacci's Number" | If 3 |
| Georgie Young And The Rockin' Bocs | "Nine More Miles (The Faster Faster Song)" | b/w unk. |
| Skip James | "Cypress Grove Blues" | b-side to Devil Got My Woman |
| Music behind DJ: Roy Budd | "Free Tarrant" | The Black Windmill OST |
| Daddy Lindberg | "Wade In The Shade" | b-side to Shirl |
| David McCallum | "In The Garden, Under The Tree" | Three Bites Of The Apple OST |
| Frankie Vaughan | "The Garden Of Eden" | Single |
| Manfred Mann | "The One In The Middle" | My Little Red Book Of Winners |
| The Moody Blues | "Bye Bye Bird" | The Magnificent Moodies |
| Wadsworth Mansion | "Sweet Mary" | b/w What's On Tonight |
| Clifford T Ward | "Gaye" | Home Thoughts |
| Music behind DJ: The Tennessee Two & a Friend (Luther Perkins/Johnny Cash) | "Jeri And Nina's Melody" | b-side to Blues For Two |
| Coloured Balls | "Mister Mean Mouth" | Ball Power |
| Gate Wesley & Band feat. Billy LaMont | "(Zap Pow) Do the Batman!" | b/w Do Your Thing |
| LaVern Baker | "Batman to the Rescue" | b/w Call Me Darling |
| Ernest Tubb | "Be Better To Your Baby" | b/w Think Of Me, Thinking Of You |
| Music behind DJ: Wingy Manone & His Orchestra | "Nickel In the Slot" | 10″ |
| The Definitive Rock Chorale | "Variations On A Theme Called Hanky Panky" | b/w Picture Postcard World |
| Machine Gun Kelly's Rejects | "I'm Going Back" | Ugly Things 3: Strange Sounds from the Sixties |
| Roberta Flack | "Ballad Of The Sad Young Men" | First Take |
| Jimmy Norman | "I Don't Love You No More (I Don't Care About You)" | b/w Tell Her For Me |
| Hugo Montenegro | "Good Vibrations" | Good Vibrations |
| The Grass Roots | "Things I Should Have Said" | b/w Tip Of My Tongue |
| Bob Dylan | "If You Gotta Go, Go Now (Or Else You Gotta Stay All Night)" | The Bootleg Series Volume 2 |
| Music behind DJ: Fleetwood Mac | "Albatross" | |