If you're looking for previous episodes, click here.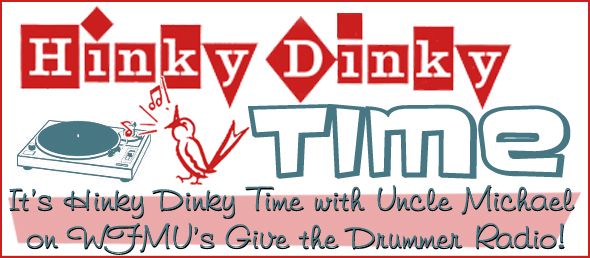 Hinky Dinky Time on WFMU's Give the Drummer Radio, episode 34: Friday, January 3 2014 at noon, Eastern Time.
Let's bring this to a rolling boil.
Click here for everything you need to know about accessing the audio.
Access the accuplaylist and comments for this episode and archived audio at
http://wfmu.org/playlists/hd/20140103
The archived audio is available now.
| Artist | Title | Album |
| --- | --- | --- |
| Uncle Michael | "Hinky Dinky Time Open" | |
| Chuck Brown & The Soulsearchers | "Bustin' Loose Part 1" | b/w Bustin' Loose Part 2 |
| Alice Cooper | "Return Of The Spiders" | Easy Action |
| The Residents | "Laughing Song" | Duck Stab! EP |
| Los Lobos | "Little Japan" | Colossal Head |
| The Nu Tornados | "Philadelphia, U.S.A." | b/w Magic Record |
| Little Richard | "Keep A Knockin'" | b/w Can't Believe You Wanna Leave |
| Music behind DJ: Fraykers Revenge | "Santa Monica" | Lunch For Yor Ears – Sound-Scores Volume One |
| The Deep Six | "Paint It Black" | The Deep Six |
| Fred Astaire | "Let Yourself Go" | 10″ |
| Red Norvo & his Swing Octet | "Bughouse" | 10″ |
| Malo | "Café" | b/w Peace |
| Rufus featuring Chaka Khan | "You Got The Love" | Rags To Rufus |
| Hüsker Dü | "Turn On The News" | Zen Arcade |
| Music behind DJ: The Apemen | "Pogo A Gogo" | 7 Inches Of Love |
| Little Milton | "More And More" | b/w Cost Of Living |
| Freddy King | "The Bossa Nova Watusi Twist" | b/w Look, Ma I'm Cryin' |
| Lowell George & The Factory | "Candy Cane Madness" | Lightning-Rod Man |
| Jonathan King | "Let It All Hang Out" | b/w Colloquial Sex (Legend Of Today) |
| Supermax | "Love Machine" | b/w Dance, Dance, Dance |
| Music behind DJ: Henry Mancini | "Something For Cat" | Breakfast At Tiffany's (Music From The Motion Picture Score) |
| Bo Diddley | "Gimme Gimme" | Bo Diddley & Company |
| Humble Pie | "Is It For Love" | Eat It |
| Daddy Cool | "Hi Honey Ho" | b/w Hi Honey Ho! (Edited) |
| Timebox | "Beggin'" | b/w A Woman That's Waiting |
| Blue Ridge Playboys | "Give Me My Money" | b/w Anything |
| Music behind DJ: Eric Jupp Orchestra | "Skippy (Main Title)" | Skippy EP |
| The Mothers of Invention | "King Kong Itself (As Played By The Mothers In A Studio)" | Uncle Meat |
| The Mothers of Invention | "King Kong (Its Magnificence As Interpreted By Dom DeWild)" | Uncle Meat |
| The Mothers of Invention | "King Kong (As Motorhead Explains It)" | Uncle Meat |
| The Mothers of Invention | "King Kong (The Gardner Varieties)" | Uncle Meat |
| The Mothers of Invention | "King Kong (As Played By 3 Deranged Good Humor Trucks)" | Uncle Meat |
| The Mothers of Invention | "King Kong (Live On A Flat Bed Diesel In The Middle Of A Race Track At A Miami Pop Festival . . . The Underwood Ramifications)" | Uncle Meat |
| Music behind DJ: The Baker Philharmonic | "Love At First Sight (Je T'aime Moi Non Plus)" | b/w Tycho |
| The Seekers | "Wreck of the Old '97" | The Seekers |
| Vernons Girls | "Lover Please" | b-side to You Know What I Mean |
| The Stranglers | "How To Find True Love And Happiness In The Present Day" | La Folie |
| The Butanes With Teddy Mc Rae And Orch. | "Don't Forget I Love You" | b/w That's My Desire |
| Can | "Millionenspiel" | The Lost Tapes Box Set |
| Music behind DJ: Barry Forgie | "Whispering Giant" | Classic Grooves |
| Buffalo Tom | "Enemy" | Birdbrain |
| Uncle Tupelo | "Graveyard Shift" | No Depression |
| Trini Lopez | "Don't Let The Sun Catch You Cryin'" | The Whole Enchilada |
| Hudson-Ford | "Burn Baby Burn" | b/w Angels |
| Tom Jones | "Sixteen Tons" | Things I Wanna Do |
| Music behind DJ: Jimmy McGriff | "A Thing to Come By Pts 1&2" | A Thing to Come By |
| Ray Charles & Milt Jackson | "Soul Meeting" | Soul Meeting |
| Rika Jansen | "Marihuana Marie" | Rika Jansen |
| Arthur Alexander | "I Hang My Head and Cry" | b-side to Anna (Go To Him) |
| The Sonics | "Keep a Knockin'" | b-side to The Witch |
| Wang Dang Doodle | "Love Sculpture" | Blues Helping |
| ABBA | "Hasta Mañana" | b/w Honey Honey |
| Ringo Starr | "Goodnight Vienna" | b/w Oo-wee |
| Music behind DJ: Fleetwood Mac | "Albatross" | |