If you're looking for previous episodes, click here.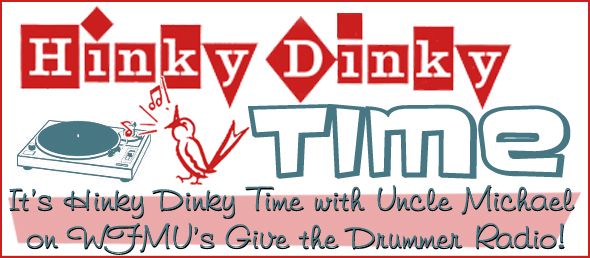 Hinky Dinky Time on WFMU's Give the Drummer Radio, episode 35: Friday, January 10 2014 at noon, Eastern Time.
We've got our hands full.
Click here for everything you need to know about accessing the audio.
Access the accuplaylist and comments for this episode and archived audio at
http://wfmu.org/playlists/hd/20140110
The archived audio is available now.
| Artist | Song | Album |
| --- | --- | --- |
| Uncle Michael | "Hinky Dinky Time Open" | |
| Bob Marley & the Wailers | "Lively Up Yourself" | b/w Live |
| Le Tigre | "Hot Topic" | Hot Topic EP |
| Phil Everly | "Invisible Man" | Phil's Diner |
| Phil Everly | "Mystic Line" | Mystic Line |
| If | "Seldom Seen Sam" | If 3 |
| Music behind DJ: Mar-Keys | "Last Night" | b/w Night Before |
| Mills Brothers | "Tiger Rag" | 10″ |
| J. Geils Band | "Cruisin' for a Love" | J. Geils Band |
| Charlie "Boogie Woogie" Davis | "San Quentin Bait" | b-side to Rainin' Blues |
| XTC | "Pink Thing" | Oranges & Lemons |
| Thin Lizzy | "Suicide" | Fighting |
| The Messengers | "Window Shopping" | b/w California Soul |
| Music behind DJ: Esquivel | "Malaguena Salerosa" | Actual |
| Ramsey Lewis Trio | "Collage" | Upendo Ni Pamoja |
| Ras Pidow | "Afrika" | Modern Antique |
| Luciano | "Moving Up" | Trojan Ras Reggae Box Set |
| Blades of Grass | "Or Is It The Rain" | Are Not For Smoking |
| Tyla Gang | "Styrofoam" | b/w Texas Chainsaw Massacre Boogie |
| Music behind DJ: Bill Taylor & Cyclones | "Bullwhip Rock" | b-side to Nelda Jane |
| Miles Davis | "On The Corner (Unedited Master)" | The Complete On The Corner Sessions |
| Music behind DJ: The James Gang | "Yadig" | Thirds |
| Peter Ivers' Band With Yolande Bavan | "Cat Scratch Fever" | Knight Of The Blue Communion |
| Dire Straits | "Telegraph Road" | Love Over Gold |
| Music behind DJ: Muzzy Marcellino & His House Party Group | "Heap Big Chief" | House Party Music Time |
| Jackie Lomax | "The Eagle Laughs At You" | Is This What You Want? |
| The Moody Blues | "Fly Me High" | Days of Future Passed |
| Paul Revere & The Raiders featuring Mark Lindsay | "Tighter" | Revolution! |
| The Flower Pot Men | "Silicon City" | Let's Go To San Francisco |
| Andre Williams | "The Greasy Chicken" | b-side Come On, Baby |
| George Jones | "Your Heart Turned Left (And I Was On The Right)" | b/w My Tears Are Overdue |
| The Incredible Moses Leroy | "It's Better" | Electric Pocket Radio |
| Music behind DJ: Doc Severinson | "In the Court of the Crimson King" | Doc Severinsen's Closet |
| Albert Brooks & Albert King | "Englishman-German-Jew Blues" | A Star Is Bought |
| Blades of Grass | "Satin Slipper" | Are Not For Smoking |
| Alamo | "All New People" | Alamo |
| The Byrds | "You Won't Have To Cry (acoustic)" | The Preflyte Sessions |
| Sparks | "Under The Table With Her" | Indiscreet |
| J.J. Barnes & the Del Fis! | "Won't You Let Me Know" | b-side to My Love Came Tumbling Down |
| Music behind DJ: Dick Hyman | "Green Onions" | The Age Of Electronicus |
| The Stanley Brothers | "Let The Church Roll On" | Sacred Songs From the Hills |
| Nat King Cole Trio | "I Can't See For Lookin'" | 10″ |
| Orpheus | "Can't Find The Time" | b/w Lesley's World |
| Giorgio Moroder | "Stop" | b-side to Moody Trudy |
| Merle Haggard | "Are the Good Times Really Over (I Wish a Buck Was Still Silver)" | b/w I Always Get Lucky With You |
| Fleetwood Mac | "Albatross" | |