Podcast: Play in new window | Download (Duration: 3:00:17 — 247.6MB)
If you're looking for previous episodes, click here.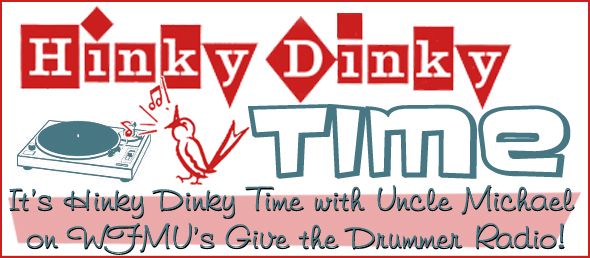 Hinky Dinky Time on WFMU's Give the Drummer Radio, episode 37: Friday, January 24 2014 at noon, Eastern Time.
I listen to crappy music so you don't have to.
Click here for everything you need to know about accessing the audio.
Access the accuplaylist and comments for this episode at
http://wfmu.org/playlists/hd/20140124
The archived audio and podcast is available now.
| Artist | Song | Album |
| --- | --- | --- |
| Uncle Michael | "Hinky Dinky Time Open" | |
| Love And Kisses | "Thank God It's Friday" | b/w You're The Most Precious Thing In My Life |
| Johnny Sea | "Day For Decision" | Day For Decision |
| Dion | "Purple Haze" | b/w The Dolphins |
| Graham Gouldman | "No Milk Today" | The Graham Gouldman Thing |
| Orpheus | "Brown Arms In Houston" | b/w I Can Make The Sun Rise |
| Sutherland Brothers & Quiver | "Arms Of Mary" | b/w We Get Along |
| David Dundas | "Jeans On" | b/w Sleepy Serena |
| Music behind DJ: The John Buzon Trio | "It Must Be You" | Cha Cha On The Rocks |
| Bobby Bland | "Poverty" | b/w Building A Fire With Rain |
| Sly & the Family Stone | "Let Me Have It All" | Fresh |
| The Stewart Brothers | "Sleep On The Porch" | b/w Yum Yum |
| The Mynah Birds | "It's My Time" | b/w Go On And Cry |
| Eddie Bo | "Hook 'n' Sling (Part II)" | b/w Hook And Sling – Part I |
| Al Green | "Let It Shine" | b/w There's No Way |
| Otis Redding | "You Left The Water Running" | The Fame Studios Story 1961-1973 CD2 |
| Music behind DJ: Hank Marr | "Silver Spoon" | b/w No Rough Stuff |
| Paul Kelly | "From St Kilda to Kings Cross" | b/w Blues For Skip |
| The Peddlers | "Irresistable You" | b/w Murray's Mood |
| Scott Walker | "The Plague" | b-side to Jackie |
| Nina Simone | "Sinnerman" | Pastel Blues |
| Music behind DJ: Jackie Mittoo | "Who Dun It" | b/w Freak Out |
| Hot Dogs | "Let Me Look at the Sun" | Say What You Mean |
| Sparks | "Tits" | Indiscreet |
| Sports | "Live Work And Play" | Don't Throw Stones |
| Sugar | "JC Auto" | Beaster |
| The Darkness | "Every Inch Of You" | Hot Cakes |
| Music behind DJ: Los Twang! Marvels | "Surf Dilemma" | Jungle of Twang |
| Direct Current | "Everybody Here Must Party" | b/w Everybody Here Must Party (Instrumental) |
| Chubby Checker | "Dancin' Party" | b/w Gotta Get Myself Together |
| T-Bone Walker | "Bobby Sox Blues" | ABC of the Blues |
| Roosevelt Sykes | "Knock Me Out" | ABC of the Blues |
| Gene Austin | "Please Don't Talk About Me When I'm Gone" | 10″ |
| Rudy Preston | "Poor White Trash" | b/w I Just Got Back from Hurt |
| Music behind DJ: Earl Fuller's Novelty Orchestra | "Oriental" | unk. |
| Brainstorm | "Lovin' Is Really My Game (Part 1)" | b/w Lovin' Is Really My Game (Pt. 2) |
| The Mainstreeters | "It's My Life" | b/w River's Edge |
| Miriam Makeba | "For What It's Worth" | Keep Me In Mind |
| Clarence "Bullmoose" Jackson and his Orchestra | "Keep Your Big Mouth Shut" | b/w Mempis Gal |
| Otis Redding | "I Love You More Than Words Can Say" | b/w Let Me Come On Home |
| Ink Spots | "So Sorry" | 10″ |
| Music behind DJ: Midas Touch | "Country Matters" | Earth Shakers |
| Ginger Baker Trio | "Ramblin'" | Going Back Home |
| Belle & Sebastian | "Judy and the Dream of Horses" | If You're Feeling Sinister |
| Tegan & Sara | "So Jealous" | So Jealous |
| Ben Folds | "Landed" | Songs For Silverman |
| Cliff Hillis | "Too Surreal" | Pop Under The Surface Volume 4 |
| Music behind DJ: Charlie Linville & The Fiddlin' Linvilles | "Texahoma Boogie" | b/w There's Something Wrong |
| The Carpenters | "Love Is Surrender" | Close To You |
| Emitt Rhodes | "My Love Is Strong" | Mirror |
| The Beatles | "One After 909" | Ultra Rare Trax, Vol. 1 |
| Rockpile | "Now And Always" | Seconds of Pleasure |
| The Moody Blues | "The Story in Your Eyes" | b/w Melancholy Man |
| The Mojo Men | "Sit Down, I Think I Love You" | b/w Don't Leave Me Crying Like Before |
| Cornerstone | "Holly Go Softly" | b/w Love, Nothing More |
| Fleetwood Mac | "Albatross" | |