If you're looking for previous episodes, click here.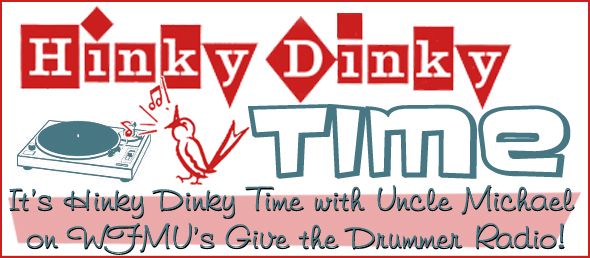 Hinky Dinky Time on WFMU's Give the Drummer Radio, episode 38: Friday, January 31 2014 at noon, Eastern Time.
Pop music is finger food for the soul. Can I fix you a little plate?
Click here for everything you need to know about accessing the audio.
Access the accuplaylist and comments for this episode and archived audio at
http://wfmu.org/playlists/hd/20140131
The archived audio is available now.
| Artist | Song | Album |
| --- | --- | --- |
| Uncle Michael | "Hinky Dinky Time Open" | |
| Jack Jones | "This Could Be The Start Of Something Big" | This Love Of Mine |
| The Kinks | "Brainwashed" | Arthur: Or the Decline & Fall of the British Empire |
| Merle Haggard | "I Wonder Where I'll Find You At Tonight" | Kern River |
| The Leatherwoods | "Proof Positive" | Topeka Oratorio |
| The Mills Brothers | "I Heard" | Chronological Vol.1 (1931-1932) |
| Andy Fairweather-Low | "Same Old Story" | b-side to Reggae Tune |
| —– | "—–" | —– |
| Paul McCartney | "That Would Be Something" | McCartney |
| Music behind DJ: Fraykers Revenge | "Cartoon Funk" | Fraykers Revenge Presents – Filmation Associates |
| Roogalator | "Cincinnati Fatback" | Play It By Ear |
| Louis Prima With Sam Butera And The Witnesses | "5 Months, 2 Weeks, 2 Days" | b/w Banana Split For My Baby |
| Arthur Alexander | "Lover Please" | You Better Move On |
| Floyd Dixon | "Roll Baby Roll" | b-side to Moonshine |
| Dr. Feelgood | "Looking Back" | Be Seeing You |
| The Browns | "Looking Back to See" | The Three Bells (EP) |
| Jackson Five | "I'll Bet You" | A.B.C. |
| Music behind DJ: E. Rodney Jones & Larry & The Hippies Band | "Chicken On Down" | b-side to Right On |
| Rita Lee | "Tiroleite" | Hoje é o Primeiro Dia do Resto da Sua Vida |
| Viento Calido | "La Flauta Del Gigante" | Clasicas De La Cumbia Sonidera Vol.1 CD1 |
| Oos Joos | "Bier En Zwere Sjek" | BoerenRock 05 |
| Mocedades | "Eres Tú" | b/w Touch The Wind |
| Fat White Family | "Heaven On Earth" | Champagne Holocaust |
| Music behind DJ: Peter Duchin | "Superfly" | Child Of Mine |
| Stray | "Move On" | Stray |
| Queen | "Tenement Funster" | Queen's First EP |
| Queen | "'39" | Night at the Opera |
| Queen | "Tie Your Mother Down" | A Day at the Races |
| Springwell | "It's For You" | b/w Our Question |
| Music behind DJ: Eddie Kendricks | "Keep On Truckin' (Part 2)" | b-side to Keep On Truckin' (Part 1) |
| Jimmy Smith | "Minor Chant" | Back at the Chicken Shack |
| Champion Jack Dupree | "Nasty Boogie" | Blues From The Gutter |
| Debbie Dean | "But I'm Afraid" | b-side to Itzy Bity Pity Love |
| Carl Perkins | "Lend Me Your Comb" | b-side to Glad All Over |
| Etta James | "Only Women Bleed" | Heart Of A Woman |
| Music behind DJ: Dick Hyman | "Time Is Tight" | The Age Of Electronicus |
| John Wesley Harding | "Other People's Failure" | John Wesley Harding's New Deal |
| 10cc | "The Worst Band In The World" | Sheet Music |
| Wizz Jones | "One Grain Of Sand" | Right Now |
| The Carpenters | "Mr. Guder" | Close To You |
| Fat White Family | "Bomb Disneyland" | Champagne Holocaust |
| Music behind DJ: Henri Rene | "Whispering" | Riot In Rhythm |
| Firesign Theatre | "Everything You Know Is Wrong Expo" | Promo |
| Vigrass & Osborne | "Ballerina" | b-side to Virginia |
| The Left Banke | "Pretty Ballerina" | b/w Lazy Day |
| Brewer & Shipley | "Witchi-Tai-To" | Weeds |
| Harpo | "Movie Star" | Teddy Love |
| David Gates | "I Use The Soap" | First |
| Music behind DJ: Don Randi Trio | "Tomorrow Never Knows" | Revolver Jazz |
| Boney M | "Rivers Of Babylon" | b/w Brown Girl In The Ring |
| Bettye Swann | "Angel Of The Morning" | b/w No Faith No Love |
| Flying Circus | "La La" | b/w The Last Train |
| Hank Williams Jr. | "Endless Sleep" | b/w My Bucket's Got A Hole In It |
| Supersuckers | "Barricade" | Must've Been High |
| The Originals | "I'll Wait For You" | b-side to The Bells |
| Fleetwood Mac | "Albatross" | |