Podcast: Play in new window | Download (Duration: 3:03:53 — 252.5MB)
If you're looking for previous episodes, click here.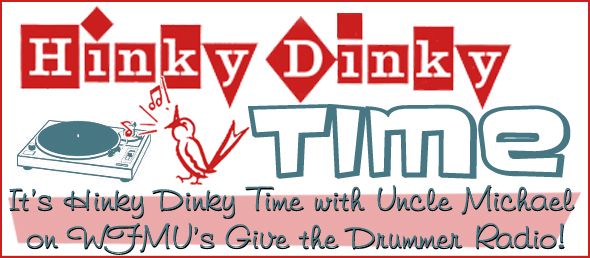 Hinky Dinky Time on WFMU's Give the Drummer Radio, episode 39: Friday, February 7, 2014 at noon, Eastern Time.
Are you having any fun?
Click here for everything you need to know about accessing the audio.
Access the accuplaylist and comments for this episode at
http://wfmu.org/playlists/hd/20140207
The archived audio and podcast is available now.
| Artist | Song | Album |
| --- | --- | --- |
| Uncle Michael | Hinky Dinky Time Open | |
| The Crew Cuts | Are You Havin' Any Fun | b/w Slam! Bam! |
| Hotlegs | Today | Thinks School Stinks (bonus track) |
| Michel Pagliaro | What The Hell I've Got | b/w Get Down |
| ZZ Top | Waitin' For The Bus | Tres Hombres |
| Listen (Robert Plant) | You'd Better Run | b/w Everybody's Gonna Say |
| Suzi Quatro | The Wild One | Quatro |
| Thor's Hammer | Show Me You Like Me | b/w Stay |
| Music behind DJ: Freddy King | San-Ho-Zay | b/w See See Baby |
| Potliquor | Cheer | Levee Blues |
| The Wizards From Kansas | Mass | Wizards from Kansas |
| Les Fleur De Lys | Gong With A Luminous Nose | b/w Hammer Head |
| H.P. Lovecraft | Country Boy & Bleeker Street | H.P. Lovecraft |
| Buddy Miles | Them Changes | b/w The Way I Feel Tonight |
| Unknown Artist | Unknow Track (Hidden Track) | Lost Jukebox Volume 040 |
| Music behind DJ: Gus Jenkins | Chittlins | b/w You'll Be The One |
| Carson Robison With His Pleasant Valley Boys | Life Gits Tee-Jus Don't It? | 10″ |
| Hank Snow | The Wishing Well (Down In The Well) | b/w Human |
| Marty Robbins | A Hundred And Sixty Acres | Gunfighter Ballads And Trail Songs |
| Jerry Irby With His Texas Ranchers | Great Long Pistol | 10″ |
| Johnny Cash | I Got Stripes | b/w Five Feet High and Rising |
| Frankie Ford | Alimony | b/w Can´t Tell My Heart (What To Do) |
| Tom Jones | Memphis, Tennessee | Along Came Jones |
| Music behind DJ: Eric Jupp Orchestra | Surf King | Skippy, The Bush Kangaroo (EP) |
| Tenacious D | Dio | Tenacious D |
| Thunder Rocks | Sidewinder | Sabre Records Story, Detriot,Michigan (Get Hip) |
| Bryan Ferry | Fingerpoppin' | Another Time, Another Place |
| Marcus Hook Roll Band | Natural Man | b/w Boogalooing Is For Wooing |
| Della Humphrey | Don't Make The Good Girls Go Bad | b/w Your Love Is All I Need |
| Graham Parker | Back To Schooldays | A Bunch of Stiff Records |
| Neal Hefti | The Odd Couple | The Odd Couple |
| Music behind DJ: Randy's Allstars | Mission Impossible | 300% DYNAMITE |
| Bob Wills & His Texas Playboys | New Spanish Two Step | 10″ |
| Chris White | Spanish Wine | b/w She's Only Dancing |
| Fountains of Wayne | Mexican Wine | Welcome Interstate Managers |
| Charlie Walker | Moffett, Oklahoma | Recorded Live In Dallas Texas |
| Al Dexter & His Troopers | Wine, Women And Song | b/w It's Up To You |
| Rhinoceros | Apricot Brandy | Rhinoceros |
| Music behind DJ: The Peggy Brown Singers | Dreamin' Stars | unk. |
| Wreckless Eric | Crying, Waiting, Hoping | b/w I Wish It Would Rain |
| Leo Kottke | Learning The Game | Leo Kottke |
| Francoise Hardy | That'll Be The Day | b-side to Will You Love Me Tomorrow |
| Mud | Oh Boy | b/w Watching The Clock |
| Raw | What To Do | Raw Holly |
| Blind Faith | Well All Right | Blind Faith |
| Music behind DJ: The Hollywood Persuaders | Drums A-Go-Go | b/w Agua Caliente |
| Charlie Parker | Funky Blues | Legendary Jam Sessions |
| Jimmy McGriff | All About My Girl | b/w MG Blues |
| The Ink Spots | I Don't Want To Set The World On Fire | 10″ |
| Music behind DJ: Grant Green | Never Can Say Goodbye | b-side to Does Anybody Really Know What Time It Is? |
| Rufus Thomas | Do the Double Bump Pt. 1 | b/w Do the Double Bump Pt. 2 |
| Slim Gaillard & Slam Stewart | Ti-Pi-Tin | 10″ |
| Terry Reid | Speak Now Or Forever Hold Your Peace | Terry Reid |
| The Who | The Good's Gone | My Generation |
| The Amboy Dukes | Baby Please Don't Go | The Amboy Dukes |
| Tex Ritter | When You Leave Don't Slam The Door | 10″ |
| Fleetwood Mac | Albatross | |