Podcast: Play in new window | Download (Duration: 2:57:29 — 243.7MB)
If you're looking for previous episodes, click here.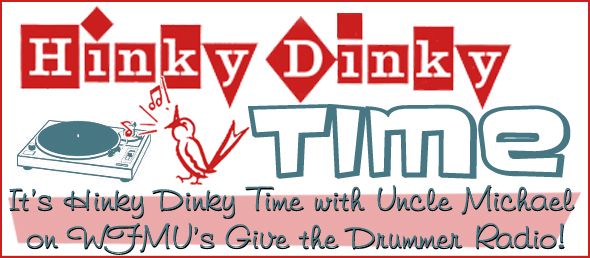 Hinky Dinky Time on WFMU's Give the Drummer Radio, episode 40: Friday, February 14, 2014 at noon, Eastern Time.
I'm all hung up over you.
Click here for everything you need to know about accessing the audio.
Access the accuplaylist and comments for this episode at
http://wfmu.org/playlists/hd/20140214
The archived audio and podcast is available now.
| Artist | Song | Album |
| --- | --- | --- |
| Uncle Michael | Hinky Dinky Time Open | |
| Betty Davis | Anti Love Song | Betty Davis |
| The Buzzcocks | Ever Fallen In Love (With Someone You Shouldn't've) | b/w Just Lust |
| Roberta Flack & Donny Hathaway | Where Is The Love | Roberta Flack & Donny Hathaway |
| The Crystals | He Hit Me (It Felt Like a Kiss | b/w No One Ever Tells You |
| Ann Peebles | Breaking Up Somebody's Home | b/w Trouble, Heartaches And Sadness |
| Harry Nilsson | You're Breaking My Heart | Son Of Schmilsson |
| Music behind DJ: The Brass Ring | The Look Of Love | The Now Sound Of The Brass Ring |
| The O'Jays | I Love Music pt. 1 | b/w I Love Music pt. 2 |
| Ken Nordine | I Love A Groove | Devout Catalyst |
| Gilbert O'sullivan | I Love It But | Off Centre |
| Susan Christie | I Love Onions | b/w Take Me As You Find Me |
| Esquivel | I Love Paris | Strings Aflame |
| Tom T. Hall | I Love | b/w Back When We Were Young |
| Music behind DJ: The Brass Ring | Up, Up And Away | The Now Sound Of The Brass Ring |
| Bob Dorough | Don't Think Twice, It's All Right | Just About Everything |
| Rodriguez | Forget It | Cold Fact |
| Fleetwood Mac | Go Your Own Way | Rumours |
| Neil Young | Only Love Can Break Your Heart | After the Gold Rush |
| Gene Pitney | It Hurts To Be In Love | b/w Hawaii |
| Bobbie Gentry | I'll Never Fall In Love Again | b/w Ace Insurance Man |
| The Replacements | Answering Machine | Let It Be |
| Music behind DJ: The Brass Ring | Georgy Girl | The Now Sound Of The Brass Ring |
| Donovan | I Love My Shirt | b-side to Atlantis |
| Common Market [Liverpool Five] | I Love My Dog | b/w Wings |
| Shona Laing | I Love My Feet | b/w It's All For You |
| Sweet Violet Boys | I Love My Fruit | 10 |
| Nick Lowe | I Love My Label | A Bunch Of Stiff Records |
| Max Bygraves | (I Love To Play) My Ukelele | b/w Come To Our Coming Out Party |
| Yoko Ono | I Love, Earth | Starpeace |
| Brak | I Love Beans | Space Ghost's Musical Bar-B-Que: 25 Hickory-Smoked Harmonies |
| Music behind DJ: The Brass Ring | California Dreamin' | Lara's Theme |
| Tuff Darts | Your Love Is Like Nuclear Waste | Tuff Darts |
| Miki & Griff | My Heart Will Make A Fool Of Me Again | b-side to I Want To Stay Here |
| Gram Parsons | Love Hurts [Alternate Version] | The Complete Reprise Sessions |
| The Jamaicans | The Things You Say You Love | b/w Love That A Woman |
| Tom T. Hall | Somewhere Over The Rainbow | Country Is |
| Bright Eyes | It's Cool, We Can Still Be Friends | Noise Floor (Rarities 1998-2005) |
| Music behind DJ: The Brass Ring | Monday, Monday | The Now Sound Of The Brass Ring |
| T. Rex | I Love To Boogie | b/w Baby Boomerang |
| Barry White | I Love To Sing The Songs I Sing | I Love To Sing The Songs I Sing |
| Fats Waller | I Love To Whistle | (unknown album) |
| Ted Weems & His Orchestra | I Love To Hear A Military Band | 10 |
| Roger Ruskin Spear | I Love To Bumpity-Bump (On a Bumpy Road With You) | Unusual |
| The Beach Boys | I Love to Say Da Da | Smile |
| David John & the Mood | I Love To See You Strut | b-side to Bring It To Jerome |
| Music behind DJ: The Brass Ring | Lara's Theme | Lara's Theme |
| Love-Michael | I Love Those Trees | b-side to Mrs. MacAbee |
| Nick Lowe | I Love the Sound of Breaking Glass | b/w Endless Sleep |
| Alicia Bridges | I Love The Nightlife (Disco Round) | b/w Self Applause |
| The Daylighters | I Love The Life I Live | unk. |
| Bruce & Terry | I Love You Model T | b/w Carmen |
| Music behind DJ: The Brass Ring | Don't Sleep In The Subway | The Now Sound Of The Brass Ring |
| Violent Femmes | Eep Opp Ork Ah-Ah (Means I Love You) | Saturday Morning: Cartoons' Greatest Hits |
| Alice Cooper | I Love the Dead | Billion Dollar Babies |
| Joan Jett & The Blackhearts | I Hate Myself For Loving You | b/w Love Is Pain (live) |
| Jackson Browne | Late for the Sky | Late for the Sky |
| Billy Bragg | Valentine's Day Is Over | Workers Playtime |
| Chet Baker | My Funny Valentine | Chet Baker Sings |
| Music behind DJ: Fleetwood Mac | Albatross | |