If you're looking for previous episodes, click here.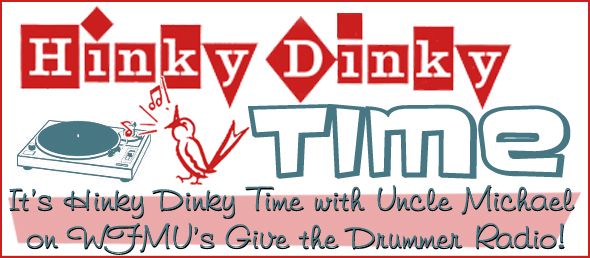 Hinky Dinky Time on WFMU's Give the Drummer Radio, episode 41: Friday, February 21, 2014 at noon, Eastern Time.
The drang before the sturm.
Click here for everything you need to know about accessing the audio.
Access the accuplaylist and comments for this episode and archived audio at
http://wfmu.org/playlists/hd/20140221
The archived audio is available now.
| Artist | Song | Album |
| --- | --- | --- |
| Uncle Michael | Hinky Dinky Time Open | |
| Mulatu Astatke & The Heliocentrics | Chik Chikka | Inspiration Information |
| The Temptations | Take A Stroll Through Your Mind | Psychedelic Shack |
| Screamin' Jay Hawkins | Moanin' | Do You Really Love Me? |
| The Rolling Stones | Dear Doctor | Genuine Black Box 1961-1974 |
| Music behind DJ: Los Destellos | Para Elisa | The Roots Of Chicha: Psychedelic Cumbias From Peru |
| Dave Edmunds | The Claw | Plugged In |
| Brad Paisley with Brent Mason, John Jorgenson, Vince Gill, Albert Lee, Redd Volkaert, James Burton & Steve Wariner | Cluster Pluck | Play- The Guitar Album |
| Nick Lowe | Born Fighter | Labour Of Lust |
| David Essex | Rock On | b/w On And On |
| Jose Feliciano | Hitchcock Railway | b-side to High Heeled Sneakers |
| Earl Hooker | The Hucklebuck | prev. unreleased |
| Music behind DJ: Jerry Reed | Blues Land | There's Better Things In Life |
| Max Frost & the Troopers | Let Your Mind Run Free | Shape Of Things To Come |
| The Flower Pot Men | You Can Never Be Wrong | b/w Man Without A Woman |
| Pharrell Williams | Happy | b/w Just A Cloud Away |
| Kevin Ayers and The Whole World | Lunatics Lament | Shooting At The Moon |
| The Big Three (Willie Dixon) | Violent Love | The Chess Box |
| Mott the Hoople | How Long? [Death May Be Your Santa Claus Demo] | All The Young Dudes – The Anthology |
| Music behind DJ: Jimmy McConville | Scorpion | Lux and Ivy's Favorites Volume Nine |
| Johnny Whitaker | Sigmund And The Sea Monsters | Friends |
| Sweet | Blockbuster | b/w Need A Lot Of Lovin' |
| The Beatles | Got To Get You Into My Life | Revolver |
| The Aerovons | Resurrection | Aerovons |
| Detroit Harmonettes | I Need Thee | Nuggets of the Golden Age of Gospel 1945-1958 |
| Bob Lee | Wanted For Questioning | b/w That Kind Of Love |
| Duncan Browne | Journey | b/w In A Mist |
| Music behind DJ: Incredible Bongo Band | Let There Be Drums | Bongo Rock |
| Don & The Goodtimes | You Were Just A Child | b/w I Hate To Hate You |
| Eternity's Children | Rupert White | Eternity's Children |
| Elephants Memory | Jungle Gym At The Zoo | b-side to Crossroads Of The Stepping Stones |
| Kaleidoscope | You Don't Love Me | A Beacon From Mars |
| The Friends Of The Family | Can't Go Home | b/w How You Gonna Keep Your Little Girl Home |
| The Association | Goodbye Forever | The Association |
| Chris Farlowe | Moanin' | b/w What Have I Been Doing |
| Music behind DJ: TV 5 | The Newlywed Game | Television's Greatest Hits |
| The Grass Roots | Mamacita | b/w The Last Time Around |
| The Bobby Fuller Four | Let Her Dance | b/w Another Sad And Lonely Night |
| Tommy Scott & the Senators | Chills & Fever | b/w Baby, I'm In Love |
| Fats Domino | If You Don't Know What Love Is | b-side to Something You Got, Baby |
| Buck Owens & The Buckaroos | Who's Gonna Mow Your Grass | b/w There's Gotta Be Some Changes Made |
| The Monarchs | This Old Heart | b/w 'Til I Hear It From You |
| Music behind DJ: Sammy Burdson | Locomotion | Black Lolita |
| Blue Mink | Good Morning Freedom | b/w Mary Jane |
| Leapy Lee | Little Arrows | b/w I Will Wait For You |
| The Fortunes | Freedom Come Freedom Go | b/w There's A Man |
| Joe Dolan | You're Such A Good Looking Woman | b/w Something Happens |
| The Hollies | The Air That I Breathe | b/w No More Riders |
| Albert Hammond | I Don't Wanna Die In An Air Disaster | Albert Hammond |
| Music behind DJ: The Richard Hewson Orchestra/Corona School Children | Spicks and Specks | Melody OST |
| Dickie Goodman | On Campus | b/w My Victrola |
| Starz | Cherry Baby | b/w Rock Six Times |
| Joe Meek/The Blue Men | Entry Of The Globbots/Valley Of The Saroo's/MagneticField/Orbit Around The Moon | I Hear A New World (Part 1) |
| The Gestures | Run, Run, Run | b/w It Seems To Me |
| Kay Cee Jones | The Japanese Farewell Song | b/w I Wore Dark Glasses (At Your Wedding) |
| Music behind DJ: Fleetwood Mac | Albatross | |