Podcast: Play in new window | Download (Duration: 2:16:20 — 187.2MB)
If you're looking for previous episodes, click here.
Seventy-five bucks gets you my DJ Premium. That's a bargain…that would never get you a real Dickie Goodman album.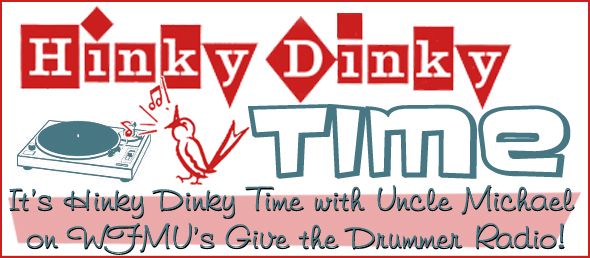 Hinky Dinky Time on WFMU's Give the Drummer Radio, episode 42: Friday, February 28, 2014 at noon, Eastern Time.
Break in on a dollar.
Click here for everything you need to know about accessing the audio.
Access the accuplaylist and comments for this episode at
http://wfmu.org/playlists/hd/20140228
The archived audio and podcast are available now.
| Artist | Song | Album |
| --- | --- | --- |
| Uncle Michael | Hinky Dinky Time Open | |
| Darondo | Gimme Some | Listen To My Song: The Music City Sessions |
| Emitt Rhodes | Golden Child Of God | Mirror |
| Buoys | Give Up Your Guns | b/w The Prince Of Thieves |
| Bombino | Azamane Tiliade | Nomad |
| The Free Design | Bubbles | Stars/Time/Bubbles/Love |
| Sherbet | Howzat | Howzat |
| Peter Yarrow | Buddy, Can You Spare A Dime? | Hard Times |
| The Carpenters | Calling Occupants Of Interplanetary Craft (The Recognized Anthem Of World Contact Day) | b/w Can't Smile Without You |
| The Everly Brothers | It's My Time | b/w Empty Boxes |
| Cluster & Eno | Ho Renomo | Cluster & Eno |
| Brian Protheroe | Pinball | Pinball |
| Ian Dury & the Blockheads | Reasons To Be Cheerful, Part 3 | b/w Common As Muck |
| Aztec Camera | Jump | b-side to All I Need Is Everything |
| The Beatles | I Don't Want to Spoil the Party | Beatles For Sale |
| Tropics | I Want More | b/w Goodbye My Love |
| John Cale | I Wanna Talk 2 U | Shifty Adventures in Nookie Wood |
| Neil Diamond | Stones | Stones |
| Fountains of Wayne | Strapped for Cash | Traffic and Weather |
| Kris Kristofferson | If You Don't Like Hank Williams | Please Don't tell Me How The Story Ends – The Publishing Demos 1968-72 |
| Rose Royce | Put Your Money Where Your Mouth Is | b-side to I Wanna Get Next To You |
| Michel Pagliaro | Lovin' You Ain't Easy | b/w She Moves Light |
| Brother John Rydgren | Hippie Version of Creation | Silhouette Segments |
| Chairmen of the Board | Pay to the Piper | b/w Bless You |
| Andy Fairweather-Low | Wide Eyed And Legless | La Booga Rooga |
| Pere Ubu | And Then Nothing Happened | Lady From Shanghai |
| ABBA | Bang-A-Boomerang | b-side to I Do, I Do, I Do, I Do, I Do |
| Ernest Tubb | Thanks A Lot | Thanks A Lot |
| Kim Fowley | The Trip | King Of The Creeps – Lost Treasures From The Vaults 1959-69 Volume Three |
| Audience | Indian Summer | The House On The Hill |
| The Monkees | What Am I Doing Hangin' 'Round? | b/w Someday Man |
| Uncle Michael | Marathon 2014 | The Many Heads Of Uncle Michael |
| Lonnie Holley | Six Space Shuttles and 144,000 Elephants | Keeping a Record of It |
| Boney M | Rasputin | b/w Rasputin (extended version) |
| Music behind DJ: Fleetwood Mac | Albatross | |