Podcast: Play in new window | Download (Duration: 3:06:30 — 256.1MB)
If you're looking for previous episodes, click here.
Seventy-five bucks gets you my DJ Premium. That's a bargain…that would never get you a real Dickie Goodman album.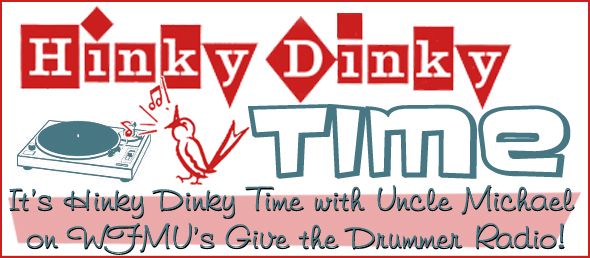 Hinky Dinky Time on WFMU's Give the Drummer Radio, episode 43: Friday, March 7, 2014 at noon, Eastern Time.
Click here for everything you need to know about accessing the audio.
Access the accuplaylist and comments for this episode at
http://wfmu.org/playlists/hd/20140307
The archived audio and podcast are available now.
| Artist | Song | Album |
| --- | --- | --- |
| Uncle Michael | Hinky Dinky Time Open | |
| Albert Brooks | Party from Outer Space | A Star Is Bought |
| The Kinks | Last of the Steam Powered Trains | The Kinks Are The Village Green Preservation Society |
| Shuggie Otis | Walkin' Down the Country | Inspiration Information/ Wings of Love |
| Ted Taylor | (Love Is Like A) Ramblin' Rose | b/w I'm So Satisfied |
| Grand Funk Railroad | Bad Time | b/w Good & Evil |
| Sonic Youth | Intro / Brave Men Run (In My Family) | Smart Bar Chicago 1985 |
| Chris Montez | Foolin' Around | Foolin' Around |
| Z.Z. Top | I Thank You | Degüello |
| Violent Femmes | Happiness Is | Freak Magnet |
| Wreckless Eric & Amy Rigby | A Darker Shade Of Brown | A Working Museum |
| Speedy West | Speedy's Special | Guitar Spectacular |
| Uncle Michael | Marathon 2014 | The Many Heads Of Uncle Michael |
| Wreckless Eric & Amy Rigby | Valley Liquors | A Working Museum |
| Free Fall | Power & Volume | Power & Volume |
| The Osmonds | Crazy Horses | b/w That's My Girl |
| Michael Fennelly | Love Can Change Everything | Love Can Change Everything: Demos 1967-1972 |
| Bo Diddley | Gimme Gimme | Bo Diddley & Company |
| Mag & the Suspects | Thousands Dead | b-side to Erection |
| Buck Owens & His Buckaroos | Love Minus Zero – No Limit | Bridge Over Troubled Water |
| David Crosby | Cowboy Movie | If I Could Only Remember My Name |
| Rangda | Plugged Nickel | Formerly Extinct |
| Merle Haggard | The Legend of Bonnie and Clyde | The Complete '60s Capitol Singles |
| Merle Haggard | Swinging Doors | The Complete '60s Capitol Singles |
| Gino Parks | Same Thing | b/w That's No Lie |
| Ray Stevens | Mr. Businessman | b/w Face The Music |
| Wings | Medicine Jar | Venus and Mars |
| Ozark Mountain Daredevils | If You Wanna Get To Heaven | b/w Spaceship Orion |
| Lee Hazlewood | Who Is Lee Hazlewood? | Trouble Is a Lonesome Town [Expanded Edition] |
| Lee Hazlewood | Trouble Is A Lonesome Town | Trouble Is a Lonesome Town [Expanded Edition] |
| Yoko Ono/Plastic Ono Band | Waiting For The D Train | Between My Head And The Sky |
| Tanya Tucker | Blood Red And Goin' Down | b/w The Missing Piece Of Puzzle |
| Peter Sarstedt | Frozen Orange Juice | b/w Aretusa Loser |
| Steely Dan | Only a Fool Would Say That | b-side to Reeling In The Years |
| Giorgio Moroder | Underdog | Schlagermoroder (Volume 1 – 1966-1975) |
| Big Star | Don't Lie to Me (Alternate Mix, 1972) | Nothing Can Hurt Me: Original Soundtrack |
| Fleetwood Mac | Albatross | |