Podcast: Play in new window | Download (Duration: 3:04:21 — 253.2MB)
If you're looking for previous episodes, click here.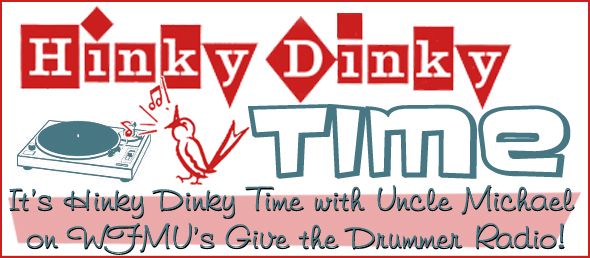 Hinky Dinky Time on WFMU's Give the Drummer Radio, episode 44: Friday, March 14, 2014 at noon, Eastern Time.
Generating buzz…
Click here for everything you need to know about accessing the audio.
Access the accuplaylist and comments for this episode at
http://wfmu.org/playlists/hd/20140314
The archived audio and podcast is available now.
| Artist | Song | Album |
| --- | --- | --- |
| Uncle Michael | Hinky Dinky Time Open | |
| P-Nut Gallery | Do You Know What Time It Is | b/w Welcome Back To Dootieville |
| Kai-Ray | I Want Some Of That | Mad Mike Moldies Volume One LP |
| Shalamar | Inky Dinky Wang Dang Doo | Uptown Festival |
| J.J. Cale | Outside Lookin' In | b/w In Our Time |
| Kraftwerk | Boing Boom Tschak | Electric Cafe |
| The Ames Brothers | Hawaiian War Chant (Ta-Hu-Wa-Hu-Wai) | b/w Sweet Leilani |
| Paul Nicholas | Heaven On The 7th Floor | b/w Do You Want My Love |
| Music behind DJ: Pat Williams & The Band | Eleanor Rigby | Shades of Today |
| Red Rider | Lunatic Fringe | b/w Cowboys In Hong Kong |
| Jigsaw | Sky High | b/w Brand New Love Affair |
| John Miles | Highfly | b/w There's A Man Behind The Guitar |
| Millie Jackson | All the Way Lover | b-side to Cheatin' Is |
| The Mills Brothers | Say Si Si | b/w I'm With You |
| Music behind DJ: Jacky Noguez | Ciao Ciao Bambina | b/w De Serait Dommage |
| Eric Carmen | Hey Deanie | b-side to Change Of Hear |
| Sylvain Sylvain | Teenage News | Sylvain Sylvain |
| The Piglets | Johnny Reggae | b/w Backing Track |
| Gene Clark | Jimmy Christ | Here Tonight: The White Light Demos |
| Mad Mike and The Maniacs | The Hunch | Mad Mike Monsters: Vol. 3 |
| Lee Hazlewood | This Town | These Boots Are Made For Walkin' (The Complete MGM Recordings) |
| Curt Boettcher | Tumbling Tumbleweeds | Another Time (2003) |
| Music behind DJ: Galt Macdermot | And He Will Not Come Again | Up From The Basement – Unreleased Tracks – Volumes 1 & 2 |
| Sun Ra | Cosmo Earth Fantasy | Temple U (Sub Undergound) (Cosmo Earth Fantasy) |
| Music behind DJ: Les Paul | Sleep | b-side to I'm Sitting On Top Of The World |
| Sérgio Mendes & Brasil '77 | The Waters of March (Aguas de Março) | Vintage '74 |
| Alex Chilton | Jumpin' Jack Flash | Free Again: The 1970 Sessions |
| Joe Jackson | Got The Time | Look Sharp |
| ACDC | Riff Raff | Powerage |
| Guitar Wolf | Fire Eighteen | Spacenattleshiplove |
| Music behind DJ: The Dynatones | The Fife Piper | b/w And I Always Will |
| Kenny & the Kasuals | Journey To Tyme | b/w I'm Gonna Make It |
| Elder William Smith | His voice (Acts 9-5) | b/w All Nations Quartet/He Spoke |
| David Hemmings | Talkin' L.A. | Happens |
| Al Green | I'm A Ram | Al Green Gets Next To You |
| The Prisonaires | Just Walking in the Rain | b-side to Baby Please |
| Gladys Knight & The Pips | It Should Have Been Me | b/w You Don't Love Me No More |
| Music behind DJ: Franck Pourcel & His Orchestra | Loin De Vous Only You | Buenas Noches Mi Amor (EP) |
| Albert Collins | Sno-Cone (Part I) | b/w Sno-Cone (Part II) |
| Little Milton | Your People | b/w My Baby's Something Else |
| Barbra Streisand | Space Captain | Barbra Joan Streisand |
| The Goons | The Ying Tong Song | b-side to Bloodnok's Rock 'n' Roll Call |
| Harry Belafonte | Cocoanut Woman | b-side to Island In The Sun |
| Shoes | Love Is Like A Bullet | 35 Years-The Definitive Shoes Collection 1977-2012 |
| Frente | Dangerous | Marvin the Album |
| Music behind DJ: Maurice Jarre | Lawrence Of Arabia End Title | Lawrence Of Arabia OST |
| H.P. Lovecraft | The White Ship | H.P. Lovecraft |
| The Gentrys | You Make Me Feel So Good | b/w There's A Love |
| Music behind DJ: Fleetwood Mac | Albatross | |