Podcast: Play in new window | Download (Duration: 3:00:35 — 248.0MB)
If you're looking for previous episodes, click here.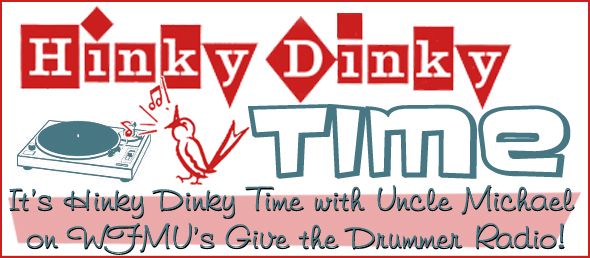 Hinky Dinky Time on WFMU's Give the Drummer Radio, episode 45: Friday, March 21, 2014 at noon, Eastern Time.
Say hello to my little friend.
Click here for everything you need to know about accessing the audio.
Access the accuplaylist and comments for this episode at
http://wfmu.org/playlists/hd/20140321
The archived audio and podcast is available now.
| Artist | Song | Album |
| --- | --- | --- |
| Uncle Michael | Hinky Dinky Time Open | |
| The Osmonds | Down By The Lazy River | b/w He's The Light Of The World |
| Cheap Trick | Hot Love | Cheap Trick |
| Kansas | Carry On Wayward Son | Leftoverture |
| Evelyn Freeman & the Exciting Voices Chorus | Didn't It Rain | Nuggets of the Golden Age of Gospel 1945-1958 |
| Eartha Kitt | I Want to Be Evil | RCA Victor Presents Eartha Kitt |
| Gilbert O'Sullivan | Nothing Rhymed | Himself |
| Scientist | Baltimore Dub | Scientific Dub |
| Music behind DJ: Yusef Lateef | Nubian Lady | b/w unk. |
| Patti Page (George Barnes Orchestra) | Confess | b/w Twelve O'Clock Flight |
| Hollywood Stars | All The Kids On The Street | b/w All For Love |
| Elvis Presley | Clambake | Clambake |
| Lynsey De Paul | Sugar Me | b/w Storm In A Teacup |
| The Vogues | Things Go Better With Coke #2 | Some ads… |
| Music behind DJ: Bud Shank | Cocoanut Grove | A Spoonful Of Jazz |
| Elton John | Come Down In Time (Piano Demo) | Tumbleweed Connection (Deluxe Edition) |
| Dionne Warwick | Anyone Who Had A Heart | b/w The Love Of A Boy |
| Lee Hazlewood | My Autumn's Done Come | b-side to Sand |
| Heads Hands & Feet | Look At The World It's Changing/You Because You Know Me | Heads Hands & Feet |
| Music behind DJ: Sil Austin | Slow Walk | b/w Wildwood |
| ZZ Top | I Gotsa Get Paid | La Futura |
| Betty Wright | Shoorah! Shoorah! | b/w Tonight Is The Night |
| The Ly-Dells | Wizard Of Love | b/w Let This Night Last |
| The Ink Spots | Prisoner Of Love | b/w I Cover the Waterfront |
| The New Pornographers | Mass Romantic | Mass Romantic |
| Carole Bayer Sager | You're Moving Out Today | b/w Shy As A Violet |
| Music behind DJ: Michel Legrand | Loneliness In The Crowd | Le Mans – OST |
| The Louvin Brothers | I Ain't Gonna Work Tomorrow | Sing And Play Their Current Hits |
| Gene Autry | Hobo Bill's Last Ride | 10 |
| Three Dog Night | Murder In My Heart for The Judge | Harmony |
| The Stooges | See That Cat (T.V. Eye) | 1970: The Complete Fun House Sessions |
| Urge Overkill | Stull (Part 1) | Stull EP |
| Music behind DJ: Elmer Bernstein | Cooler And Mole | The Great Escape – Original Soundtrack Recording |
| James Fry | Tumbling Down | b/w Still Around |
| Jimmy Soul | Treat 'Em Tough | b/w Church Street In Summertime |
| Carl Perkins | Pointed Toe Shoes | b-side to Highway Of Love |
| Scott Walker | Black Sheep Boy | Scott 2 |
| Clout | Substitute | b/w When Will You Be Mine, |
| The Darkness | Cannonball (Long Version) | Hot Cakes |
| Dinah Shore | I Ain't Down Yet | b-side to I Gotta Love You |
| Music behind DJ: Billy Vaughn & His Orchestra | A Theme From (The Three Penny Opera) | Moritat |
| Walter Wanderley | Samba De Verao (Summer Samba) | b/w Call Me |
| El Chicano | Eleanor Rigby | Viva Tirado |
| Husnu Ozkartal Orkestrasi | Su Derenin Sulari | Psych Funk 101 |
| The Guess Who | 969 (The Oldest Man) | American Woman |
| Lowell Fulson | Rollin' Blues | unk. |
| Music behind DJ: Thelma All Stars | Let's Party | unk. |
| Little Jimmy Dickens | Take An Old Cold 'Tater (And Wait) | Raisin' the Dickens |
| The Fugs | I Couldn't Get High | The Fugs First Album |
| The Conservatives | You've Got Another Think Coming | unk./Lost Jukebox Volume 139 |
| Georgie Fame & The Blue Flames | Get Away | b/w El Bandido |
| The Moody Blues | Bye Bye Bird | b-side to Stop! |
| Hank Snow | The Last Thing on My Mind | Hello My Love |
| Fleetwood Mac | Albatross | |