Podcast: Play in new window | Download ()
If you're looking for previous episodes, click here.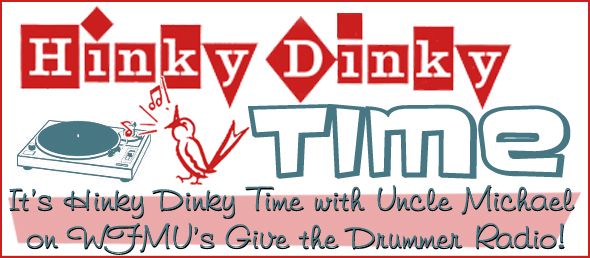 Hinky Dinky Time on WFMU's Give the Drummer Radio, episode 45: Friday, March 28, 2014 at noon, Eastern Time.
Coelacanth? C'est la vie.
Click here for everything you need to know about accessing the audio.
Access the accuplaylist and comments for this episode at
http://wfmu.org/playlists/hd/20140328
The archived audio and podcast is available now.
| | | |
| --- | --- | --- |
| Uncle Michael | Hinky Dinky Time Open | |
| Laid Back | White Horse | b-side to Sunshine Reggae |
| Rusty York | Sugaree | b/w Red Rooster |
| Carlton & Family Man Barrett | Capo Dub | Macka Dub |
| Mark Tucker | Sideways Love Forever | Batstew |
| Matthew Sweet | Trade Places | In Reverse |
| Stonewall Jackson | Me and You and a Dog Named Boo | The World Of |
| Music behind DJ: The Avalanches | Avalanche | Ski Surfin' |
| Louis Jordan | Hog Wash | b/w House Party |
| Honey Cone | Stick-Up | b/w V.I.P. |
| Alice Joy | Johnny (What's She Got That I Ain't Got) | b/w He's Coming Back To Me |
| Cliff Richard And The Shadows | I'm The Lonely One | b/w Watch What You Do With My Baby |
| Eternity's Children | Mrs. Bluebird | b/w Little Boy |
| Wool | I Got The Feeling (oh No) | b/w In The Rest Of My Life |
| Neil Diamond | I Am … I Said | b/w Done Too Soon |
| Music behind DJ: King Curtis | Beach Party | b/w Turn 'em On |
| Clarence Carter | Slip Away | b-side to Funky Fever |
| Jimmy Hughes | Steal Away | b/w Lolly Pops, Lace And Lipstick |
| Arthur Alexander | I Hope They Get Their Eyes Full | previously unreleased |
| Candi Staton | He Called Me Baby | b/w What Would Become Of Me |
| Barbara Perry | A Man Is A Mean, Mean Thing | previously unreleased |
| Jimmy Cliff | Sitting In Limbo | b/w The Bigger They ComeThe Harder They Fall |
| Music behind DJ: The Bob Crewe Generation | Girls On The Rocks | b-side to Music To Watch Girls By |
| Firesign Theatre | The Mayor Is The Problem | Boom Dot Bust |
| Bill Monroe & His Blue Grass Boys | Blue Yodel #4 | b-side to Will You Be Loving Another Man |
| Jerry Reed | Mule Skinner Blues (Blue Yodel #8) | Georgia Sunshine |
| Jerry Reed | The Likes Of Me | Better Things In Life |
| Jerry Reed | Take A Walk | The Unbelievable Guitar & Voice Of |
| Gilberto Gil | Pé De Roseira | Gilberto Gil |
| Dixon's Jazz Duo | K.D. Blues | b/w Headache Blues |
| Hour of Charm Choir | Our Lady of Fatima | unk. |
| Music behind DJ: The Sensational Guitars Of Dan & Dale (Sun Ra and the Blues Project) | Joker is Wild | Batman and Robin |
| The Iron Maiden | Falling | b/w Ned Kelly |
| The Kinks | Got To Be Free | Lola Versus Powerman And The Moneygoround, Part One |
| John LiVigni | Machines | b/w Driving Back To You |
| The Groupies | Primitive | b/w Hog (I'm A Hog For You Baby) |
| Edwin Starr | Funky Music Sho Nuff Turns Me On | b/w Cloud Nine |
| Hüsker Dü | Books About UFOs | New Day Rising |
| Music behind DJ: unk. | Wild Cat | unk. |
| Sleaz Band | Midnight Man | b-side to All I Want Is You |
| Bobby & Laurie | Jump Back | Hitch Hiker (Cum Sunt Ambulant) |
| Nico & T Boerekoor | 't Nieuw Brabants Volkslied (Mix) | unk. |
| Duane & Miriam Eddy | Guitar On My Mind | b/w Wicked Woman From Wickenburg |
| Tribe | Koke (Part I) | b/w Koke (Part II) |
| Hank Snow, The Singing Ranger And His Rainbow Ranch Boys | I Don't Hurt Anymore | b/w (Now And Then, There's) A Fool Such As I |
| Music behind DJ: The Frantics | Werewolf | b/w No Werewolf |
| Gilbert O'Sullivan | Miss My Love Today | Southpaw |
| Up, Bustle & Out | Chicharras Night | Mexican Dub Sessions |
| Delaney & Bonnie | Ghetto | Accept No Substitute |
| Merle Haggard | It's Been a Great Afternoon | I'm Always On A Mountain When I Fall |
| Music behind DJ: The Moe Koffman Quartette | The Swingin' Shepherd Blues | b/w Moe Koffman Septette – Hambourg Bound |
| Michael Redway | Good Morning | b/w Siobhan (Shevawn) |
| Buffalo Springfield | On The Way Home | b/w Four Days Gone |
| Hank Snow & The Rainbow Ranch Boys | I'm Movin' On | b/w With This Ring, I Thee Wed |
| Peter Sarstedt | Sayonara | Peter Sarstedt |
| Fleetwood Mac | Albatross | |