If you're looking for previous episodes, click here.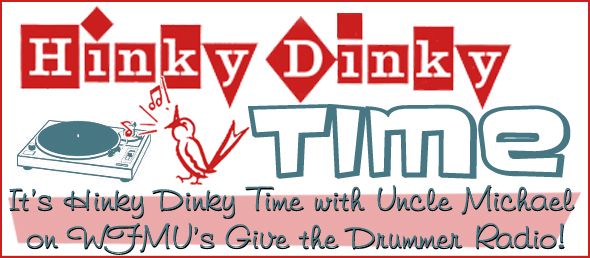 Hinky Dinky Time on WFMU's Give the Drummer Radio, episode 48: Friday, April 11, 2014 at noon, Eastern Time.
Wait for it…
Click here for everything you need to know about accessing the audio.
Access the accuplaylist and comments for this episode and archived audio at
http://wfmu.org/playlists/hd/20140411
The archived audio is available now.
| | | |
| --- | --- | --- |
| Uncle Michael | Hinky Dinky Time Open | |
| The Evolution Control Committee | A Bigger, More Important Sound | Raymond Scott Rewired |
| Free Design | Kites Are Fun | b/w The Proper Ornaments |
| October Country | I Was A Fire | October Country |
| The Millenium | 5 A.M. | Begin |
| The Steve Miller Band | Baby's Callin' Me Home | Children of the Future |
| The Peanut Butter Conspiracy | Ecstasy | The Great Conspiracy |
| P.F. Sloan | This Precious Time | Twelve More Times |
| Music behind DJ: Bud Shank | Cocoanut Grove | A Spoonful Of Jazz |
| The Street Cleaners | That's Cool, That's Trash | b/w Garbage City |
| Jesse Winchester | Sham-A-Ling-Dong-Ding | Love Filling Station |
| The Partridge Family Starring Shirley Jones And Featuring David Cassidy | It's One of Those Nights (Yes Love) | b/w One Night Stand |
| Donovan | Cosmic Wheels | Cosmic Wheels |
| Donovan | Intergalactic Laxative | Cosmic Wheels |
| Elvis Costello | No Dancing | My Aim Is True |
| The Grass Roots | Temptation Eyes | b/w Keepin' Me Down |
| Music behind DJ: Walter Wanderley | Cried, Cried | Rain Forest |
| Tedechi Trucks Band | Do I Look Worried (Isolated Vocal/Guitar) | Made Up Mind |
| Yes | Everydays | b-side to Looking Around |
| Paul McCartney | Junk | McCartney |
| XTC | Earn Enough for Us | Skylarking |
| Steely Dan | Don't Take Me Alive | The Royal Scam |
| Music behind DJ: Gus Jenkins | Chittlins | b/w You'll Be The One |
| Jimmy Reed | Bright Lights, Big City | b/w I´m Mr. Luck |
| E-types | Big City | b/w Back To Me |
| Simon T. Stokes | Big City Blues | b/w Truth Is Stranger Than Fiction |
| Merle Haggard | Big City | b/w I Think I'm Gonna Live Forever |
| Gallery | Big City Miss Ruth Ann | b/w Lover's Hideaway |
| Music behind DJ: Incredible Bongo Band | Let There Be Drums | b/w Dueling Bongos |
| Al Green | The City | Explores Your Mind |
| Go Home Productions | The Night & Day Household Greyhound | Raymond Scott Rewired |
| Kraftwerk | Showroom Dummies (Schaufensterpuppen ) | Trans-Europe Express |
| Pluto Shervington | Dat | b/w A Lb. Of Version |
| Jefferson Lee | Book Of Love | b/w Sorcerella |
| Arthur Alexander | Glory Road | b-side to Cry Like A Baby |
| The Stanley Brothers | I'm A Man Of Constant Sorrow | unk. |
| Music behind DJ: Jim & Joe (James Burton/Joe Osborn) | Daisy Mae | b/w Fireball mail |
| The Dukes | Groceries Sir | b-side to Looking For You |
| Duke Ellington & His Famous Orchestra | The Mooche | unk. |
| The Cats And The Fiddle | Nuts To You | b/w Killin' Jive |
| The Cats And The Fiddle | Killin' Jive | b-side to Nuts To You |
| Leo Reisman and his Orchestra | Ferry Boat | unk. |
| The Mills Brothers | Paper Doll | unk. |
| Cab Calloway & His Orchestra | Between The Devil And The Deep Blue Sea | unk. |
| Music behind DJ: Walter Wanderley | Summer Samba | Rain Forest |
| Sly & the Family Stone | Jane Is a Groupee | Life |
| The Haunted | 1-2-5 | b/w Eight O'Clock This Morning |
| James Ray | Itty Bitty Pieces | b/w You Remember The Face |
| Roy Smeck And His Hawaiian Serenaders | Dream Sweetheart | b/w By The Fireside |
| The Peddlers | Nothing Sacred | b-side to Back-Alley Jane |
| Music behind DJ: Jimmy Burton (James Burton) | Love Lost | b/w Jimmy's Blues |
| Rita Lee | Superfície do Planeta | Hoje é o Primeiro Dia do Resto da Sua Vida |
| The Carnival | Walk On By | Carnival |
| The Moonglows | Sincerely | b/w Tempting |
| Johnny Cash | Highway Patrolman | Johnny 99 |
| Hank Thompson And His Brazos Valley Boys | A Six Pack To Go | b/w What Made Her Change |
| The Dillards | The Last Thing On My Mind | Wheatstraw Suite |
| Music behind DJ: Fleetwood Mac | Albatross | |