Podcast: Play in new window | Download (Duration: 3:02:23 — 250.5MB)
If you're looking for previous episodes, click here.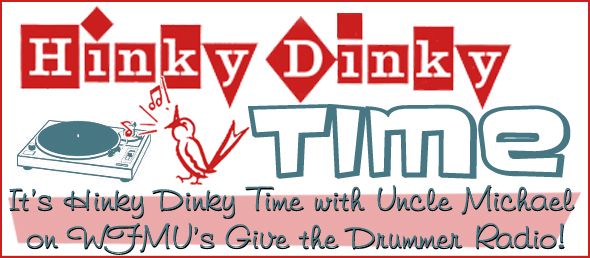 Hinky Dinky Time on WFMU's Give the Drummer Radio, episode 48: Friday, April 18, 2014 at noon, Eastern Time.
What? WHAT?!
Click here for everything you need to know about accessing the audio.
Access the accuplaylist and comments for this episode at
http://wfmu.org/playlists/hd/20140418
The archived audio and podcast is available now.
| | | |
| --- | --- | --- |
| Uncle Michael | Hinky Dinky Time Open | |
| The Edsels | Rama Lama Ding Dong | b/w Bells |
| Three Dog Night | Eli's Coming | Suitable for Framing |
| Darrell Statler | Blue Collar Job | b/w I'm Barely Gettin' By |
| Lene Lovich | Lucky Number | b-side to I Think We're Alone Now |
| Tommy James & The Shondells | Crystal Blue Persuasion | b/w I'm Alive |
| Willie Harper | A Certain Girl | b-side to I Don't Need You Anymore |
| Esquivel, His Piano And Group | Tico Tico | Four Corners of the World |
| Music behind DJ: The James Gang | Yadig | Thirds |
| Wayne Kramer, The Lexington Arts Ensemble | The Wayne In Spain | Lexington |
| Jimmy McGriff Organ & Blues Band | Down Home On The Moon | A Thing To Come By |
| Isley Brothers | Fight the Power Pt. 1 | b/w Fight the Power Pt. 2 |
| Music behind DJ: The Sounds Of Jack Downes | Up-Up And Away | unk. |
| Sandie Shaw | Message Understood | b/w Don't You Count On It |
| Bob & Ray | Fred Falby | DIY Golfballs – WOR-AM 1975 Tape 1 |
| David Crosby | I'd Swear There Was Somebody Here If | I Could Only Remember My Name |
| Pink Floyd | Arnold Layne | b/w Candy And A Currant Bun |
| The Four Freshmen | Charade | b-side to Funny How Time Slips Away |
| Ethel Smith | Carioca | Rhythm Antics! |
| People's Choice | Do It Any Way You Wanna | b/w The Big Hurt |
| Music behind DJ: Sammy Kaye | Theme from Charade | b/w Maria Elena |
| Ronnie Love | Chills And Fever | b/w No Use Pledging My Love |
| (Billy) Crash Craddock | Don't Destroy Me | b/w Boom Boom Baby |
| Chaino | Swamp Girl | Africana |
| Hank Williams Jr. (as Luke The Drifter Jr.) | I Was With Red Foley (The Night He Passed Away) | b/w The Drifter |
| Dead Moon | Street Of Despair | Thirteen Off My Hook |
| The Rats | Can't Stand Back | In a Desperate Red |
| The Dictators | Young, Fast, Scientific | Manifest Destiny |
| Music behind DJ: Buffalo Springfield | Kahuna Sunset | Archives |
| Bobby Lee Trammell And The Jordanaires | What Is This World Coming To | b/w I Couldn't Believe My Eyes |
| Emitt Rhodes | Long Time No See | Emitt Rhodes |
| The Paley Brothers | Meet The Invisible Man (Unreleased) | prev. unr. |
| Big Star | O My Soul | Radio City |
| Teach-In | Ding-A-Dong | b/w Let Me In |
| Music behind DJ: Chuck Berry | Ingo | One Dozen Berrys |
| Harold Melvin & The Blue Notes | Wake Up Everybody (Original Album Version) | Wake Up Everybody |
| The O'Jays | Backstabbers | b/w 992 Arguments |
| The Olympic Runners | The Bitch | b/w Energy Beam |
| Aguaturbia | I Wonder Who | Volumen 2 |
| The Surprise Package | The Other Me | b/w The Merry-Go-Round Is Slowing You Down |
| Music behind DJ: Incredible Bongo Band | Let There Be Drums | Bongo Rock The Story Of |
| Cab Calloway & His Orchestra | Kickin' The Gong Around | b/w unk. |
| Artie Shaw & His New Music | All God's Chillun' Got Rhythm | b/w unk. |
| Burl Ives | (Ghost) Riders in the Sky: A Cowboy Legend | b/w Wayfaring Stranger/Woolie Boogie Bee |
| The Fox | Only You Can | b/w Out Of My Body |
| Street People | Wanna Slow Dance With You Baby (At The Disco) | b/w I Wanna Spend My Whole Life With You |
| Booker T. & The MGs | Mrs. Robinson | b/w Soul Clap '69 |
| The Cyrkle | Terry's Theme [unreleased] | prev. unr. |
| Snooks Eaglin | Sophisticated Blues | New Orleans Street Singer |
| Mel Tormé | It's A Blue World | It's A Blue World |
| The Critters | Mr. Dieingly Sad | b/w It Just Won't Be That Way |
| The Kingston Trio | The Last Thing On My Mind | Somethin' Else |
| Music behind DJ: Fleetwood Mac | Albatross | |