If you're looking for previous episodes, click here.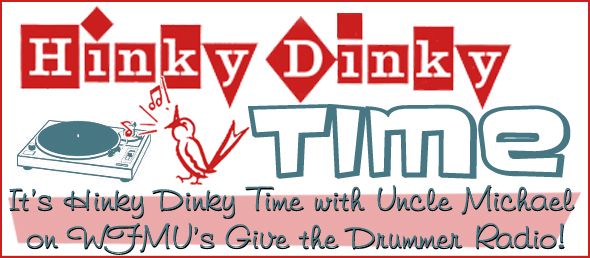 Hinky Dinky Time on WFMU's Give the Drummer Radio, episode 50: Friday, April 18, 2014 at noon, Eastern Time.
I am the master of thousands, they all look to me…
Click here for everything you need to know about accessing the audio.
Access the accuplaylist and comments for this episode and archived audio at
http://wfmu.org/playlists/hd/20140425
The archived audio is available now.
| | | |
| --- | --- | --- |
| Uncle Michael | Hinky Dinky Time Open | |
| Bent Fabric feat. Allan Vegenfeldt | Jukebox | Jukebox |
| Bonnie Dobson | Morning Dew | At Folk City |
| The Jazz Messengers | Minor's Holiday | At The Café Bohemia Vol. 1 |
| The Woolies | Morning Dew | b-side to Black Crow Blues |
| Andy Cameron | Ally's Tartan Army | b/w I Want To Be A Punk Rocker |
| Juaneco y su Combo | La Cumbia del Pacurro | Aqui Estan… Los Reyes De La Selva |
| Camper Van Beethoven | (I Was Born In A) Laundromat | Key Lime Pie |
| Al Green | Driving Wheel | Gets Next To You |
| Nazareth | Morning Dew | Nazareth |
| Bobby Bare | Talk Me Some Sense | b/w Delias's Gone |
| Bobby Bare | Charleston Railroad Tavern | b/w Vincennes |
| Carl Smith | Foggy River | Deep Water |
| Planet Seven | Long Ride | The Tomorrow That Never Was |
| Del Shannon | Cry Myself To Sleep | b/w I'm Gonna Move On |
| Roy Orbison | Working for the Man | b/w Leah |
| Episode Six | Morning Dew | b/w Sunshine Girl |
| Jackie Leven | Working Alone/A Blessing | The Forbidden Songs of the Dying West |
| Buffalo Springfield | Pretty Girl Why (previously unreleased mix) | prev. unr. |
| Walt Dickerson | Bacon & Eggs | Impressions Of A Patch Of Blue |
| Lee Hazlewood | Nothin's Gonna Blow My Mind | unk. |
| Lee Hazlewood | Morning Dew | b/w The House Song |
| Maggie Thrett | Soupy | b/w Put A Little Time Away |
| The Carpenters | Iced Tea | prev. unr. |
| The Bee Gees | Such a Shame [Mono Version] | Idea |
| Chris Bell | I Don't Know | I Am The Cosmos |
| Cold Chisel | Rising Sun | b-side to Cheap Wine |
| Jeff Beck | Morning Dew | Truth |
| Clint Black | I Take A Lot Of Pride In What I Am | Mama's Hungry Eyes – A Tribute To Merle Haggard |
| David Essex | Gonna Make You A Star | b/w Window |
| Badfinger | Believe Me | No Dice |
| Jimmy Nelson with the Peter Rabbit Trio | T-99 Blues | b/w unk. |
| The New Christy Minstrels | South American Get Away | b-side to You Need Someone To Love |
| Gus Arnheim & His Orchestra | One More Time | b/w unk. |
| Lulu | Morning Dew | Lulu Sings To Sir With love (EP) |
| Fountains of Wayne | All Kinds of Time | Welcome Interstate Managers |
| Sly And The Family Stone | If You Want Me To Stay | b/w Thankful N' Thoughtful |
| The Jackson Five | Never Can Say Goodbye | b/w She's Good |
| Chris Bell | Get Away | I Am The Cosmos |
| Georgie Fame & The Blue Flames | Get Away | b/w El Bandido |
| The Id | The Morning Dew | b/w I Just Don't Understand You Baby |
| Victor Young & His Orchestra voc. Rex Allen | The Last Round-Up | b/w unk. |
| Grateful Dead | Morning Dew | 1974-02-24 – Winterland Arena |
| Delroy Wilson | The Last Thing On My Mind | Last Thing On My Mind |
| Fleetwood Mac | Albatross | |