Podcast: Play in new window | Download (Duration: 2:58:53 — 245.7MB)
If you're looking for previous episodes, click here.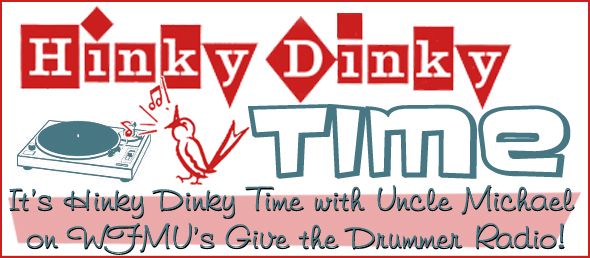 Hinky Dinky Time on WFMU's Give the Drummer Radio, episode 51: Friday, May 2, 2014 at noon, Eastern Time.
HDT is ONE!
Click here for everything you need to know about accessing the audio.
Access the accuplaylist and comments for this episode at
http://wfmu.org/playlists/hd/20140502
The archived audio and podcast is available now.
| | | |
| --- | --- | --- |
| Uncle Michael | Hinky Dinky Time Open | |
| Minutemen | D.'s Car Jam/Anxious Mo-Fo | Double Nickels on the Dime |
| Mylène Farmer | California | Anamorphosée |
| Stanley Clarke | All Hell Broke Loose | Rocks, Pebbles And Sand |
| Cozy Powell | The Blister | Tilt |
| Gaslight Anthem | Old White Lincoln | The '59 Sound |
| Tico And The Triumphs | Motorcycle | b/w I Don't Believe Them |
| The Crestones | She's A Bad Motorcycle | b/w The Grass Hopper Dance |
| Cruzados | Motorcycle Girl | Cruzados |
| The Shangri-Las | Leader Of The Pack | b/w What Is Love |
| The Stray Cats | Rebels Rule | Rant N' Rave With The Stray Cats |
| Mötley Crüe | Girls Girls Girls | Girls Girls Girls |
| Moby Grape | Motorcycle Irene | Wow |
| Roxy Music | Love Is The Drug | Siren |
| Soul Survivors | Expressway (To Your Heart) | b/w Hey Gyp |
| Steve Miller Band | Living in the U.S.A. | Living In The U.S.A. |
| The Rolling Stones | Country Honk | Let It Bleed |
| The Kinks | Apeman | b/w Rats |
| John Cale | Reading My Mind | Hobo Sapiens |
| The Cramps | Garbage Man | Songs The Lord Taught Us |
| Primus | Jerry Was A Race Car Driver | Sailing The Seas of Cheese |
| Southern Culture on the Skids | Dirt Track Date | Dirt Track Date |
| Joe Ely | Road Hawg | Musta Notta Gotta Lotta |
| The Cramps | Bend Over, I'll Drive | Look Mom No Head! |
| Lars Frederiksen | Bastards | Viking |
| The Presidents of the United States of America | Mach 5 | Presidents of the United States of America: II |
| Manowar | Wheels Of Fire | Kings Of Metal |
| ZZ Top | Manic Mechanic | Degüello |
| Jeff Beck | Roy's Toy | You Had It Coming |
| Mott The Hoople | Drivin' Sister | Mott |
| Gap Band | Burn Rubber On Me (Why You Wanna Hurt Me) (Album Version) | Gap Band III |
| Depeche Mode | Stripped | Black Celebration |
| Bobgoblin | One Down, One Across | Twelve-Point Master Plan |
| Thomas Dolby | Key To Her Ferrari | Aliens Ate My Buick |
| Kraftwerk | Autobahn | Doppelalbum |
| The Duals | Stick Shift | b/w Cruising |
| Jan And Dean | Drag City | b/w Schlock Rod (Part 1) |
| Johnny Fortune | Dragster | b-side to Siboney |
| Jack Nitzsche | The Last Race | b-side to The Man With The Golden Arm |
| The Stylers | Pushing Up Daisies | b-side to Going Steady Anniversary |
| Davie Allan & The Arrows | Blues Theme | b/w Bongo party |
| The Turtles | Surfer Dan | The Turtles Present The Battle Of The Bands |
| Harry Nilsson | Driving Along | Nilsson Schmilsson |
| Eurythmics | Would I Lie To You | Be Yourself Tonight |
| Public Enemy | You're Gonna Get Yours | Yo! Bum Rush The Show |
| Simon & Garfunkel | Baby Driver | Bridge Over Troubled Water |
| The James Gang | Crusin' Down The Highway | Miami |
| Mike McGear (with Paul McCartney & Wings) | Givin' Grease A Ride | McGear |
| Fleetwood Mac | Albatross | |