Podcast: Play in new window | Download (Duration: 3:04:34 — 253.5MB)
If you're looking for previous episodes, click here.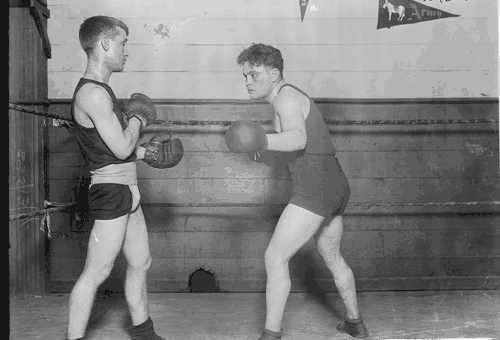 Hinky Dinky Time on WFMU's Give the Drummer Radio, episode 65: Friday, August 15, 2014 at noon, Eastern Time.
Let's get ready to rumble.
Click here for everything you need to know about accessing the audio.
Access the accuplaylist and comments for this episode at
http://wfmu.org/playlists/hd/20140815
The archived audio and podcast is available now.
| Artist: | Title: | Album: |
| --- | --- | --- |
| Your DJ welcomes you. | | |
| Uncle Michael | Hinky Dinky Time Open | |
| Bikini Men | The Squared Circle | The Bikini Men |
| Rasco Ft.Chali2Na | The Sweet Science | Escape From Alcatraz |
| Falside | Tale of the Tape | Snare Conditioning |
| Harry Partch | Phase Three – Shake Hands Now, Boys, And At The Sound Of The Bell Come Out Fighting! | The Harry Partch Collection Volume 1 |
| Roy Hytower & Motif | I'm In Your Corner | b/w Undertaker |
| Oblivion | Bob and Weave | Shoot Me A Waco |
| Freddie Hart | Toe to Toe | b/w And Then Some |
| Your DJ Speaks: | | |
| The Flying Luttenbachers | One-Two Punch | Destroy All Music Revisited |
| Scientist | Upper Cut | Heavyweight Dub Champion |
| Jeff Beck | Left Hook | You Had It Coming |
| Guinea Worms | Haymaker | Sorcererers Of Madness (4rd Year In A Row!) |
| Volcano Suns | Punching Bag | Career In Rock |
| Robin Gibb | Saved By The Bell | Robins Reign |
| Your DJ Speaks: | | |
| Cockney Rejects | Take It On The Chin | Out Of The Gutter |
| Dr. Feelgood | Punch Drunk | A Case Of The Shakes |
| Eels | On the Ropes | Wonderful, Glorious |
| Lester Bowie | Rope-A-Dope | Rope-A-Dope |
| Your DJ Speaks: | | |
| Lee Perry and the Whitebellyrats | Fight To The Finish | Panic In Babylon |
| Graham Parker | Glass Jaw | The Real Macaw |
| Lambert, Hendricks & Ross | Down for the Count | Sing a Song of Basie! |
| Le Tigre | TKO | This Island |
| 7L & Esoteric | Knockout | Moment Of Rarities |
| Peter Case | Palookaville | Let Us Now Praise Sleepy John |
| Your DJ Speaks: | | |
| Earthless meets Heavy Blanket | Paradise in a Purple Sky I | In a Dutch Haze |
| The Kings | This Beat Goes On-Switchin' To Glide | (a & b sides) |
| Your DJ Speaks: | | |
| Glenn Miller and His Orchestra v. Marion Hutton | Boog It | b-side to Shake Down the Stars |
| Pvt. Cecil Gant | I Wonder | Cecil Boogie |
| George McCrae | Rock Your Baby | b/w Rock Your Baby (Part 2) |
| Armageddon | Buzzard | Armageddon |
| Charlie Burton & the Hiccups | Bummin' Hard | Green Cheese |
| Your DJ Speaks: | | |
| The Association | Just About the Same | b/w Look At Me, Look At You |
| Velvet Seed | Flim Flam Man | b-side to Sharon Patterson |
| Blackburn & Snow | Yes Today | Something Good For Your Head |
| Don Drummond | Cool Smoke | b-side to Little Did You Know (The Techniques) |
| Gene Pitney | Just One Smile | b/w The Boss' Daughter |
| Big Bill Broonzy And Washboard Sam | Diggin' My Potatoes | Big Bill Broonzy And Washboard Sam |
| Your DJ Speaks: | | |
| The Glass House | Thanks I Needed That | Thanks I Needed That |
| Fairport Convention | A Sailor's Life | Unhalfbricking |
| Euson | The Last Thing On My Mind | Euson |
| Your DJ bids you farewell | | |