Podcast: Play in new window | Download (Duration: 2:58:27 — 245.1MB)
If you're looking for previous episodes, click here.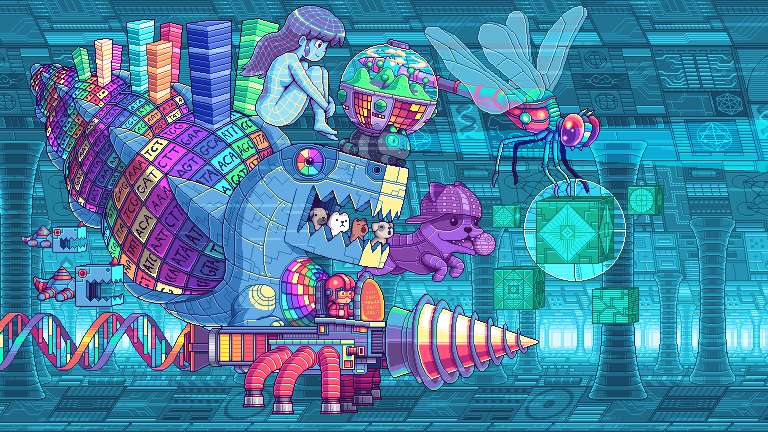 Hinky Dinky Time on WFMU's Give the Drummer Radio, episode 73: Friday, October 10, 2014 at noon, Eastern Time.
A two-bit episode with an 8-bit gif and a 128-bit stream.
Click here for everything you need to know about accessing the audio.
Access the accuplaylist and comments for this episode at
http://wfmu.org/playlists/hd/20141010
The archived audio and podcast is available now.
Artist:
Title:
Album:
Your DJ welcomes you…
Uncle Michael
Hinky Dinky Time Open
Bullet
White Lies, Blue Eyes
single (b/w Changes Of Mind)
Fountains Of Wayne
Hate To See You Like This
Sky Full Of Holes
A. C. Ducey
Beer Beer Bottla Beer
single (b-side to Space Man)
Lee Moses
Day Tripper
single (b/w Reach Out, I'll Be There)
Ringo Starr
Early 1970
single (b-side to It Don't Come Easy)
Gene Chandler
Groovy Situation
single (b/w Not The Marrying Kind)
Your DJ speaks…
Elvis Presley, Scotty And Bill
You're A Heartbreaker
single (b-side to Milkcow Blues Boogie)
Clint Miller
Bertha Lou
single (b/w Doggone It Baby, I'm In Love)
Foy Willing And The Riders Of The Purple Sage
Detour
single (b-side to Address Unknown)
Ernest Tubb
Be Better To Your Baby
single (b/w Think Of Me, Thinking Of You)
Bobby Freeman
Need Your Love
single (b/w Shame On You Miss Johnson)
Bob Crosby & His Orchestra
Goody Goody
single (b/w What's The Name Of That Song)
Curtis Mayfield
Pusherman
Superfly OST
Your DJ speaks…
Paul Jacobs
Papa Was A Running-Dog Lackey Of The Bourgeoisie
National Lampoon Lemmings OCR
Parliament
Chocolate City
Chocolate City
Peter Sarstedt
Many Coloured Semi Precious Plastic Easter Egg
Peter Sarstedt
The Clinger Sisters
The Lipstick Song
single (b-side to Shoop Shoop De Doop Rama Lama Ding Dong Yeah Yeah Yeah)
Johnny Collier
Mama Wears A Mini-Skirt
single (b/w Nobody Touches Me)
Don McLean
National Institute Of Mental Health Anti Drug PSA
n/a
Ben Folds
Rockin' the Suburbs
Rockin' the Suburbs
Your DJ speaks…
The Phillips' Specials
I'm A Soldier
unk.
Blue Cheer
I'm the Light
Oh! Pleasant Hope
Timebox
Yellow Van
single (b/w You've Got The Chance)
Eric Burdon & The Animals
Gratefully Dead
single (b-side to San Franciscan Nights)
Three Dog Night
You Can Leave Your Hat On
Coming Down Your Way
Your DJ speaks…
The Washingtonians (Duke Ellington)
Black And Tan Fantasy
single (b/w Soliloquy)
Horace Heidt And His Brigadiers
Vieni, Vieni
single (b/w In A mission By The Sea)
Beale Street Sheiks (Stokes and Sane)
Chicken You Can Roost Behind The Moon
single (b/w Beale Town Bound (Frank Stokes))
The BBC Dance Orchestra (Directed By Henry Hall)
Mickey's Son And Daughter
unk.
Scott Wood
Chicken Rock
single (b/w b/w Three Friends (Tribute To The Big Bopper, Ritchie Valens & Buddy Holly))
Your DJ speaks…
Humble Pie
The Fixer
Smokin'
Stackridge
Marigold Conjunction
Stackridge
The Kenny
Fancy Pants
single (b/w I'm A Winner)
Rugbys
You, I
single (b/w Stay With me)
People's Choice
Here We Go Again
We Got the Rhythm
Hamilton Bohannon
Happy Feeling
Insides Out
Your DJ speaks…
The Meters
Handclapping Song
Struttin'
Etta James
Pushover
single (b/w I Can't Hold It In Anymore)
Michael Nesmith
Hollywood
Magnetic South
The Stranglers
Mercury Rising
Giants
The Jam
All Around the World
This Is The Modern World
Your DJ speaks…
Neil Young
Walk On
On the Beach
Tom Waits
Get Lost
Bad As Me
Ray Charles And His Orchestra
Baby, Don't You Cry (The New Swingnova Rhythm)
single (b/w My Heart Cries For You)
Marcus Hook Roll Band
Goodbye Jane
Tales Of Old Grand-Daddy
The Millennium
It Won't Always Be The Same
Begin
The Vejtables
The Last Thing On My Mind
single (b/w Mansion Of Tears)
Your DJ bids you farewell…