Podcast: Play in new window | Download (Duration: 3:04:44 — 253.7MB)
If you're looking for previous episodes, click here.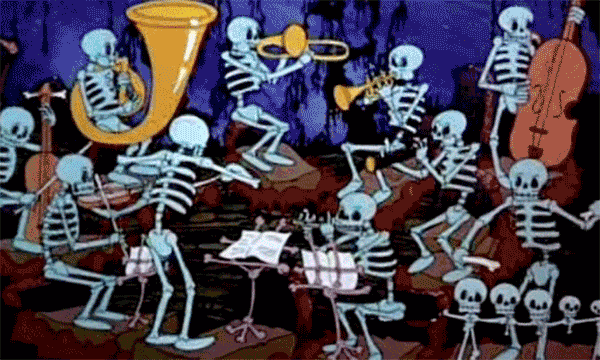 Hinky Dinky Time on WFMU's Give the Drummer Radio, episode 76: Friday, October 31, 2014 at noon, Eastern Time.
Ooh. That's scary.
Click here for everything you need to know about accessing the audio.
Access the accuplaylist and comments for this episode at
http://wfmu.org/playlists/hd/20141031
The archived audio and podcast is available now.
Artist:
Title:
Album:
Your DJ welcomes you…
Uncle Monster
Hinky Dinky Time Open
The Treniers
Out Of The Bushes
Those Crazy Treniers (EP)
Perrey and Kingsley
Spooks in Space
The In Sound from Way Out
Bakery
Bloodsucker
single (b/w Leave Scruffy Alone)
Jim Stafford
Swamp Witch
single (b/w Nifty Fifties Blues)
The Frantics
Werewolf
single (b/w Checkerboard)
Skyhooks
Horror Movie
single (b/w Carlton (Lygon Street Limbo))
Trashorama Radio Spots
The Corpse Grinders & The Undertaker And His Pals & The Embalmer
n/a
Your DJ speaks…
Harry Reser and his Radio All-star Novelty Orchestra
Mysterious Mose
single (b/w Atta Boy (Tom Gerun & his Orchestra))
The Delta Rhythm Boys
Dem Dry Bones
single (b-side to (Joshua Fit the Battle of Jericho)
The Presidents of the United States of America
Crappy Ghost
Kudos to You!
October Country
My Girlfriend Is a Witch
single (b/w I Just Don't Know)
Barrence Whitfield & The Savages
Bloody Mary
Dig Yourself
Graveyard 5
The Marble Orchard
single (b-side to The Graveyard Theme)
Carlos Casal Jr.
Don't Meet Mr. Frankenstein
unk.
Trashorama
Radio Spots
Mark Of The Devil
Your DJ speaks…
Mose Allison
Monsters of the Id
…Hello There, Universe
Red Nichols & His Five Pennies
Bug-A-Boo
single (b-side to Corrine Corrina)
The Rattles
The Witch
With All the Original Hits!
Screaming Lord Sutch & The Savages
Monster In Black Tights
single (b-side to I'm A Hog For You)
Ciato & Ciato's
I Cannibali
single (b/w Una Chitarra Dimenticata (Angel 'Pocho' Gatti))
The Vampires of Dartmoore
Hallo, Mister Hitchcock
Dracula's Music Cabinet
Trashorama Radio Spots
The Naked Witch
n/a
Your DJ speaks…
Electrifying Mojo (WCBN)
Halloween Rap
n/a
Lambert, Hendricks & Ross with The Ike Isaacs Trio
Halloween Spooks
High Flying
Boots Walker
They're Here
single (b/w A Bum Can't Cry)
Vladimir & The Gravediggers
Vladimir Twist
single (b/w Drac Walk)
The Wizards From Kansas
She Rides with Witches
The Wizards from Kansas
Sparks
The Ghost Of Liberace
Gratuitous Sax & Senseless Violins
Trashorama Radio Spots
Invasion Of The Blood Farmers
n/a
Your DJ speaks…
Nat Gonella & His Georgians
Skeleton In The Closet
unk.
Pink Floyd
Scream Thy Last Scream (Old Woman With A Casket)
prev. unr.
Thee Oh Sees
Grave Blockers
Grave Blockers EP
The Sonics
The Witch (alternate take)
single (b/w Keep A' Knock'in)
Sonny Day And The Tony Ray Combo
Creature From Outer Space
single (b-side to Beyond The Shadow Of A Doubt)
Ervinna & The Stylers
Witch Queen Of New Orleans
我走在風雨中 (Witch Queen Of New Orleans)(EP)
Larry's Rebels
Halloween
single (b/w Everybody's Girl)
Trashorama Radio Spots
Dare The Devil
n/a
Your DJ speaks…
Gary 'Spider' Webb
The Cave (Part II)
single (b/w The Cave (Part I))
The Lumberjack With The Northwood Singers
Hell Bound Train
single (b-side to Ten Thousand Lakes)
Glen Gray & the Casa Loma Orchestra
The Goblin Band
single (b-side to Zig Zag)
Ralph Nielsen And The Chancellors
Scream
single (b/w Little Demon)
The Mark IV
Dante's Inferno
single (b/w Move Over Rover)
Les Monegasques
Psychose
Golf Drouot Story (EP)
Captain Beefheart
Vampire Suite (live)
prev. unr
Trashorama Radio Spots
The Devil's Rain (Shatner & Travolta) & The Virgin Witch
n/a
Your DJ speaks…
Dead Moon
Dead Moon Night
Dead Moon Night
Archie Bleyer
The Rockin' Ghost
single (b/w Sleep, Sleep, Daughter)
Kay Starr & the Billy Butterfield Quintet with Three Beaus and a Peep
The Headless Horseman
unk.
Jumpin' Gene Simmons
Haunted House
single (b/w Hey, Hey Little Girl)
Cobblestone
Trick Me, Treat Me
single (b/w She's Loves Me (she Loves Me Not)
Five Man Electrical Band
Werewolf
single (b/w Country Angel)
Trashorama Radio Spots
Monsters-A-Go-Go
n/a
Your DJ speaks…
Lou Rawls
Season of the Witch
single (b-side to Your Good Thing (Is About To End))
Buddy Morrow and His Orchestra
The Raven
Poe For Moderns
Lazy Lester
Bloodstains On the Wall
unk.
Gary Lucas
Vampire Circus
Bad Boys of the Artic
Your DJ bids you farewell…