Podcast: Play in new window | Download (Duration: 1:02:41 — 86.1MB)
If you're looking for previous episodes, click here.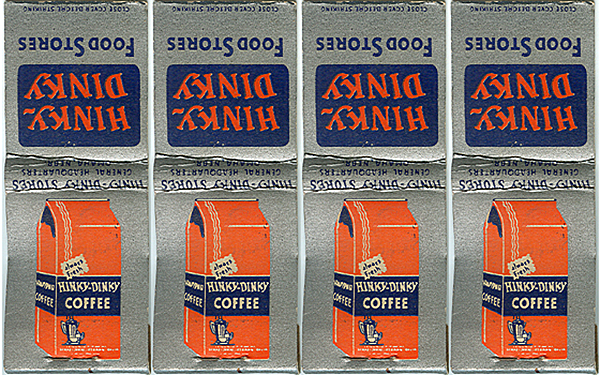 Hinky Dinky Time on WFMU's Give the Drummer Radio, episode 82: Friday, December 17, 2014 at noon, Eastern Time.
Would you care to join me in a cup of coffee?
Click here for everything you need to know about accessing the audio.
Access the accuplaylist and comments for this episode at
http://wfmu.org/playlists/hd/20141217
The archived audio and podcast is available now.
<
Artist:
Title:
Album:
Your DJ welcomes you…
Uncle Michael
Hinky Dinky Time Open
Kay Kyser featuring Mike Douglas & Lucy Ann Polk
Coffee Time
single (b-side to Angel)
The Ink Spots
Java Jive
single (b-side to Do I Worry?)
Ella Mae Morse
40 Cups Of Coffee
single (b/w Crazy Moon)
Lightnin' Hopkins
Coffee Blues
Last Of The Great Blues Singers
Lefty Frizzell
Cigarettes And Coffee Blues
single (b/w You're Humbuggin' Me)
Julie London
Black Coffee
Around Midnight
Your DJ speaks…
Gordon Lightfoot
Second Cup Of Coffee
Don Quixote
Firesign Theatre
Ersatz Bros. Coffee
prev. unr.
Osibisa
Coffee Song
Ojah Awake
Humble Pie
Black Coffee
Eat It
Frank Ifield
Another Cup Of Coffee
single (b-side to I Should Care)
Hank Ballard & The Midnighters
The Coffee Grind
single (b/w Waiting)
Brak
Coffee
Space Ghost Surf & Turf: 22 Tiki-Torched Tunes
Your DJ speaks…
Bob Dylan
One More Cup Of Coffee
Desire
Fred Waring's Pennsylvanians (vocal by Chuck Bullock and the Three Waring Girls)
Let's Have Another Cup O' Coffee
single (b/w Soft Lights & Sweet Music)
Otis Redding
Cigarettes & Coffee
The Soul Album
Claude Gray
I'll Just Have A Cup Of Coffee (Then I'll Go)
single (b/w I Just Want To Be Alone)
The Boswell Sisters Feat. Victor Young's Orchestra & Tommy & Jimmy Dorsey
Coffee In The Morning (Kisses In The Night)
single (b/w Song of Surrender)
Your DJ bids you farewell…