Podcast: Play in new window | Download (Duration: 3:08:50 — 259.3MB)
If you're looking for previous episodes, click here.

Please use the widget displayed above to support Hinky Dinky Time, Give the Drummer Radio and WFMU. For pledges of $75 or more you can get your very own copy of "Uncle Michael presents the Hinky Dinky Time Cavalcade of Stars," shown below.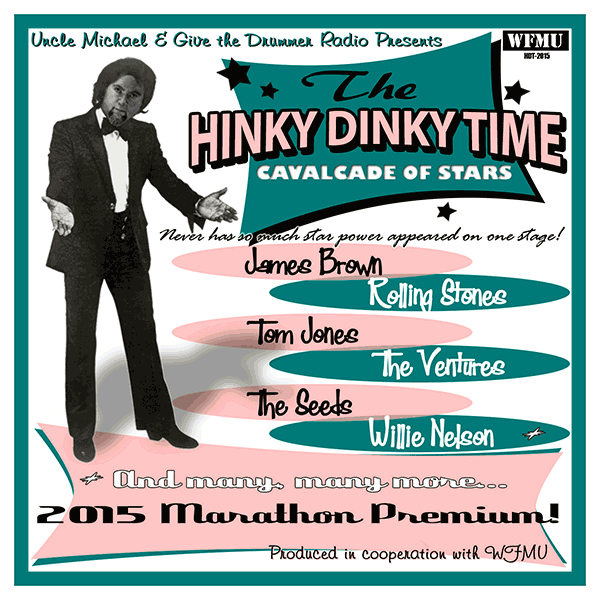 Hinky Dinky Time on WFMU's Give the Drummer Radio, episode 94: Friday, March 13, 2015 at noon, Eastern Time.
I'll be a monkey's uncle.
Click here for everything you need to know about accessing the audio.
Access the accuplaylist and comments for this episode at
http://wfmu.org/playlists/hd/20150313
The archived audio and podcast is available now.
Artist:
Title:
Album:
Your DJ welcomes you…
Uncle Michael
Hinky Dinky Time Open
Sunn O))) & Scott Walker
Lullaby
Soused
The Thamesmen
Gimme Some Money
Spinal Tap
Tommy Chong & Uncle Michael
Intro
Uncle Michael Presents the Hinky Dinky Time Cavalcade of Stars
Marc Bolan
(Get it On) Bang a Gong
Uncle Michael Presents the Hinky Dinky Time Cavalcade of Stars
Uncle Michael
Marathon 2014
The Many Heads Of Uncle Michael
The A-Bones
Oh Yeah
Ears Wide Shut
Al Green
I'm A Ram
Gets Next To You
The A-Bones
Little School Boy
Ears Wide Shut
Lee Hazlewood
Morning Dew
b/w The House Song
Fugazi
Song #1
First Demo
Fugazi
Waiting Room
First Demo
Laid Back
White Horse
b/w So Wie So
Bill Frisell
Tired Of Waiting For You
Guitar in the Space Age!
Fat White Family
Cream of the Young
Champagne Holocaust
NRBQ
Can't Wait to Kiss You
Brass Tacks
Cirrone
Uplands Park Road
Uplands Park Road
Fat White Family
Garden of the Numb
Champagne Holocaust
Stiff Little Fingers
You Can't Say Crap On The Radio
single (b-side to Straw Dogs)
NRBQ
I'm Not Here
Brass Tacks
Dan Penn
You Left the Water Running
prev. unr.
The Street Cleaners
That's Cool, That's Trash
b/w Garbage City
The Dirtbombs
Sugar On Top
Ooey Gooey Chewy Ka-blooey!
Gilberto Gil
Procissao
1968 Gilberto Gil
Betty Wright
Shoorah! Shoorah!
b/w Tonight Is The Night
The Dirtbombs
We Come In The Sunshine
Ooey Gooey Chewy Ka-blooey!
Big Star
O My Soul
Radio City
Beach Boys
You've Got To Hide Your Love Away
Uncle Michael Presents the Hinky Dinky Time Cavalcade of Stars
Devo
Mongoloid
Pumping Vinyl
Bonzo Dog Band
King of Scurf
Let's Make Up And Be Friendly
Arto Lindsay
The Prize
Encyclopedia of Arto
Apryl Fool
The Lost Mother Land (part 1)
Love, Peace & Poetry: Japanese Psychedelic Music
Judy Collins
The Last Thing On My Mind
The Judy Collins Concert (Live)
Your DJ bids you farewell…