Podcast: Play in new window | Download (Duration: 3:03:08 — 251.5MB)
If you're looking for previous episodes, click here.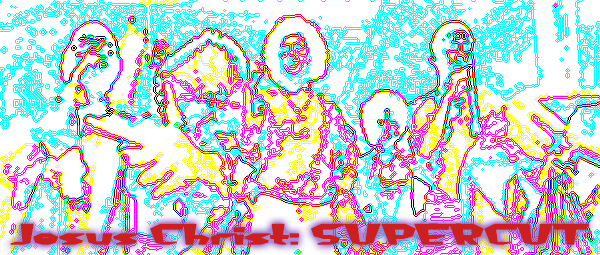 Hinky Dinky Time on WFMU's Give the Drummer Radio, episode 97: Friday, April 3, 2015 at noon, Eastern Time.
JESUS CHRIST: SUPERCUT
Please plan to join Uncle Michael on Friday, April 3, 2015 for the Hinky Dinky Time, GOOD FRIDAY SPECIAL, JESUS CHRIST: SUPERCUT. Uncle Michael presents a complete re-imagining of Tim Rice and Andrew Lloyd Weber's classic rock opera, reconstructed in its entirety from cover versions of the songs.
Click here for everything you need to know about accessing the audio.
Access the accuplaylist and comments for this episode at
http://wfmu.org/playlists/hd/20150403
The archived audio and podcast is available now.
Artist:
Title:
Album:
Your DJ welcomes you…
Uncle Michael
Hinky Dinky Time Open
Daikaju/Livin Blues/Daikaju
Overture
Jesus Christ Surferstar/Bamboozle/Jesus Christ Surferstar
Holy Rollers
Heaven On Thier Minds
Holy Roller
Queensrÿche
Heaven On Thier Minds
Take Cover
Inner Sanctum
Heaven On Thier Minds
Christi Testamenta
Your DJ speaks…
Amy Ray, Emily Sailers, Lay Quiet Awhile
What's the Buzz
Jesus Christ Superstar – A Resurrection
Prawns With Horns
Strange Thing Mystifying
Jesus Christ Surferstar
Miss Piggy, Gonzo, Kermit (Christo Graham)
Everything's Alright
Muppet Christ Superstar
Atomic Mosquitos
This Jesus Must Die
Jesus Christ Surferstar
El Ray
Hosanna
Jesus Christ Surferstar
Uncle Green
Simon Zealotes
Jesus Christ Superstar – A Resurrection
Amy Ray
Poor Jerusalem
Jesus Christ Superstar – A Resurrection
Your DJ speaks…
Gerard McHugh
Pilate's Dream
Jesus Christ Superstar – A Resurrection
Afghan Whigs
The Temple
Congregation
Percy Faith
Everything's Alright
Jesus Christ, Super Star
Shirley Bassey
I Don't Know How To Love Him (pt. 1)
And I Love You So
Helen Reddy
I Don't Know How To Love Him (pt. 2)
I Don't Know How To Love Him
Agnetha Fältskog
I Don't Know How To Love Him (pt. 3)
Basta
Five-Eight/Scratch Acid/Five-Eight
Damned For All Time-Blood Money
Jesus Christ Superstar – A Resurrection/Just Keep Eating
Your DJ speaks…
The Overton Berry Ensemble
The Last Supper
TOBE
Steelopus
The Last Supper
40 in 40
Jose Feliciano
I Only Want To Say (Gethsemane)
single (b/w Watch It With My Heart)
The Hi-Fi Ramblers
The Arrest
Jesus Christ Surferstar
Your DJ speaks…
The Fabulous Plantones
Peter's Denial
Jesus Christ Surferstar
The Capacitors
Pilate and Christ
Jesus Christ Surferstar
Rowlf (Christo Graham)
King Herod's Song
Muppet Christ Superstar
Johnny Vortex
Judas' Death
Jesus Christ Surferstar
Percy Faith
Trial Before Pilate
Jesus Christ, Super Star
Acid King
39 Lashes
Busse Woods
Your DJ speaks…
Laibach
Superstar
Jesus Christ Superstar/God Is God
The Atlantics
Superstar
Jesus Christ Superstar – A Resurrection
Longhorn Devils
Crucifixion
Jesus Christ Surferstar
Amy Ray
Crucifixion
Jesus Christ Superstar – A Resurrection
Revalation String Quartet
John Nineteen Forty One
Jesus Christ Superstar – A Resurrection
Aquilads
John Nineteen Forty-One
Jesus Christ Surferstar
Social Insanity
Superstar
Jesus Christ Superstar – A Resurrection
Your DJ speaks…
Johnny Cash
Were You There (When They Crucified My Lord)
single (b-side to (There'll Be) Peace In The Valley (For Me))
P. J. Proby
It Ain't Necessarily So
single (b-side to You've Come Back)
Son House
John The Revelator
The Legendary Son House: Father Of Folk Blues
The Four Knights
Shadrack
unk.
The Blasters
Samson And Delilah
Hard Line
Sister Rosetta Tharpe And Marie Knight With Sam Price Trio
Didn't It Rain
single (b/w Stretch Out)
Quicksilver Messenger Service
Joseph's Coat
Shady Grove
Blood, Sweat & Tears
John the Baptist (Holy John)
B, S & T 4
Mott The Hoople
Roll Away The Stone
single (b/w Where Do You All Come From)
Your DJ bids you farewell…