If you're looking for previous episodes, click here.
Hinky Dinky Time on WFMU's Give the Drummer Radio, episode 144: Friday, March 11, 2016 at 12:"00 PM, Eastern Time.
2016 WFMU Fundraising Marathon; WEEK #1
Click here for everything you need to know about accessing the audio.
Access the accuplaylist and comments for this episode and archived audio at
http://wfmu.org/playlists/hd/20160311
The archived audio will be available shortly after the end of the live program.
It's the 2016 WFMU FUNDRAISING MARATHON!
This is that time of the year when I remind you that WFMU is more than just a radio station, it's a cultural institution like no other. Foremost, it provides programming unlike any other broadcast entity on the planet. Hell…it hosts my show. Its reach is global. We're listened to, literally everywhere an Internet connection can be had.
At this time, WFMU needs to raise $1.2 million dollars in order to operate for another year.
WFMU is truly, entirely listener supported. There is no corporate underwriting, there is no supporting university, and there is no funding from a network. You will never hear an underwriting message on WFMU. It runs on your dollars.
A small part of its budget is supported by renting tables at the annual WFMU Record Fair (arguably the best in the world) and the sale of WFMU merchandise, but really, it's your pledges that keep the station alive. The station has a skeletal paid staff (seriously, you should see these skinny people), but otherwise operates entirely on volunteer labor, neither myself nor any other DJ is paid to present a show.
We only interrupt regular programming once a year, for 15 days in March, and even that, we make fun. What other public broadcasting entity can make such claims?
If you value WFMU, the Give the Drummer Radio stream and Hinky Dinky Time…or even if you don't, but you love me, I'm asking you to pledge the station in support of my show.
Pledges of $20 or more make you eligible for fabulous prizes that I'll be giving away during my two broadcasts during the 2016 fund raising marathon broadcasts (March 11 & 18). Pledges of $75 or more will get you my 2016 Marathon DJ Premium, "Uncle Michael Presents Bed Music for Sleepy Listeners."
Uncle Michael's Bed Music For Sleepy Listeners
Uncle Michael presents favorite "bed music" from Hinky Dinky Time. "When addressing a radio audience, the appropriate music is instrumental."
There's lots of wonderful swag available at a variety of pledge levels.
The pledging mechanism is a little different this year it's imperative that you follow the steps shown in this infographic, or your pledge will not be credited to my show's fundraising goal, or be eligible for the prizes I'm giving away and my on-air expressions of gratitude. Seriously, if you don't do it just like this…I'll be devastated. STEP #3 is CRITICAL.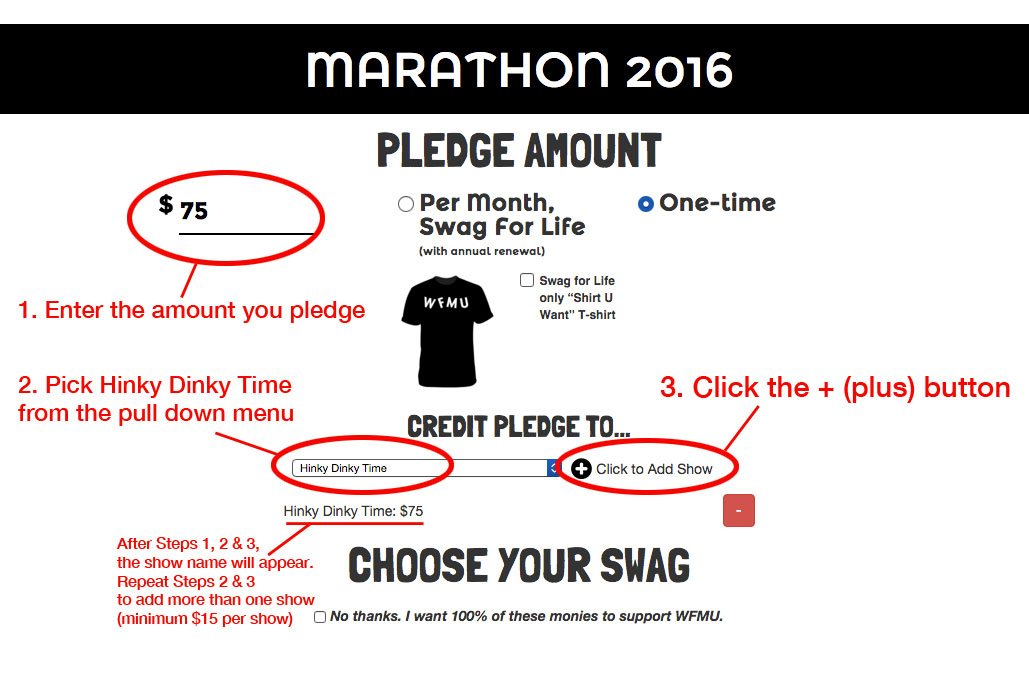 The best way to support the station's cash flow is with a "Swag for Life" donation that's billed on a monthly basis. It automatically renews until you ask for it to be stopped. Your one-time donations are also welcome.
Here's the place to go and DO IT: https://wfmu.org/marathon-2016/?pid=HD
Thank you. If you read this far, you're my hero.
-"Uncle" Michael Newman