If you're looking for previous episodes, click here.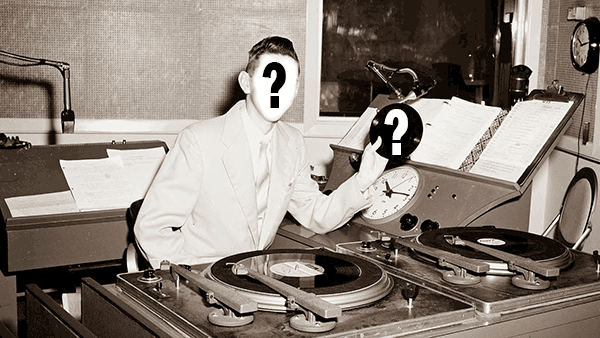 Hinky Dinky Time on WFMU's Give the Drummer Radio, episode 232: Friday, January 5, 2018 at noon, Eastern Time.
Second Annual Listener Request Show
Click here for everything you need to know about accessing the audio.
Access the accuplaylist and comments for this episode and archived audio at
http://wfmu.org/playlists/hd/20180105
The archived audio is available now.
Artist
Title
Album (label) (year) (source)
Your DJ welcomes you…

Uncle Michael

Hinky Dinky Time Open
Euel Box
Crowley
My Hometown (PAMS) (1962)
Mike Finnigan
Performance
For Kevin
Jethro Tull
Skating Away On The Thin Ice Of The New Day
For JMD
The Books
None But Shining Hours
For Queems
Aretha Franklin
I Say A Little Prayer
For Still B/P
Lola Falana
There's A Man Out There Somewere
For Ken From Hyde Park (mystery solved)
Ty Segall
Every 1's A Winner
For Jeff G
Music behind DJ:
Joe Meek & the Blue Men
Bulblight
I Hear A New World
Chet Baker
Let's Get Lost
For Geezerette
Cleo Laine
It Was A Lover And A Lass
For Mauri
Houston Wells
Only The Heartaches
For Ian P.
Burt Bacharach
Mexican Divorce
For Dean
Mory Kante
Yeke Yeke
For Brian in the UK
Mothers Of Invention
Directly From My Heart To You
For Kevin in Bay Ridge
Music behind DJ:
Sun Ra
Monorail and Satellites
The Normal
Warm Leatherette (7″)
For Ken K.
Mission of Burma
Dead Pool
For John
Jim Carroll Band
Catholic Boy
For Rich in NC
Liz Phair
Stratford-On-Guy
For coelacanth
10cc
Clockwork Creep
For Pacific Standard Simon
The Arnold Corns
Moonage Daydream
For dan
Music behind DJ:
Marion McPartland
Love For Sale
Richard & Linda Thopmpson
Withered & Died
For Doctorjazz
XTC
All Along The Watchtower
For Ausmanx
Able Tasmans
S.O.S.
For Matt B.
Black Moth Super Rainbow
Forever Heavy
For Kit
Band-Maid
Trill
For Mark D.
Music behind DJ:
Moore, Marcus & Burton
Fuzzy Wuzzy
Hoosier Hot Shots
Connie's Got Connections In Connecticut
For Webhamster Henry
Doris Troy
What'ca Gonna Do 'Bout It
For Lee
Hound Dog Taylor
Give Me Back My Wig
For Jamie
Michael Nesmith & the First National Band
The Crippled Lion
For Hyde
The Third Power
Passed By
For Burke
Squeeze
If I Didn't Love You
For Gary S.
Music behind DJ:
Tommy McCook
The Right Track
Fred Eaglesmith
Carmelita
For Glenn
The Music Tapes
The Television Tells Us
For Gloomsday
Kristian Hoffman
Sex In Heaven
For Scraps
Supermax
Love Machine
For Cecile
The Selector
On My Radio
For Joe
Music behind DJ:
Helmut Zacharias
Medley
John Prine
Souvenirs
For Melinda
The Posies
Apology
For Mike S.
Strawbs
Tomorrow
For V Priceless
X-Ray Spex
Oh Bondage Up Yours!
For Stanley
Xetas
The Gaze
For Holland Oats
The Seekers
The Carnival Is Over
For dan
Lynyrd Skynyrd
Freebird
For Doug S.
Music behind DJ:
Fleetwood Mac
Albatross
single (b/w Jigsaw Puzzle Blues) (Blue Horizon) (1968)
Your DJ bids you farewell…