Podcast: Play in new window | Download (Duration: 3:04:46 — 253.7MB)
If you're looking for previous episodes, click here.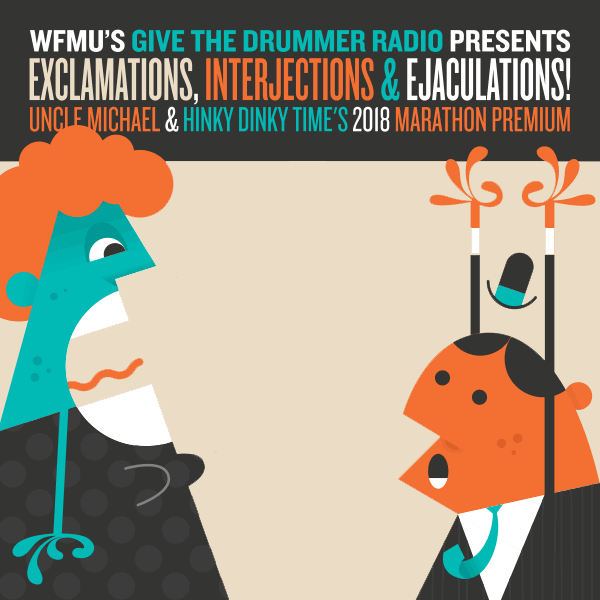 Hinky Dinky Time on WFMU's Give the Drummer Radio, episode 240: Friday, March 9th, 2018 at noon, Eastern Time.
Show #240: WFMU Fundraising Marathon, Week #1
Click here for everything you need to know about accessing the audio.
Access the accuplaylist and comments for this episode at
http://wfmu.org/playlists/hd/20180309
The archived audio and podcast is available now.
Artist
Title
Album (label) (year) (source)
Your DJ welcomes you:
Uncle Michael
Hinky Dinky Time Open
Oister
Love Is A Train
Pre-Dwight Twilley Band/1973-74 Teac Tapes (Double LP) (HoZac) (2017) A PLEDGE OF $20 OR MORE PUTS YOU IN THE RUNNING FOR THIS PRIZE
Fontella Bass
Gee Whizz
The 2018 Hinky Dinky Time Marathon Premium: Exclamations, Interjections & Ejaculations! (WFMU) (2018) $75 GETS YOU Uncle Michael'S MARATHON PREMIUM FEATURING GREG HARRISON'S FABULOUS COVER ART!
Stack Waddy
Bring It to Jerome
Stack Waddy (Cherry Red) (2007) A PLEDGE OF $20 OR MORE PUTS YOU IN THE RUNNING FOR THIS PRIZE
Oister
Rock Yourself Son
Pre-Dwight Twilley Band/1973-74 Teac Tapes (Double LP) (HoZac) (2017) A PLEDGE OF $20 OR MORE PUTS YOU IN THE RUNNING FOR THIS PRIZE
Tony Camillo's Bazuka
Dynomite
The 2018 Hinky Dinky Time Marathon Premium: Exclamations, Interjections & Ejaculations! (WFMU) (2018) $75 GETS YOU Uncle Michael'S MARATHON PREMIUM FEATURING GREG HARRISON'S FABULOUS COVER ART!
Stack Waddy
Roadrunner
Stack Waddy (Cherry Red) (2007) A PLEDGE OF $20 OR MORE PUTS YOU IN THE RUNNING FOR THIS PRIZE
The Beau Brummels
One Too Many Mornings
The Very Best Of The Beau Brummels: The Complete Singles (Varèse Sarabande) (2017) A PLEDGE OF $20 OR MORE PUTS YOU IN THE RUNNING FOR THIS PRIZE
Melvins
Give It To Me
A Walk With Love And Death
The Supremes
Ooowee Baby
The 2018 Hinky Dinky Time Marathon Premium: Exclamations, Interjections & Ejaculations! (WFMU) (2018) $75 GETS YOU

Uncle Michael'S MARATHON PREMIUM FEATURING GREG HARRISON'S FABULOUS COVER ART!

The Beau Brummels
Laugh Laugh
The Very Best Of The Beau Brummels: The Complete Singles (Varèse Sarabande) (2017) A PLEDGE OF $20 OR MORE PUTS YOU IN THE RUNNING FOR THIS PRIZE
Bootsy Collins
World Wide Funk
World Wide Funk (Mascot) (2017) A PLEDGE OF $20 OR MORE PUTS YOU IN THE RUNNING FOR THIS PRIZE
The Johnny Otis Show
Good Golly
The 2018 Hinky Dinky Time Marathon Premium: Exclamations, Interjections & Ejaculations! (WFMU) (2018) $75 GETS YOU
JD McPherson
Crying's Just A Thing You Do
Undivided Heart And Soul (New West) (2017) A PLEDGE OF $20 OR MORE PUTS YOU IN THE RUNNING FOR THIS PRIZE
The Revelers
The Birth of the Blues" (1926)
Los Straitjackets
Half a Boy and Half a Man
What's So Funny About Peace, Love and Los Straitjackets (Yep Roc) (2017) A PLEDGE OF $20 OR MORE PUTS YOU IN THE RUNNING FOR THIS PRIZE
JD McPherson
Lucky Penny
Undivided Heart And Soul (New West) (2017) A PLEDGE OF $20 OR MORE PUTS YOU IN THE RUNNING FOR THIS PRIZE
Buzzcocks
Oh Shit!
The 2018 Hinky Dinky Time Marathon Premium: Exclamations, Interjections & Ejaculations! (WFMU) (2018) $75 GETS YOU Uncle Michael'S MARATHON PREMIUM FEATURING GREG HARRISON'S FABULOUS COVER ART!
Peter Perrett
Hard To Say No
How The West Was Won (Domino) (2017) A PLEDGE OF $20 OR MORE PUTS YOU IN THE RUNNING FOR THIS PRIZE
Los Straitjackets
(What's So Funny 'Bout) Peace, Love and Understanding
What's So Funny About Peace, Love and Los Straitjackets (Yep Roc) (2017) A PLEDGE OF $20 OR MORE PUTS YOU IN THE RUNNING FOR THIS PRIZE
Lee Dorsey
Holy Cow
The 2018 Hinky Dinky Time Marathon Premium: Exclamations, Interjections & Ejaculations! (WFMU) (2018) $75 GETS YOU Uncle Michael'S MARATHON PREMIUM FEATURING GREG HARRISON'S FABULOUS COVER ART!
Chris Bell I Am the Cosmos (Single Version)
I Am the Cosmos (Single Version)
I Am the Cosmos Deluxe 2017 (Rykodisc) (2017) A PLEDGE OF $20 OR MORE PUTS YOU IN THE RUNNING FOR THIS PRIZE
Peter Perrett
Living In My Head
How The West Was Won (Domino) (2017) A PLEDGE OF $20 OR MORE PUTS YOU IN THE RUNNING FOR THIS PRIZE
Busta Rhymes
Woo Hah!! Got You All In Check
The 2018 Hinky Dinky Time Marathon Premium: Exclamations, Interjections & Ejaculations! (WFMU) (2018) $75 GETS YOU Uncle Michael'S MARATHON PREMIUM FEATURING GREG HARRISON'S FABULOUS COVER ART!
Chris Bell
You and Your Sister (Acoustic Version)
I Am the Cosmos Deluxe 2017 (Rykodisc) (2017) A PLEDGE OF $20 OR MORE PUTS YOU IN THE RUNNING FOR THIS PRIZE
Peter Perrett
How The West Was Won
How The West Was Won (Domino) (2017) A PLEDGE OF $20 OR MORE PUTS YOU IN THE RUNNING FOR THIS PRIZE
Music behind DJ:
Fleetwood
Mac Albatross
single (b/w Jigsaw Puzzle Blues) (Blue Horizon) (1968)
Your DJ bids you farewell…