If you're looking for previous episodes, click here.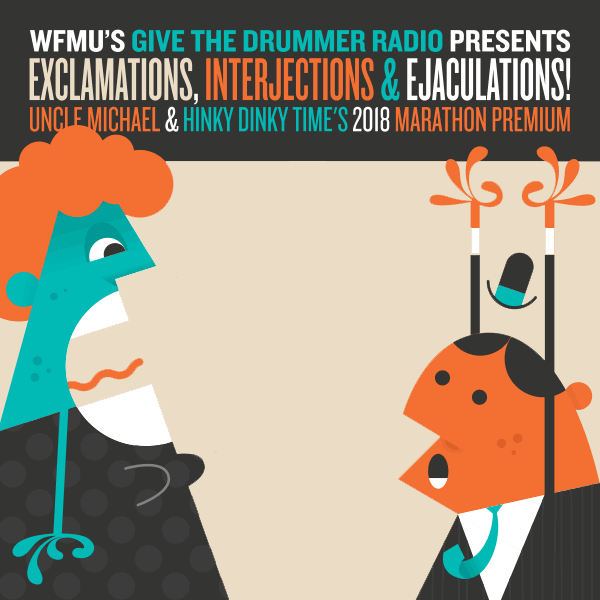 Hinky Dinky Time on WFMU's Give the Drummer Radio, episode 241: Friday, March 16th, 2018 at noon, Eastern Time.
Show #241: WFMU Fundraising Marathon, Week #2
Click here for everything you need to know about accessing the audio.
Access the accuplaylist and comments for this episode and archived audio at
http://wfmu.org/playlists/hd/20180316
The archived audio is available now.
Artist
Title
Album (label) (year) (source)
Your DJ welcomes you:
Uncle Michael
Hinky Dinky Time Open
Essra Mohawk
Interjections!
The 2018 Hinky Dinky Time Marathon Premium Exclamations, Interjections & Ejaculations! (WFMU) (2018)
Spoon
First Caress
Hot Thoughts (Matador) (2017)
Los Dandy's
Lindo Amorcito
Lindo Amorcito (Pharaway Sounds) (2016)
Spoon
Tear It Down
Hot Thoughts (Matador) (2017)
Ernest Hare And Billy Jones
Oh Gee, Oh Gosh, Oh! Golly
The 2018 Hinky Dinky Time Marathon Premium Exclamations, Interjections & Ejaculations! (WFMU) (2018)
Shonen Knife
Ramen Rock
Overdrive (Good Charamel) (2014)
Los Dandy's
Falsa
Lindo Amorcito (Pharaway Sounds) (2016)
The Rock-A-Teens
Woo-Hoo
The 2018 Hinky Dinky Time Marathon Premium Exclamations, Interjections & Ejaculations! (WFMU) (2018)
Shonen Knife
Shopping
Overdrive (Good Charamel) (2014)
Sylvie (Vartan)
Alley Oop
En Anglais… Et En Américain (Ace) (2016)
The Pop Group
Blind Faith
For How Much Longer Do We Tolerate Mass Murder? (1980) (Freaks R Us) (2016)
The Rutles
Ouch!
The 2018 Hinky Dinky Time Marathon Premium Exclamations, Interjections & Ejaculations! (WFMU) (2018)
Sylvie (Vartan)
It's Not A Game
En Anglais… Et En Américain (Ace) (2016)
The Pop Group
Justice
For How Much Longer Do We Tolerate Mass Murder? (1980) (Freaks R Us) (2016)
Miriam
The Hand Don't Fit The Glove
Down Today (Label) (2015)
Laura Cantrell
All The Girls Are Complicated
No Way There From Here (Thrift Shop) (2014)
Tiny Topsy
Aw! Shucks Baby
The 2018 Hinky Dinky Time Marathon Premium Exclamations, Interjections & Ejaculations! (WFMU) (2018)
Miriam
Down Today
Down Today (Norton) (2015)
James Blood Ulmer, The Thing
Baby Talk
Baby Talk (The Thing) (2017)
Laura Cantrell
Can't Wait
No Way There From Here (Thrift Shop) (2014)
Junior Kimbrough
Meet Me in the City
Meet Me in the City (1999) (Fat Possum) (2016)
Butthole Surfers
Hey
The 2018 Hinky Dinky Time Marathon Premium Exclamations, Interjections & Ejaculations! (WFMU) (2018)
Music behind DJ:
Fleetwood Mac
Albatross
single (b/w Jigsaw Puzzle Blues) (Blue Horizon) (1968)
Your DJ bids you farewell…