If you're looking for previous episodes, click here.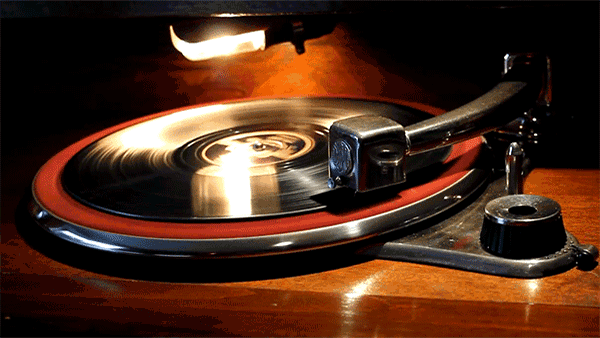 Hinky Dinky Time on WFMU's Give the Drummer Radio, episode 243: Friday, April 6th, 2018 at noon, Eastern Time.
Show #243: Storm clouds were brewing.
Click here for everything you need to know about accessing the audio.
Access the accuplaylist and comments for this episode and archived audio at
http://wfmu.org/playlists/hd/20180406
The archived audio is available now.
Artist
Title
Album (label) (year) (source)
Your DJ welcomes you:
Uncle Michael
Hinky Dinky Time Open
Joe Loss & His Band (voc. Chick Henderson)
Begin The Beguine
shellac 10″ (b/w My Prayer) (Royal Zonaphone) (1939)
Glenn Miller & His Orchestra
In The Mood
shellac 10″ (b/w I Want To Be Happy) (Bluebird) (1939)
Glenn Miller & His Orchestra
Little Brown Jug
shellac 10″ (b-side to Pavanne) (Bluebird) (1939)
Bea Wain & Larry Clinton
Deep Purple
shellac 10″ (b/w A Study In Red) (Victor) (1939)
The Merry Macs
I'm Forever Blowing Bubbles
shellac 10″ (b-side to Igloo) (Decca) (1939)
Bing Crosby And The Andrews Sisters
Yodelin' Jive
shellac 10″ (b-side to Ciribiribin (They're So In Love)) (Decca) (1939)
Music behind DJ:
Glenn Miller & His Orchestra
Moonlight Serenade
shellac 10″ (b-side to Sunrise Serenade) (Bluebird) (1939)
Cliff Bruner & his Texas Wanderers
Truck Driver's Blues
shellac 10″ (b/w I'm Tired Of You) (Decca) (1939)
Roy Acuff And His Smoky Mountain Boys
Beautiful Brown Eyes
shellac 10″ (b/w Living On The Mountain, Baby Mine) (Vocalion) (1939)
The Pine Ridge Boys
You Are My Sunshine
shellac 10″ (b/w Farther Along) (Bluebird) (1939)
Hoosier Hot Shots
Annabelle
shellac 10″ (b-side to It's A Lonely Trail (When You're Travelin' All Alone)) (Vocalion) (1939)
Tennessee Ramblers
Four Or Five Times
shellac 10″ (b/w Hootchie-Kootchie-Koo) (Bluebird) (1939)
Floyd Tillman
It Had To Be That Way
shellac 10″ (b/w I'd Settle Down For You) (Decca) (1939)
Rex Griffin
Lovesick Blues
shellac 10″ (b/w My Hill Billy Baby) (Decca) (1939)
Music behind DJ:
Cootie Williams & His Rug Cutters
Mobile Blues
shellac 10″ (b/w Gal-Avantin') (Vocalion) (1939)
Louis Prima & His New Orleans Gang
A Good Man Is Hard To Find
shellac 10″ (b/w If I Could Be With You One Hour Tonight) (Decca) (1939)
Barney Bigard & His Orchestra
Honey Hush
shellac 10″ (b-side to Just Another Dream) (Okeh) (1939)
Albert Ammons
Boogie Woogie Stomp
shellac 10″ (b/w Boogie Woogie Blues) (Blue Note) (1939)
Fats Waller
Good for Nothin' But Love
shellac 10″ (b/w You're The Cutest One) (Bluebird) (1939)
Earl Hines And His Orchestra
Ridin' And Jivin'
shellac 10″ (b/w Grand Terrace Shuffle) (Bluebird) (1939)
The Three Peppers
Fuzzy Wuzzy
shellac 10″ (b/w Down By The Old Mill Stream) (Decca) (1939)
Joe Turner And Pete Johnson
Roll 'em Pete
shellac 10″ (b-side to Goin' Away Blues) (Vocalion) (1939)
Music behind DJ:
Lionel Hampton & His Orchestra
Wizzin' the Wizz
shellac 10″ (b/w Denison Swing) (Victor) (1939)
Duke Ellington And His Famous Orchestra
Smorgasbord And Schnapps
shellac 10″ (b/w Solid Old Man) (Brunswick) (1939)
Woody Herman & His Orchestra
Woodchopper's Ball
shellac 10″ (b/w Big-Wig In The Wigwam) (Decca) (1939)
Charlie Barnet & His Orchestra
Cherokee
shellac 10″ (b/w (Stay Up "Stan") The All Night Record Man) (Bluebird) (1939)
Benny Goodman's Sextet
Rose Room
shellac 10″ (b-side to Flying Home) (Columbia) (1939)
Art Tatum
Tea For Two
shellac 10″ (b-side to Deep Purple) (Decca) (1939)
Duke Ellington, Piano – Jimmy Blanton, Bass
Plucked Again
shellac 10″ (b-side to Blues) (Columbia) (1939)
Coleman Hawkins
Body And Soul
shellac 10″ (b/w Fine Dinner) (Bluebird) (1939)
Music behind DJ:
Artie Shaw & His Orchestra
Traffic Jam
shellac 10″ (b/w Serenade To A Savage) (Bluebird) (1939)
Cab Calloway And His Orchestra
(Hep-Hep!) The Jumpin' Jive
shellac 10″ (b/w Trylon Swing) (Vocalion) (1939)
Slim Gaillard And His Flat-Foot-Floogee Boys
A-Well-A-Take-Em-Joe (Crapshooter's Jive)
shellac 10″ (b/w Chicken Rhythm) (Vocalion) (1939)
Tampa Red
She Got The Best In Town
shellac 10″ (b/w Hellish Old Feeling) (Bluebird) (1939)
Blind Boy Fuller
Big Leg Woman Gets My Pay
shellac 10″ (b-side to I Want Some Of Your Pie) (Conqueror) (1939)
Leadbelly
The Bourgeois Blues
shellac 10″ (b-side to The Gallis Pole) (Musicraft) (1939)
Washboard Sam & His Washboard Band
Has My Gal Been Here
shellac 10″ (b/w Somebody Changed That Lock On My Door) (Bluebird) (1939)
Music behind DJ:
Erskine Hawkins & His Orchestra
Tuxedo Junction
shellac 10″ (b-side to Gin Mill Special) (Bluebird) (1939)
Marian Anderson
Trampin'
Live at the Lincoln Memorial (n/a) (1939)
Billie Holiday
Strange Fruit
shellac 10″ (b/w Fine and Mellow) (Commodore) (1939)
Paul Robeson
It Ain't Necessarily So
shellac 10″ (b/w A Woman Is A Sometime Thing) (Victor) (1939)
Zora Neal Hurston
Po' Gal
shellac 10″ (b-side to Tampa) (un.) (1939)
Dorothy Lamour
Strange Enchantment
shellac 10″ (b/w That Sentimental Sandwich) (Bluebird) (1939)
Judy Garland
Over the Rainbow
shellac 10″ (b/w The Jitterbug) (Decca) (1939)
Music behind DJ:
Xavier Cugat & His Waldorf Astoria Orquesta
Night Must Fall
shellac 10″ (b/w Cui Cui / Catalino Rolón) (Victor) (1939)
Gene Autry
Back To The Saddle
shellac 10″ (b/w Little Old Band of Gold) (Vocalion) (1939)
Shep Fields & his Rippling Rhythm
South Of The Border
shellac 10″ (b/w It's All Over Town) (Bluebird) (1939)
Bob Wills & His Texas Playboys
Convict And The Rose
shellac 10″ (b-side to San Antonio Rose) (Vocalion) (1939)
Patsy Montana (Accompanied by Prairie Ramblers)
I Wanna Be A Western Cowgirl
shellac 10″ (b/w My Song Of The West) (Vocalion) (1939)
Red Nichols & His Orchestra
Tears from My Inkwell
shellac 10″ (b/w I Never Knew Heaven Could Speak) (Bluebird) (1939)
Wayne King & His Orchestra
My Man
shellac 10″ (b/w Arrancame La Vida) (Victor) (1939)
Music behind DJ:
Rex Stewart & His Feetwarmers
Montmartre
shellac 10″ (b/w Solid Old Man) (Swing) (1939)
Horace Heidt & His Musical Knights (vocal Chorus by Red Ferrington, Le Ahn Sisters, Art Carney, Bob McCoy)
Piggy Wiggy Woo
shellac 10″ (b/w Two Hearts Are Better Than One) (Columbia) (1939)
Big Bill
You can't Sell 'Em in Here
shellac 10″ (b/w Baby Don't You Remember) (Vocalion) (1939)
Walter Huston
September Song
shellac 10″ (b/w The Scars) (Brunswick) (1939)
The Ink Spots
If I Didn't Care
shellac 10″ (b-side to Knock Kneed Sal (On The Mourner's Bench)) (Decca) (1939)
Ella Fitzgerald with Chick Webb & His Savoy Orchestra
My Last Goodbye
shellac 10″ (b/w Ella Fitzgerald With Chick Webb And His Orchestra-Heart Of Mine) (Decca) (1939)
Music behind DJ:
Fleetwood Mac
Albatross
single (b/w Jigsaw Puzzle Blues) (Blue Horizon) (1968)
Your DJ bids you farewell…