Podcast: Play in new window | Download (Duration: 3:03:23 — 251.8MB)
If you're looking for previous episodes, click here.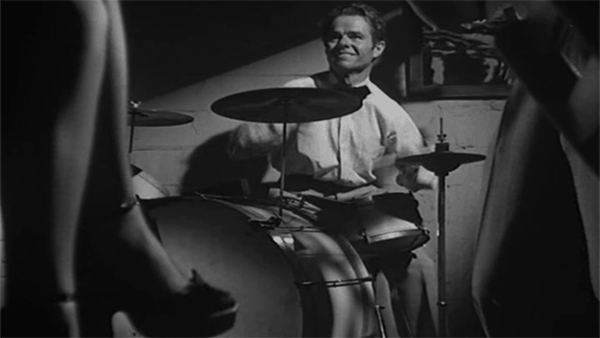 Hinky Dinky Time on WFMU's Give the Drummer Radio, episode 272: Friday, Noveber 2, 2018 at noon, Eastern Time.
Show #272: A return to "normalcy."
Click here for everything you need to know about accessing the audio.
Access the accuplaylist and comments for this episode at
http://wfmu.org/playlists/hd/20181102
The archived audio and podcast is available now.
Artist
Title
Album (label) (year) (source)
Your DJ welcomes you:
Uncle Michael
Hinky Dinky Time Open
Mills Brothers
Caravan
shellac 10″ (b-side to Louis Armstrong And Mills Brothers- The Flat Foot Floogee) (Decca) (1938)
Frances Langford With Mahlon Merrick And His Music
I Feel a Song Comin' On
shellac 10″ (b/w Then You've Never Been Blue) (Brunswick) (1935) (From: American Popular Song)
Slim Gaillard
Yep-Roc-Heresay
shellac 10″ (b/w Atomic Cocktail) (Atomic) (1945) (From: The Chronological Classics: 1945, Vol.2)
Sérgio Mendes & Brasil '77
Superstition
Vintage '74 (Bell) (1974)
The Paley Brothers
Meet The Invisible Man (Unreleased)
prev. unr. (n/a) (1978) (From: The Complete Recordings)
Brenda Lee
Break It To Me Gently
single (b/w So Deep) (Decca) (1962) (From: Anthology Volume Two 1962-1980)
Music behind DJ:
Gabor Szabo
Sombrero Sam
Magical Connection (Blue Thumb) (1972) (From: Funky16Corners Radio v.32 – Summer Dog Daze)
Gillian Hills
Zou Bisou Bisou
Zou Bisou Bisou (EP) (Barclay) (1961) (From: Twistin'The Rock Vol 9)
Doodletown Pipers
Spanish Flea
Sing-Along '67 (Epic) (1967)
Rip Rig & Panic
Keep The Sharks From Your Heart
Attitude (Virgin) (1983)
The Roland Kirk Quartet Featuring Elvin Jones
Rip, Rig & Panic
Rip, Rig & Panic (Limelight) (1965)
Honny And Bees Band
Psychedelic Woman
single (b/w Kofi Salanga) (Dix) (1973) (From: Ghana Soundz: Afrobeat, Funk and Fusion In 70's, (Vol. 1))
Devo
Girl U Want
Freedom of Choice (Warner Bros.) (1980)
Joy Division
Transmission
John Peel Session, 31/01/79 (Strange Fruit/BBC Music) (1979) (From: The Complete BBC Recordings)
Music behind DJ:
Shirley Horn
The Spell You Spin (The Web You Weave)
single (b-side to If You Want Love) (Bell) (1968) (From: The Musical Biography Of Quincy Jones)
Sands
Listen To The Sky
single (b-side to Mrs. Gillespie's Refrigerator) (Reaction) (1967) (From: Acid Drops, Spacedust & Flying Saucers)
Rick Springfield
Speak To The Sky
single (b/w Why?) (Capitol) (1972)
The Kasuals
Listen To The Rain
single (b-side to Just Call My Name) (GMA) (1964) (From: How Is The Air Up There? – USA Garage Greats)
Slim Whitman
I Talk to the Waves
shellac 10″ (b-side to Serenade) (London) (1956) (From: 1954-1955)
Everly Brothers
Talking To The Flowers
The Everly Brothers Sing (Warner Bros.) (1967)
Ink Spots
Whispering Grass (Don't Tell The Trees)
shellac 10″ (b/w Maybe) (Decca) (1940) (From: The Very Best of The Ink Spots)
Clint Eastwood
I Talk To The Trees
Paint Your Wagon: Music From The Soundtrack (Paramount) (1969)
Merle Haggard
Listening (To The Wind)
If I Could Only Fly (Anti-) (2000)
King Crimson
I Talk To The Wind
In The Court Of The Crimson King (An Observation By King Crimson) (Island) (1969)
Music behind DJ:
Heribert Thusek's Xylophonie
Circus Krone Galopp
unk. (unk.) (unk.) (From: VA, Test Card Music, Vol. 02)
Johnnie Lee Wills & His Boys
Rag Mop
shellac 10″ (b/w Near Me) (Bullet) (1949) (From: [VA] The Bullet Records Story)
Freddie Slack And His Orchestra (voc. Ella Mae Morse)
Cow-Cow Boogie
shellac 10″ (b-side to Here You Are) (Capitol) (1942)
Merle Travis
So Round, So Firm, So Fully Packed
shellac 10″ (b/w Sweet Temptation) (Capitol) (1946) (From: Country & Western hit Parade 1947)
Red Foley
Birmingham Bounce
shellac 10″ (b/w Red Foley With The Dixie Dons-Choc'late Ice Cream Cone) (Decca) (1950) (From: Old Shep – The Red Foley Recordings 1933-1950)
The Delmore Brothers
Blues Stay Away From Me
shellac 10″ (b-side to Goin' Back To The Blue Ridge Mountains) (King) (1949)
The Byrds
I Know My Rider (I Know You Rider)
prev. unr. (n/a) (1966) (From: The Byrds Box Set)
The Gosdin Brothers
The Victim
Sounds of Goodbye (Capitol) (1968)
Gene Clark
Doctor Doctor
The Rose Garden Acetate (n/a) (1967) (From: Gene Clark Sings For You (Omnivore 2018))
Dolly Parton
Hello God
Halos & Horns (Sugar Hill) (2002)
Music behind DJ:
Genesis
Silent Sorrow in Empty Boats
The Lamb Lies Down on Broadway (Charisma) (1974)
Steely Dan
Midnight Cruiser
Can't Buy A Thrill (ABC) (1972) (From: Citizen Steely Dan)
Raspberries
Rose Coloured Glasses
Starting Over (Capitol) (1974) (From: The Very Best of the Raspberries)
Song
10×10
Song Album (MGM) (1970)
Shonen Knife
Blitzkrieg Bop
Osaka Ramones (P-Vine) (2011)
The Raeletts
Here I Go Again
single (b/w Leave My Man (Woman) Alone) (Tangerine) (1971) (From: RossyBoy's Many Splendored Things)
Dave Alvin & Phil Alvin
Papa's On The House Top
Lost Time (Yep Roc) (2015)
Bombino
Akhar Zaman
Azel (Partisan) (2016)
Nathan Abshire
Pine Grove Blues
Pine Grove Blues (ACE) (1987)
Music behind DJ:
The Lombardo Twins And Combo
Arabian Nightmare
single (b/w When You Look At Me) (A) (1959)
Aynsley Dunbar Retaliation (featuring Rod Stewart, Jack Bruce And Peter Green)
Stone Crazy
History Of British Blues (Volume One) (1973) (n/a) (1967) (From: 1964-1969)
Jane Morgan
1-2-3
single (b/w Kiss Away) (Epic) (1966)
Irma Thomas
Wish Someone Would Care
single (b/w Break-A-Way) (Imperial) (1964)
The O'Jays
Give the People What They Want
single (b-side to What Am I Waiting For) (Philadelphia International) (1975) (From: The Ultimate O'Jays)
Quicksilver Messenger Service
Happy Trails
Happy Trails (Capitol) (1969) (From: Sons of Mercury (1968-1975))
Music behind DJ:
Fleetwood Mac
Albatross
single (b/w Jigsaw Puzzle Blues) (Blue Horizon) (1968)
Your DJ bids you farewell…