Podcast: Play in new window | Download (Duration: 3:01:26 — 249.2MB)
If you're looking for previous episodes, click here.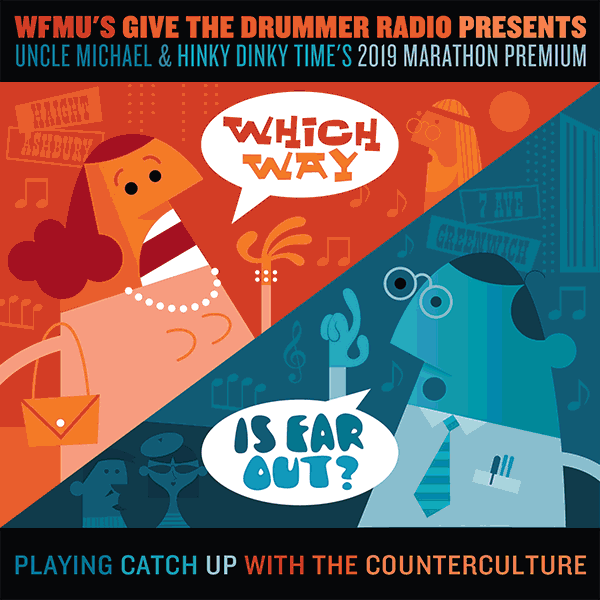 Hinky Dinky Time on WFMU's Give the Drummer Radio, episode 289: Friday, March 8, 2019 at noon, Eastern Time.
Show #289: WFMU Fundraising Marathon Week #1 with live co-host David Dichelle.
Click here for everything you need to know about accessing the audio.
Access the accuplaylist and comments for this episode at
http://wfmu.org/playlists/hd/20190308
Visit the playlist page for information about my DJ premium and the prizes you can win!
Hinky Dinky Time now has a telephone number! Direct your text message or voice mail to: (785) 251-3397. Unless you request otherwise, your voice mail may be played on the air. You'll increase your chances of that happening if you include your WFMU commenter name in your voice mail.
The archived audio and podcast is available now.
Artist
Title
Album (label) (year) (source)
Your DJ welcomes you:
Uncle Michael
Hinky Dinky Time Open
Sammy Davis Jr.
In The Ghetto
The 2019 Hinky Dinky Time Marathon Premium- Which Way Is Far Out? (WFMU/GTDR/HDT) (2010) [A pledge of $75 or more automatically get's you my DJ Premium.]
Larry Williams and Johnny "Guitar" Watson with The Stormsville Shakers
For Your Love
Listen People: The Graham Gouldman Songbook 1964-2005 (Ace) (1965) [Get in the running to win this prize for a pledge of $20 or more.]
Clarence Carter
Bad News
Testifyin' / Patches … And More Kent (Soul/Ace) (2017) [Get in the running to win this prize for a pledge of $20 or more.]
Mike Cooper
Dolphin (excerpt)
Reluctant Swimmer / Virtual Surfer (Discrepant) (2017) [Get in the running to win this prize for a pledge of $20 or more.]
Gary Lewis & The Playboys
Look Through Any Window
Listen People: The Graham Gouldman Songbook 1964-2005 (Ace) (1966) [Get in the running to win this prize for a pledge of $20 or more.]
Della Reese
Compared To What
The 2019 Hinky Dinky Time Marathon Premium- Which Way Is Far Out? (WFMU/GTDR/HDT) (2019) [A pledge of $75 or more automatically get's you my DJ Premium.]
Clarence Carter
Soul Deep
Testifyin' / Patches … And More (Kent Soul/Ace) (2017) [Get in the running to win this prize for a pledge of $20 or more.]
Mike Cooper
Movies Is Magic (excerpt)
Reluctant Swimmer / Virtual Surfer (Discrepant) (2017) [Get in the running to win this prize for a pledge of $20 or more.]
.R. Stevie Moore
Hurry Up
Afterlife (Bar/None) (2019) [Get in the running to win this prize for a pledge of $20 or more.]
Sharon Jones And The Dap-Kings
Come And Be A Winner
Soul Of A Woman (Daptone) (2017) [Get in the running to win this prize for a pledge of $20 or more.]
Judy Henske
High Flying Bird
The Elektra Albums (Ace) (2017) [Get in the running to win this prize for a pledge of $20 or more.]
Bob Darin
Me and Mr. Hohner
The 2019 Hinky Dinky Time Marathon Premium- Which Way Is Far Out? (WFMU/GTDR/HDT) (2019) [A pledge of $75 or more automatically get's you my DJ Premium.]
R. Stevie Moore
Come My Way
Afterlife (Bar/None) (2019) [Get in the running to win this prize for a pledge of $20 or more.]
Sharon Jones And The Dap-Kings
Matter Of Time
Soul Of A Woman (Daptone) (2017) [Get in the running to win this prize for a pledge of $20 or more.]
Judy Henske
Blues Chase Up A Rabbit
The Elektra Albums (Ace) (2017) [Get in the running to win this prize for a pledge of $20 or more.]
Gary Lewis & The Playboys
Co-Op Farm
The 2019 Hinky Dinky Time Marathon Premium- Which Way Is Far Out? (WFMU/GTDR/HDT) (2019) [A pledge of $75 or more automatically get's you my DJ Premium.]
R. Stevie Moore
What Should I Do with the Rest of My Life?
Afterlife (Bar/None) (2019) [Get in the running to win this prize for a pledge of $20 or more.]
Chris Bell
I Am The Cosmos
I Am The Cosmos Deluxe Edition (Rhino Handmade) (2009) [Get in the running to win this prize for a pledge of $20 or more.]
James Blood Ulmer & The Thing
Baby Talk
Baby Talk (The Thing/Trost) (2017) [Get in the running to win this prize for a pledge of $20 or more.]
Mississippi Fred McDowell
Baby, Please Don't Go
Shake 'Em On Down (Fat Possum) (2010) [Get in the running to win this prize for a pledge of $20 or more.]
Chris Bell
I Don't Know
I Am The Cosmos Deluxe Edition (Rhino Handmade) (2009) [Get in the running to win this prize for a pledge of $20 or more.]
James Blood Ulmer & The Thing
Proof (excerpt)
Baby Talk (The Thing/Trost) (2017) [Get in the running to win this prize for a pledge of $20 or more.]
Mississippi Fred McDowell
You Got To Move
Shake 'Em On Down (Fat Possum) (2010) [Get in the running to win this prize for a pledge of $20 or more.]
The Tokens
Animal
The 2019 Hinky Dinky Time Marathon Premium- Which Way Is Far Out? (WFMU/GTDR/HDT) (2019) [A pledge of $75 or more automatically get's you my DJ Premium.]
Chris Bell
You and Your Sister
I Am The Cosmos Deluxe Edition (Rhino Handmade) (2009) [Get in the running to win this prize for a pledge of $20 or more.]
Music behind DJ:
Fleetwood Mac
Albatross
single (b/w Jigsaw Puzzle Blues) (Blue Horizon) (1968)
Your DJ bids you farewell…