Podcast: Play in new window | Download (Duration: 3:07:54 — 215.1MB)
If you're looking for previous episodes, click here.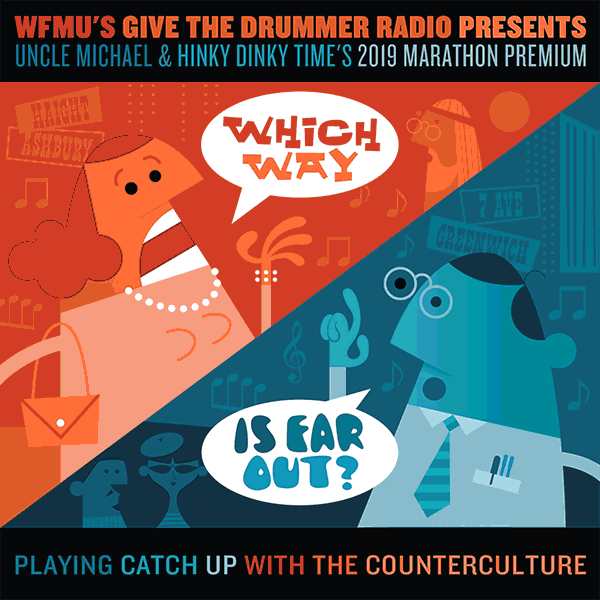 Hinky Dinky Time on WFMU's Give the Drummer Radio, episode 290: Friday, March 15, 2019 at noon, Eastern Time.
Show #290: WFMU Fundraising Marathon Week #2, live from Jersey City, NJ with co-host Mark Hurst.
Click here for everything you need to know about accessing the audio.
Access the accuplaylist and comments for this episode at
http://wfmu.org/playlists/hd/20190315
Visit the playlist page for information about my DJ premium and the prizes you can win!
Hinky Dinky Time now has a telephone number! Direct your text message or voice mail to: (785) 251-3397. Unless you request otherwise, your voice mail may be played on the air. You'll increase your chances of that happening if you include your WFMU commenter name in your voice mail.
The archived audio and podcast will be available shortly after the end of the live program.
Artist
Title
Album (label) (year) (source)
Your DJ welcomes you:
Uncle Michael
Hinky Dinky Time Open
Gene Clark
On Her Own
Gene Clark Sings For You (Omnivore) (2018) [Get in the running to win this prize for a pledge of $20 or more.]
Van Duren
Andy, Please
Waiting: The Van Duren Story (Original Documentary Soundtrack) (Omnivore) (2019) [Get in the running to win this prize for a pledge of $20 or more.]
Petula Clark
People Get Ready
The 2019 Hinky Dinky Time Marathon Premium- Which Way Is Far Out? 2019 (WFMU) (2019) [A pledge of $75 or more automatically get's you my DJ Premium.]
Van Duren
Chemical Fire
Waiting: The Van Duren Story (Original Documentary Soundtrack) (Omnivore) (2019) [Get in the running to win this prize for a pledge of $20 or more.]
Gene Clark
Down On The Pier
Gene Clark Sings For You (Omnivore) (2018) [Get in the running to win this prize for a pledge of $20 or more.]
Van Duren
Tennessee, I'm Trying
Waiting: The Van Duren Story (Original Documentary Soundtrack) (Omnivore) (2019) [Get in the running to win this prize for a pledge of $20 or more.]
Reigning Sound
Baby, It's Too Late
Shattered (Merge) (2014) [Get in the running to win this prize for a pledge of $20 or more.]
The Detroit Emeralds
Feel The Need In Me
I Think of You: The Westbound Singles (Ace) (1972) [Get in the running to win this prize for a pledge of $20 or more.]
David Nance
Poison
Peaced and Slightly Pulverized (Trouble In Mind) (2018) [Get in the running to win this prize for a pledge of $20 or more.]
The Everly Brothers
A Whiter Shade Of Pale
The 2019 Hinky Dinky Time Marathon Premium- Which Way Is Far Out? (WFMU) (2019) [A pledge of $75 or more automatically get's you my DJ Premium.]
The Detroit Emeralds
Do Me Right
I Think of You: The Westbound Singles (Ace) (1971) [Get in the running to win this prize for a pledge of $20 or more.]
Buck Owens and The Buckaroos
Who's Gonna Mow Your Grass (Mono Single Version)
The Complete Capitol Singles: 1967-1970 (Omnivore) (2018) [Get in the running to win this prize for a pledge of $20 or more.]
Buck Owens
Love Minus Zero – No Limit
The 2019 Hinky Dinky Time Marathon Premium- Which Way Is Far Out? (WFMU) (2019) [A pledge of $75 or more automatically get's you my DJ Premium.]
Bert Jansch
Running from Home
A Man I'd Rather Be Part 1 (Earth) (2018) [Get in the running to win this prize for a pledge of $20 or more.]
Lee "Scratch" Perry & Subatomic Sound System
Dub Along feat. Screechy Dan Super Ape
Returns To Conquer (Subatomic Sound) (2017) [Get in the running to win this prize for a pledge of $20 or more.]
Bert Jansch & John Renbourn
Goodbye Pork Pie Hat
A Man I'd Rather Be Part 1 (Earth) (2018) [Get in the running to win this prize for a pledge of $20 or more.]
Buck Owens and The Buckaroos
I Wouldn't Live In New York City (If They Gave Me The Whole Dang Town)
The Complete Capitol Singles: 1967-1970 (Omnivore) (2018) [Get in the running to win this prize for a pledge of $20 or more.]
Lee "Scratch" Perry & Subatomic Sound System
Croaking Lizard dubstrumental (Chase the Devil riddim)
Super Ape Returns To Conquer (Subatomic Sound) (2017) [Get in the running to win this prize for a pledge of $20 or more.]
Your DJ bids you farewell…