Podcast: Play in new window | Download (Duration: 3:04:51 — 253.9MB)
If you're looking for previous episodes, click here.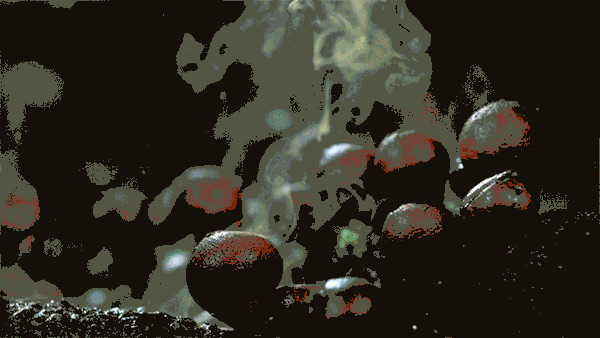 Hinky Dinky Time on WFMU's Give the Drummer Radio, episode 293: Friday, April 5, 2019 at noon, Eastern Time.
Show #293: Funguble goods.
Click here for everything you need to know about accessing the audio.
Access the accuplaylist and comments for this episode at
http://wfmu.org/playlists/hd/20190405

Hinky Dinky Time now has a telephone number! Direct your text message or voice mail to: (785) 251-3397. Unless you request otherwise, your voice mail may be played on the air. You'll increase your chances of that happening if you include your WFMU commenter name in your voice mail.
The archived audio and podcast is available now.
Artist
Title
Album (label) (year) (source)
Your DJ welcomes you:
Uncle Michael
Hinky Dinky Time Open
Steve Gray
A Girl Called Amelia
In A Quiet Mood (Amphonic Music Ltd.) (1974)
Slim Gaillard And His Orchestra
Vout Orenee
shellac 10″ (b/w Please Wait For Me) (Queen) (1945)
(From: Shuckin' and Jivin')
Al Hibbler
Trees
single (b/w The Town Crier) (Decca) (1957)
Héctor Lavoe
Juana Peña
single (b/w No Me Llores Mas) (Fania) (1970)
(From: A Man And His Music: La Voz)
Tony Rossini
Nobody
single (b/w Moved To Kansas City) (Sun) (1962)
(From: The Complete Sun Singles Vol.5)
Prix
Run Run Runaway
prev. unr. (n/a) (1976)
(From: Historix (HoZac, 2016))
Music behind DJ:
James Clarke
Mystery Moll
Mystery Movie (Themes International Music) (1974)
Ren Harvieu
Sister Morphine
Mojo Presents – Sticky Soul Fingers – A Rolling Stones Tribute (Mojo) (2012)
Sun Ra & His Myth Science Arkestra
Eve
We Travel The Space Ways (El Saturn) (1967)
(From: Exotica (Modern Harmonic, 2017))
The Dixie Hummingbirds
Wading Through Blood and Water
shellac 10″ (b/w What Are They Doing In Heaven Today) (Peacock) (1952)
(From: Vol 1 1952-1958)
Earl Grant
Blues In The Night (My Mama Done Tol' Me)
Nothin' But The Blues (Decca) (1959)
Merrilee Rush
Reach Out
single (b/w Love Street) (AGP) (1968)
Fletcher Henderson and his Orchestra
Doo Doodle Oom
shellac 10″ (b/w Dicty Blues) (Vocalion) (1923)
(From: Fletcher Henderson 1923-24)
Marvin Pontiac
I Am Not Crazy
Marvin Pontiac: The Asylum Tapes (Strange and Beautiful Music) (2017)
Music behind DJ:
Dave Sarkys
Reverie In Minor
Crea Sound – MC 8027 – Troubles In The World Vol. 2 (Crea Dounds Ltd.) (1983)
Utopia
One World
Swing To The Right (Bearsville) (1982)
(From: Anthology (1974-1985))
Widowmaker
Leave The Kids Alone
Widowmaker (Jet) (1976)
Sparks
Upstairs
Whomp That Sucker (RCA) (1981)
Beach Boys
Sail On Sailor
single (b/w Only With You) (Reprise) (1973)
(From: The Platinum Collection)
Mal
Mighty Mighty And Roly Poly
single (b/w Nowhere Left To Play) (RCA Victor) (1971)
(From: Lost Jukebox Vol. 083)
Grass Roots
Things I Should Have Said
single (b/w Tip Of My Tongue) (Dunhill) (1967)
(From: Anthology)
The Raspberries
I Don't Know What I Want
Starting Over (Capitol) (1974)
(From: 1972-1974 – Greatest)
Music behind DJ:
Rino De Filippi
Putting In Together
Nel Mondo Del Lavoro – Sermi ‎– SR ST 135 (SR) (1972)
Andres Landero Y Su Conjunto
Bailando Cumbia (rebajada)
Bailando Cumbia (Discos Fuentes) (1979)
(From: Cumbias Rebajadas)
Agrupacion Ilegal Los Imparciales
Misirlou
Media Hora de Psicodelia (Bandcamp) (2015)
The Sufis
Sri Sai Flora
The Sufis (Burger) (2012)
Country Joe & the Fish
Eastern Jam
I-Feel-Like-I'm-Fixin'-To-Die (Vanguard) (1967)
(From: The Collected Country Joe & the Fish)
The Hubbels
Hippy Dippy Funky Monkey Double Bubble Sitar Man
single (b/w City Woman) (Audio Fidelity) (1969)
(From: Lost Jukebox Vol. 95)
Swamp Dogg
My Heart Just Can't Stop Dancing
Finally Caught Up With Myself (With Riders Of The New Funk) (Musicor) (1977)
Music behind DJ:
Sound Dimension
Drum Song Version
single (b-side to Drum Song) (Coxsone) (1976)
(From: 100% Dynamite)
Blanche Calloway And Her Joy Boys
Make Me Know It (If You Mean What You Say)
shellac 10″ (b/w McKinney's Cotton Pickers-Wherever There's A Will, Baby) (Victor) (1931)
(From: Blanche Calloway 1925-1935)
Willis "Gator" Jackson
Gator's Groove
shellac 10″ (b/w Estrellita) (Atlantic) (1952)
(From: Atlantic Rhythm & Blues 1947-1974, Vol. 1: 1947-1952)
Jah Stitch
Greedy Girl
single (b/w Version) (Hot Shot) (1977)
(From: If Deejay Was Your Trade. The Dreads At King Tubby's 1974-1977)
The International Studio Orchestra (Composed By Reg Tilsley)
One Small Step For Man
"New Born Foal" (Music De Wolfe – DWS/LP 3386) (Music de Wolfe) (1978)
Zombies
Imagine The Swan
Conversation Of Floral Street (Date) (1969)
(From: Zombie Heaven – Odessey & Oracle And The Lost Album)
Johnny Frigo
Gone With the Wind
I Love John Frigo…He Swings (Mercury) (1957)
Curley Moore
Sophisticated Sissy, Pt 1
single (b/w Sophisticated Sissy, Pt 2) (Instant) (1968)
Curley Moore
Sophisticated Sissy, Pt 2
single (b-side to Sophisticated Sissy, Pt 1) (Instant) (1968)
The Embarrassment
Don't Choose the Wrong Song
The Embarrassment EP (Cynykyl) (1981)
(From: Heyday 1979-83)
Music behind DJ:
Frank Peters (comp. Camille Sauvage)
Audrey
Vibes in Liberty (MP110) (Editions Montparnasse 2000) (unk.)
Muddy Waters
Meanest Woman (mono, bonus track)
Muddy Waters At Newport 1960 (Chess) (1960)
Lonnie Johnson
Don't Play Bad With My Love
shellac 10″ (b-side to She's So Sweet) (King) (1949)
(From: 1948-1949)
L.P. (Laura Pergolizzi)
Wasted
Suburban Sprawl and Alcohol (Light Switch) (2004)
Speedy West & Jimmy Bryant
There's A Blue Sky Way Out Yonder
unk. (unk.) (unk.)
(From: Flamin' Guitars: 1949-1954 (Bear Family, 1997))
Dolly Parton
Dagger Through The Heart
Halos & Horns (Sanctuary) (2002)
Bonnie Owens And The The Strangers
What's It Gonna Cost Me
single (b/w You Don't Even Try) (Capitol) (1966)
(From: Bonnie Owens And The The Strangers 1964-1966 Chronological Classics)
Carl Smith
Take My Ring Off Your Finger
single (b/w The Ballad Of Hershel Lawson) (Columbia) (1964)
Lee Perry And The Whitebellyrats
Fight To The Finish
Panic In Babylon (Damp Music) (2004)
Marty Robbins
Now Is The Hour (Maori Farewell Song)
Song Of The Islands (Columbia) (1957)
(From: Marty Robbins 1951-1958 Chronological Classics)
Music behind DJ:
Fleetwood Mac
Albatross
single (b/w Jigsaw Puzzle Blues) (Blue Horizon) (1968)
Your DJ bids you farewell…