Podcast: Play in new window | Download (Duration: 2:59:09 — 246.0MB)
If you're looking for previous episodes, click here.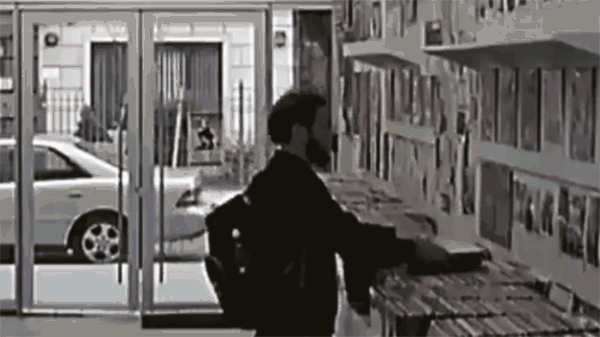 Hinky Dinky Time on WFMU's Give the Drummer Radio, episode 297: Friday, May 10, 2019 at noon, Eastern Time.
Show #297: Don't be a Cedric.
Click here for everything you need to know about accessing the audio.
Access the accuplaylist and comments for this episode at
http://wfmu.org/playlists/hd/20190510

Hinky Dinky Time now has a telephone number! Direct your text message or voice mail to: (785) 251-3397. Unless you request otherwise, your voice mail may be played on the air. You'll increase your chances of that happening if you include your WFMU commenter name in your voice mail.
The archived audio and podcast will be available shortly after the end of the live program.
Artist
Title
Album (label) (year) (source)
Your DJ welcomes you:
Uncle Michael
Hinky Dinky Time Open
Jan Leslie Holmes
I'm Your Superman
12″ single (b/w I'm Your Superman (Disco Mix)) (Jay Jay) (1984)
Slim Gaillard And His Peruvians
Soony Roony (Song Of Yxabat)
shellac 10″ (b-side to Laughing In Rhythm) (Mercury) (1951)
(From: Slim Gaillard 1947 – 1951 Chronological Classics)
Shooby Taylor
Who's Sorry Now
The Human Horn (WFMU) (2001)
Tim Buckley
Sally Go 'Round the Roses
Sefronia (Discreet) (1973)
Free Design
One By One
One By One (Project 3 Total Sound) (1972)
(From: Best of)
Steve Martin
Two By Two (I'm Losing You)
single (b/w Love Songs In The Night) (Buddah) (1971)
Brendon
Gimme Some
single (b/w Rockin' And Rollin' Little Lady) (UK) (1976)
(From: Mastermix Classic Cuts 87 – Party)
Loudon Wainwright III
Old Paint
Album II (Atlantic) (1971)
Michael Nesmith & The First National Band
Beyond the Blue Horizon
Magnetic South (RCA Victor) (1970)
(From: Complete First National Band Recordings)
Buffalo Springfield
Do I Have To Come Right Out And Say It
single (b-side to For What It's Worth) (Atco) (1966)
(From: Buffalo Springfield Box Set)
The Dead
I Know You Rider
5/11/2009 KFOG (n/a) (2009)
One Eleven Heavy
Crosses
Everything's Better (Kith & Kin) (2018)
Bob Dylan
Leopard Skin Pill-Box Hat (take 8 complete)
prev. unr. (Columbia) (1966)
(From: The Bootleg Series vol. 12: The Cutting Edge 1965 – 1966)
Music behind DJ:
Trombones Unlimited
Holiday For Trombones
Holiday For Trombones (Liberty) (1967)
Fleetwood Mac
Songbird
Rumours (Warner Bros.) (1977)
Emitt Rhodes
Fresh As A Daisy
Emitt Rhodes (ABC/Dunhill) (1970)
Cliff Edwards
June Night
shellac 10″ (b/w Insufficient Sweetie) (Perfect) (1924)
Jackie Trent
Time After Time
single (b-side to It's All In The Way You Look At Life) (Pye) (1965)
Stackridge
Pinafore Days
The Man In The Bowler Hat (MCA) (1974)
Mickey Rooney, Jr.
A Bone, A Dog, A Sword And A Shield
single (b-side to It Certainly Ain't A Nice Thing) (Tower) (1966)
The T-Bones
Tee Hee Hee (My Life Seems Different Now)
single (b/w The Proper Thing To Do) (Liberty) (1967)
(From: Lost Jukebox Vol. 75)
The Guess Who
Rain Dance
single (b/w One Divided) (RCA Victor) (1971)
(From: Track Record: The Guess Who Collection)
Inheaven
Baby's Alright
INHEAVEN (Play It Again Sam) (2017)
Music behind DJ:
Claude Perraudin/Claude Jourdan
The Train Of Memories
PW 17 – Harmonica/Accordéon (Patchwork) (1975)
The Delfonics
La-La-Means I Love You
single (b/w Can't Get Over Losing You) (Philly Groove) (1968)
Hot Chocolate
Cicero Park
Cicero Park (RAK) (1974)
Morgana King
Ev'rything I Love
For You, For Me, Forevermore (Emarcy) (1956)
Erskine Hawkins & His Orchestra
It's Divine, So Divine
shellac 10″ (b-side to The Buffalo Nickel) (RCA Victor) (1949)
(From: Erskine Hawkins Chronological Jazz Classics 1947-49)
Prince
Chelsea Rodgers
Planet Earth (NPG) (2007)
JD McPherson
Style (Is A Losing Game)
Undivided Heart And Soul (New West) (2017)
Music behind DJ:
Beverly Pitts
Just Some Soul
single (b/w Up And Down) (Soul Shot) (1965)
(From: Funky 16 Corners-in the Pocket)
Chuck Berry
My Dream
San Francisco Dues (Chess) (1971)
Peter, Paul & Mary
Puff (The Magic Dragon)
single (b/w Pretty Mary) (Warner Bros.) (1963)
(From: vol 069 – Heimatliche Klaenge – 1000 Nadelstiche Vol 12 Folk & Pop)
Led Zeppelin
That's The Way
Led Zeppelin III (Atlantic) (1970)
Ernie Graham
Romeo And The Lonely Girl
single (b/w Only Time Will Tell) (1 Off) (1978)
The Faces
Borstal Boys
single (b-side to Ooh La La) (Warner Bros.) (1973)
(From: Five Guys Walk Into A Bar…)
Music behind DJ:
The Multi Voice Of Vittorio Paltrinieri
Holiday For Voices
Music Scene MSE 141 – The Multi Voice Of Vittorio Paltrinieri – Holiday For Voices (Music Scene) (unk.)
Joy Division
Dead Souls
single (b-side to Atmosphere (Licht Und Blindheit)) (Sordide Sentimental) (1980)
(From: + – Singles 1978-80)
Don Rondo
White Silver Sands
single (b/w Stars Fell On Alabama) (Jubilee) (1957)
(From: Hard To Find 45's On Cd, Volume 05, Sixties Pop Classics)
Webb Pierce
Where'd Ya Stay Last Night
Where'd Ya Stay Last Night (Decca) (1967)
Riley Puckett
Chain Gang Blues
shellac 10″ (b-side to George Collins) (Bluebird) (1935)
(From: Riley Puckett 1934 Chronological Classics)
Guadalupe Plata
Hueso De Gato Negro
Guadalupe Plata (2015) (Everlasting) (2015)
The Cavaliers
Assepoes
single (b/w Claudette) (Imperial) (1965)
(From: Biet-Het Vol.2 – Het Is Prop!)
Big Maybelle
96 Tears
Got A Brand New Bag (Rojac) (1966)
(From: The Rojac Story The Best Of Rojac & Tay-ster)
Music behind DJ:
Fleetwood Mac
Albatross
single (b/w Jigsaw Puzzle Blues) (Blue Horizon) (1968)
Your DJ bids you farewell…