If you're looking for previous episodes, click here.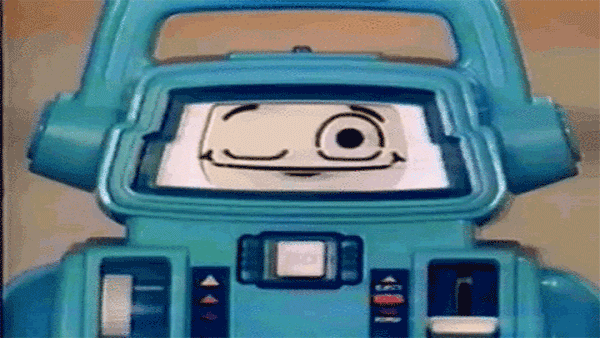 Hinky Dinky Time on WFMU's Give the Drummer Radio, episode 328: Friday, January 17, 2020 at Noon, Eastern Time.
Show #328: The soul of a new machine.
Click here for everything you need to know about accessing the audio.
Access the accuplaylist and comments for this episode and archived audio at
http://wfmu.org/playlists/hd/20200117
The archived audio is available now.
Artist
Title
Album (label) (year) (source)
Your DJ welcomes you:
Uncle Michael
Hinky Dinky Time Open
Dr. Steel
Build The Robots
Dr. Steel II: Eclectic Boogaloo (World Domination Toys) (2008)
The Stranglers
Hey! (Rise Of The Robots)
Black And White (United Artists) (1978)
The Earthlings
March Of The Robots
single (b-side to Landing Of The Daleks) (Parlophone) (1965)
The Phenomenauts
I Am Robot
Re-Entry (Silver Sprocket Bicycle Club) (2004)
Marina And The Diamonds
I Am Not A Robot
The Family Jewels (679) (2009)
They Might Be Giants
Become A Robot
Demo Tape (n/a) (1985)
They Might Be Giants
Robot Parade (Adult Version)
Dial-A-Song: 20 Years Of They Might Be Giants (Elektra/Rhino) (2002)
Bruce Haack
School for Robots
Hush Little Robot (Q.D.K. Media) (1998)
DJ Swamp
Worship The Robots
Never Is Now (Lakeshore) (2001)
ENON
We are the Robots
Yo Gabba Gabba! (n/a) (2008)
Music behind DJ:
Les Baxter
Mr. Robot
Space Escapade (Capitol) (1958)
Dee D. Jackson
Automatic Lover
Cosmic Curves (Jupiter) (1978)
Pointer Sisters
Automatic
Automatic (EP) (Planet) (1983)
Men at Work
Helpless Automaton
Business as Usual (CBS) (1981)
The Dresden Dolls
Coin-Operated Boy
The Dresden Dolls (8ft.) (2003)
Rockets
Synthetic Man
Galaxy (Rockland) (1980)
Hazel O'Connor
Eighth Day
single (b/w Monsters In Disguise) (A&M) (1980)
Buddy Ebsen
If I Only Had a Heart (unused version)
The Wizard of Oz: The Deluxe Edition (n/a) (1995)
Music behind DJ:
The Alan Parsons Project
The Naked Robot (Early Instrumental Mixes)
I Robot (Arista) (1977)
Dusty Springfield
The Six Million Dollar Man
unreleased (n/a) (1974)
Rufus Thomas
Funky Robot (Part 1)
single (b/w Funky Robot (Part II)) (Stax) (1970)
Classix Nouveaux
The Robots Dance
Classix Nouveaux (Liberty) (1981)
The Saints
Do The Robot [Bonus Track]
This Perfect Day c/w L-I-E-S (EP) (Harvest) (1977)
Sly & Robbie
Attack of the Demotic Androids
Dubocalypse (Tabou 1) (2017)
The Miracles
Love Machine (Part 1)
single (b/w Love Machine (Part 2)) (Tamla) (1979)
Marvin the Paranoid Android
Marvin, I Love You
single (b-side to Reasons To Be Miserable) (Polydor) (1981)
The Incredible Moses Leroy
Country Robot / A Letter To Dorothy
Become The Soft Lightes (Ultimatum Music) (2003)
Music behind DJ:
Ebony Steel Band
The Robots
Pan-Machine (OM Swagger) (2019)
Jerry Butler
I'm Your Mechanical Man
Sweet Sixteen (Mercury) (1974)
Meridian Brothers
Salvadora Robot
Salvadora Robot (Soundway) (2014)
Black Sabbath
Iron Man
Paranoid (Vertigo) (1970)
MC Lars
This Gigantic Robot Kills
This Gigantic Robot Kills (Oglio) (2008)
Flight of the Conchords
The Humans Are Dead
Flight of the Conchords: The BBC Radio Series (n/a) (2006)
The Alan Parsons Project
I Robot
I Robot (Arista) (1977)
Music behind DJ:
James Asher
Scratch Robotnicks (Mechanised dance rhythm.)
Bruton – BRH 21 – Flash Music (James Asher ANd Alvin Christie) (Bruton) (1984)
Scorpions
Robot Man
In Trance (RCA Victor) (1975)
Connie Francis
Robot Man
Tennessee Waltz (MGM) (1960)
Was (Not Was)
Robot Girl
What Up, Dog? (Chrysalis) (1988)
Buggles
I Love You (Miss Robot)
The Age Of Plastic (Island) (1979)
Robin Gibb
Robot
Secret Agent (Polydor) (1984)
The Tornados
Robot
single (b/w Life On Venus (Telstar II)) (London) (1963)
The Incredible String Band
Robot Blues
U (Elektra) (1970)
Alberto Camerini
Rock 'n' Roll Robot
single (b/w Miele) (CBS)
Music behind DJ:
Bacalao
The Robots (Die Roboter)
8-Bit Operators – The Music Of Kraftwerk (Astralwerks) (2006)
Regina Spektor
Machine
Far (Sire) (2009)
Manfred Mann
Machines
Machines (EP) (His Master's Voice) (1966)
Lothar & The Hand People
Machines
Presenting…Lothar And The Hand People (Capitol) (1968)
King Gizzard & The Lizard Wizard
Robot Stop
Nonagon Infinity (Flightless) (2016)
The Aquabats
Giant Robot-Birdhead
Vs. The Floating Eye Of Death! And Other Amazing Adventures – Vol. 1 (Goldenvoice) (1999)
Tubeway Army
Are Friends Electric
single (b/w We Are So Fragile?) (Beggars Banquet) (1979)
Music behind DJ:
Fleetwood Mac
Albatross
single (b/w Jigsaw Puzzle Blues) (Blue Horizon) (1968)
Your DJ bids you farewell…

http://www.stylesdeluxe.com/gtdr/HDTonGTDR-2020-01-17-328.mp3